This New York Style Cheesecake is a recipe that comes from my mother, the baker with 15 years experience!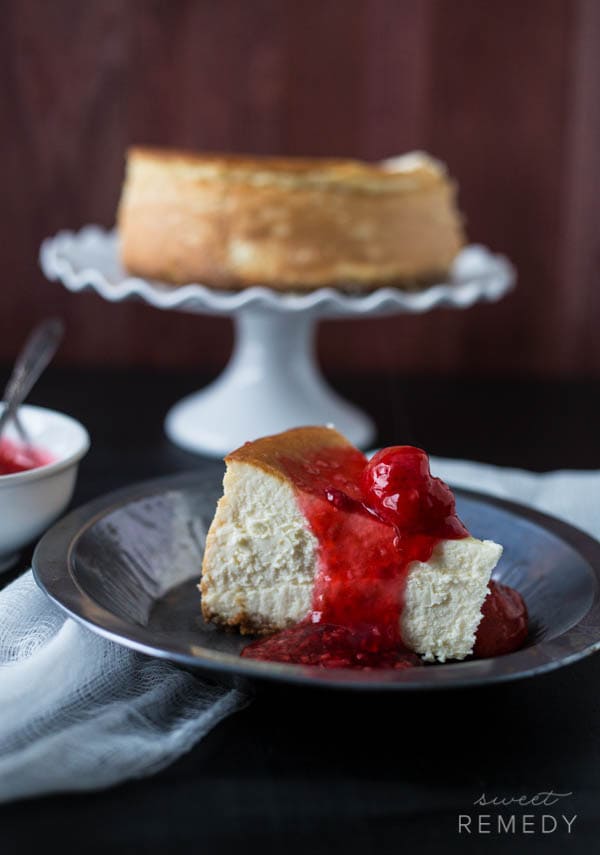 My mom worked in a bakery for 15+ years. As a result, she hates to bake. When I started to bake and wanted to learn how things worked in the kitchen, she would just make a face and reluctantly answer questions. I think she secretly likes to field baking questions from me.
This cheesecake recipe comes from our Family Reunion Cookbook and was submitted by my mother, probably unwillingly. (Just kidding!) I added the strawberry and raspberry sauce topping as my own little spin on things.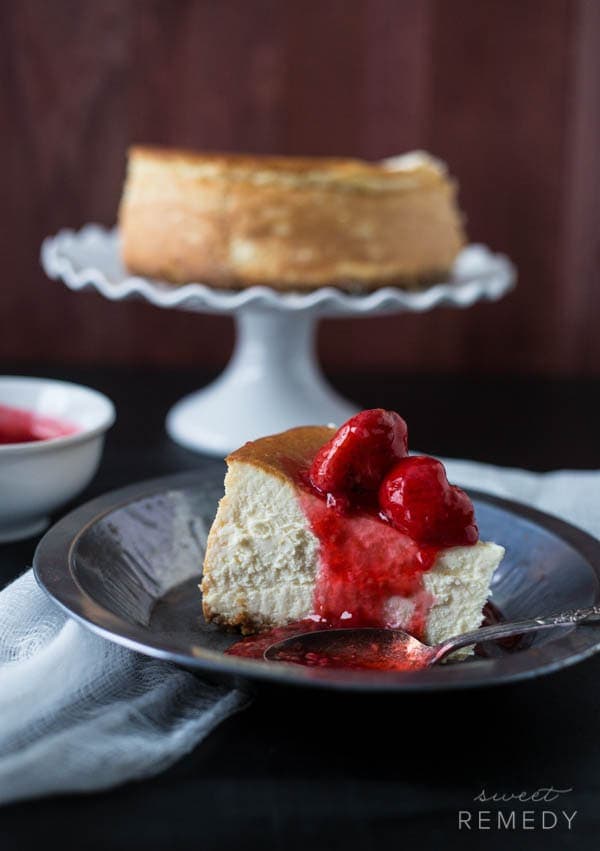 I know mom is perfectly content with a plain cheesecake, but sometimes I need a little something else. Usually, that little something else is peanut butter and chocolate but this strawberry and raspberry sauce will do just fine.
Being from New York, I'm partial to the New York Style of cheesecake. What is the difference, you ask? I think the main difference is that the New York style doesn't use a water bath. Just the fact that it has "New York" in the title wins me over.
As much as she resisted helping me in the kitchen, I have learned so much from my mother while slowly teaching myself how to cook. While I was selling baked goods at the farmers' market, she would help me bake if I had to work or if I was sick. She's made cookies for me to sell countless times because I had some other obligation. She's a lifesaver and I adore her!
Thanks for all of your help, in and out of the kitchen, Mom!
Yield: 8
New York Style Cheesecake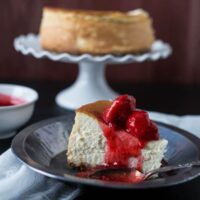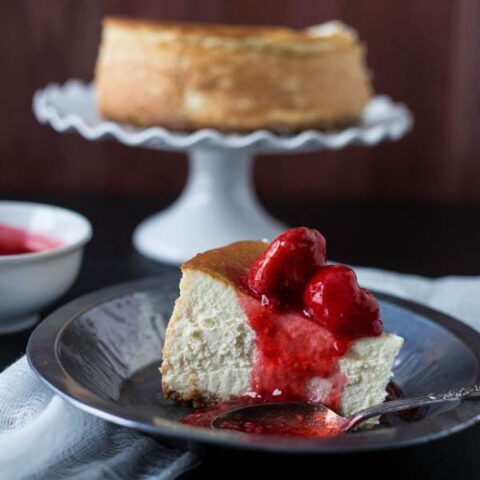 You can replace the strawberry and raspberry sauce with any mixture of fruit you'd like. If you'd prefer chocolate or peanut butter (or both) feel free to give that a try!
Ingredients
Crust
2 cups graham cracker crumbs
6 tablespoons butter
Cheesecake
1 lb cream cheese
1 lb cottage cheese
1 1/2 cups sugar (unrefined)
4 eggs, beaten
2 Tbsp lemon juice
1 tsp vanilla extract
3 Tbsp flour
3 Tbsp cornstarch or arrowroot starch
1 pint (8oz) sour cream
1/4 cup butter, melted
Strawberry + Raspberry Topping
1 cup strawberries
1 cup raspberries
2 Tbsp cornstarch or arrowroot starch
1/2 cup water
Instructions
Crust
Preheat oven to 325 ° F and grease a 10" springform pan with butter.
Crush the graham cracker crumbs in a food processor or fill a plastic bag with graham crackers and use a rolling pin or your hands to crush into fine tiny pieces.
Place crumbs in a medium bowl and add melted butter until completely combined.
Press crumbs into the bottom of the greased springform pan using your fingers.
Place in the preheated oven for 10 minutes.
Remove and let cool before adding any filling.
Cheesecake
Cream the cream cheese until light and fluffy.
Put cottage cheese through a sieve and add to cream cheese mixture.
Beat in sugar gradually. Add eggs, lemon juice and vanilla extract and stir.
In a separate bowl, stir flour and cornstarch together.
Add the dry ingredients to the cream cheese mixture.
Add the melted butter and stir. Finally, add sour cream and mix well. (you can use a hand mixer.)
Pour into the greased 10" springform pan. Bake at 325 ° F for one hour.
Shut the oven off and leave it in for 2 more hours.
Strawberry + Raspberry Sauce
Cook on medium-high for about 5 minutes or until water begins to evaporate while slightly crushing fruit with a whisk.
In a medium saucepan combine the strawberries, raspberries, cornstarch and water.
Cook until mixture thickens and cornstarch is dissolved, whisking vigorously.
Let cool and serve with sliced cheesecake.
Recommended Products
This post contains affiliate links. I will make a small commission if you make a purchase through one of these links, at no extra cost to you.
Nutrition Information:
Yield:
8
Serving Size:
1
Amount Per Serving:
Calories:

823
Total Fat:

51g
Saturated Fat:

28g
Trans Fat:

1g
Unsaturated Fat:

17g
Cholesterol:

229mg
Sodium:

657mg
Carbohydrates:

76g
Fiber:

3g
Sugar:

50g
Protein:

18g
Nutrition information isn't always accurate. You may want to spot check this information.