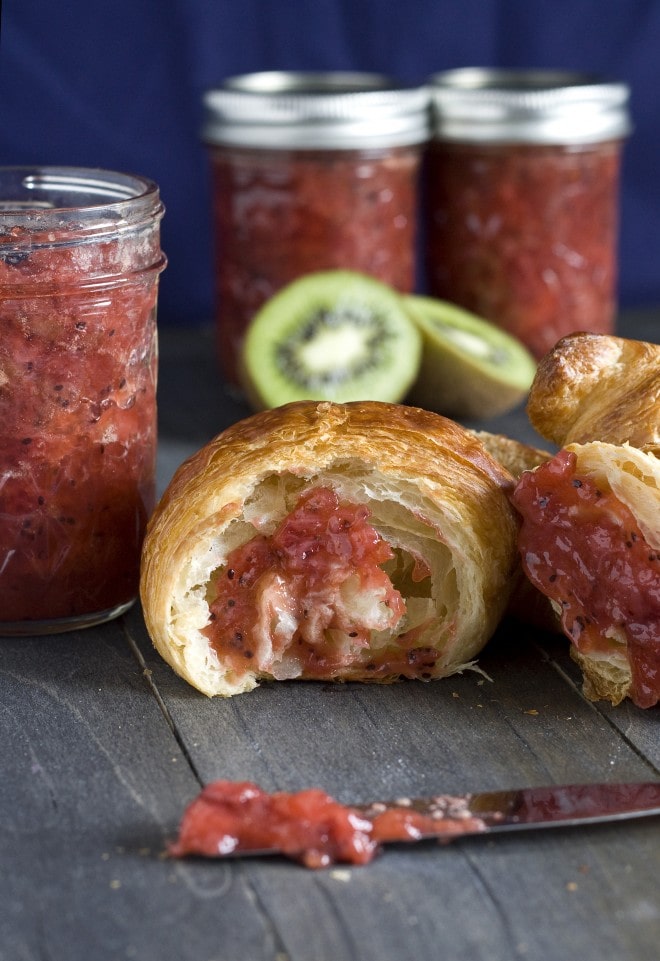 There is something gratifying about making jam. Carefully selecting, peeling and cutting the fruits is a new ritual for me. Strawberry Kiwi Jam was Joe's idea. I even let him pick out the strawberries.
I was always afraid to make jam, sometimes I still am. One word comes to mind: Botulism. That stuff is scary! Which is why I am extremely cautious while canning, I'm terrified!
Yield: 3 jars
Strawberry Kiwi Jam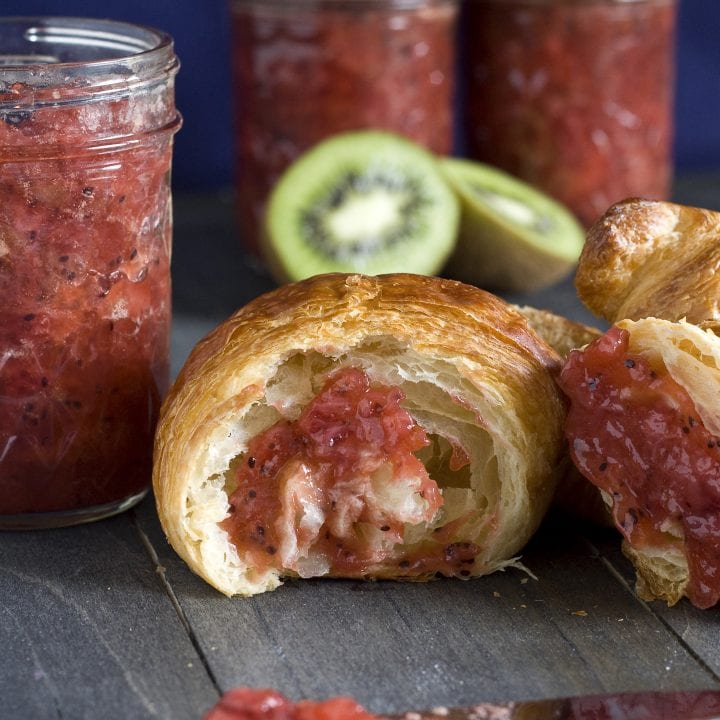 This recipe is made with Pomona's Pectin and honey! No extra sugar here.
Total Time
1 hour
50 minutes
Ingredients
3 cups strawberries
1 cup kiwi
3 Tbsp lemon juice
2 tsp calcium water
3/4 cup honey
2 tsp pomona's pectin
Instructions
Prepare calcium water according to package instructions and store in fridge.
Wash and rinse jars.
Bring lids and rings to boil.
Turn down heat and let stand in hot water until ready to fill and seal.
Measure fruit into pan with lemon juice.
Add calcium water from jar into pan; stir well.
Measure honey into separate bowl.
Thoroughly mix Pectin powder into honey.
Bring fruit to boil.
Add pectin-honey mixture and stir vigorously 1-2 min. while cooking to dissolve pectin.
Return to boil and re- move from heat. Fill jars to 1/4" of top.
Wipe rims clean and screw on 2-piece lids. Put filled jars in boiling water to cover.
Boil 10 min. (add 1 min. more for every 1,000 ft. above sea level).
Remove from water. Let jars cool.
Check seals–lids should be sucked down.
Recommended Products
This post contains affiliate links. I will make a small commission if you make a purchase through one of these links, at no extra cost to you.
Nutrition Information:
Yield:
3
Serving Size:
1
Amount Per Serving:
Calories:

358
Total Fat:

1g
Saturated Fat:

0g
Trans Fat:

0g
Unsaturated Fat:

1g
Cholesterol:

0mg
Sodium:

14mg
Carbohydrates:

94g
Fiber:

6g
Sugar:

84g
Protein:

2g
Nutrition information isn't always accurate. You may want to spot check this information.
When I'm in the kitchen, I usually have a million things going on at once, 6 pots boiling, trying to chop 4 different things at once, my iPad playing the latest episode of New Girl on Hulu… I get easily distracted. Once I walked away from boiling eggs and had to throw them all in the garbage. It can be really bad sometimes, especially if someone is talking to me.
But when I make jam, I become a different person in the kitchen. I become calm and almost serene. I know how important it is not to miss a step or mess up any details so careful I become.
It is also extremely gratifying to hear the "pings" after removing your jars from the boil. They bring a huge smile to my face—an ear-to-ear grin.