What is better than right-out-of-the-oven melty macaroni and cheese with the crunchy breadcrumbs on top, all toasted up to perfection?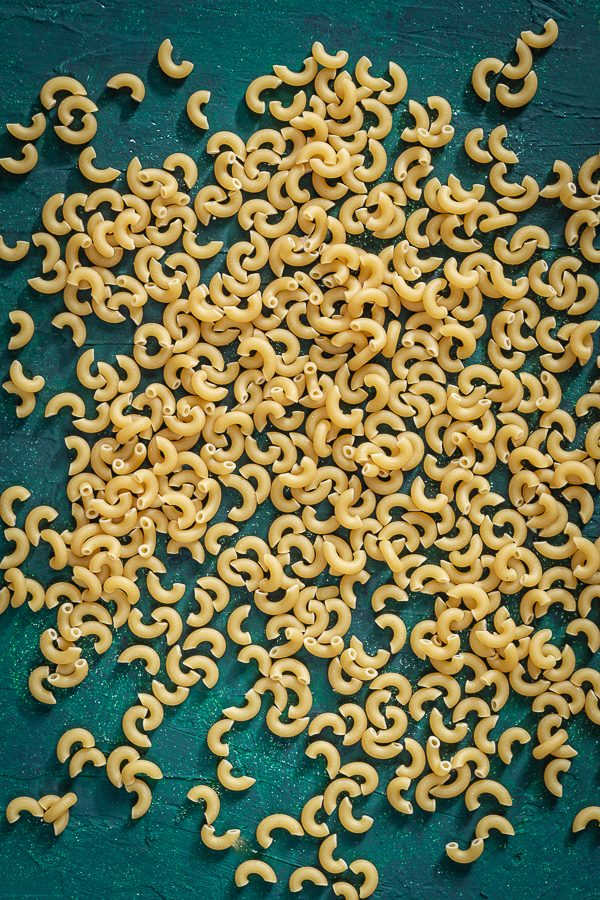 Comfort food at its finest, folks! So cheesy and delish!
With the already snowy weather we've had on the east coast, I for one need some mac and cheese to get me through the winter nights.
This was even good before being baked.
I may have eaten a few forks full's of the newly coated noodles while putting them into the baking dish.
It was similar to a grown-up version of the Kraft mac and cheese "blue box."
I also sometimes will make this and not even bother to bake it. It's just so good on it's own.
I find that it is much creamier and I prefer even sometimes prefer it this way.
Once in a while, I will make this recipe but replace the elbow noodles with medium shells and I'm just saying, it's pretty great.
I might even go as far to say that I prefer it that way, too!
So, do what you will. Bake this until it is crispy and golden on top or do what I do and eat it straight away.
Use elbow noodles or use medium shells.
Whatever you do, don't say "dry mustard, what is that?"
Honestly, the dry mustard makes this dish, don't omit it.
Last time I made it, I didn't have any dry mustard, and it was good, but the difference is outstanding! I promise you won't regret adding yet another jar of spice to the shopping list and the spice cabinet.
Can I Eat Macaroni and Cheese without baking it?
You absolutely can. In fact, most of the time I prefer it that way.
This is known as Stove Top Macaroni and Cheese as it's made on the stove and then you just eat it right away instead of baking it. This recipe works really well as stove top macaroni and cheese.
The instructions do tell you to bake it in the oven. You can just skip that whole part if you'd rather have the stove top version.
What Type of Cheese to Use for Macaroni and Cheese
I usually use cheddar and mozzarella because I always have some on hand but when I'm really fancy, I'll try other types of cheese:
Asiago
Gouda
Gruyère
Goat Cheese
Parmesan Cheese
All of these cheeses have done great in my experience.
Do what you will! Just have fun with it.
Just don't use pre-shredded cheese if you can help it. It's fine in a pinch though so if that's what you have on hand, don't let that stop you from making the best macaroni and cheese!
Do I need to bake this in a cast iron skillet?
No! Absolutely not. You might need to adjust the time it takes to cook if you're using a cast-iron skillet like I am in these photos.
Most of the time, I just make this in a regular glass baking dish.
As you learned above, I'm usually not even baking it and I'm just cooking this on the stove top and eating it right away.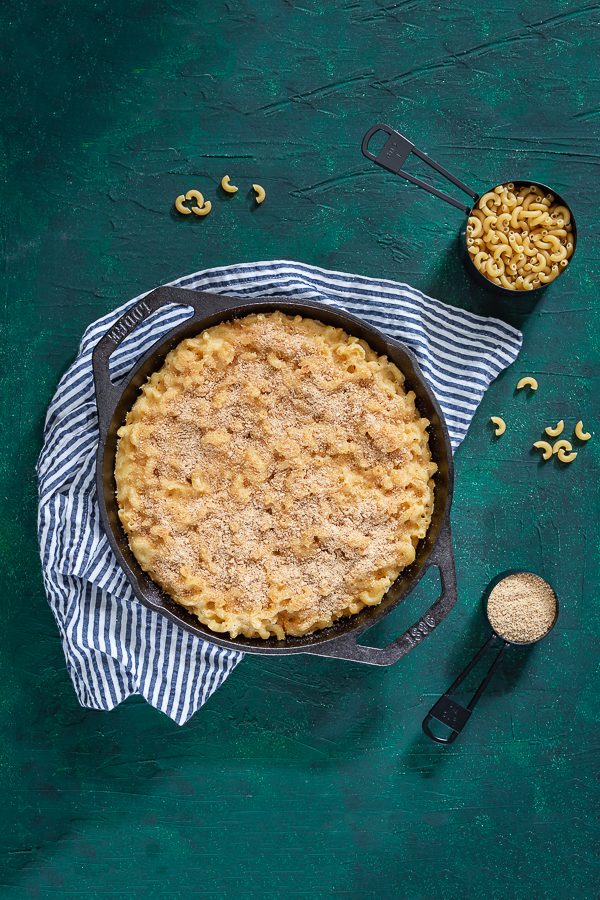 What Type of Noodles Should I Use?
Go nuts! Do whatever you want, honestly!
Elbow noodles are the "classic" noodles used for macaroni and cheese but, medium shells are also a solid choice.
You could even get really fancy and use orecchiette or perhaps get silly and use bow ties. It's truly up to you.
That said, maybe don't use angel hair or spaghetti because that might be super weird and I just don't know how I feel about that.
Other Cheesy Recipes:
Yield: 8 servings
Baked Macaroni and Cheese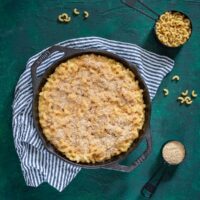 This macaroni and cheese recipe will forever reign as the best macaroni and cheese recipe. I promise you won't regret giving this one a try. I use different cheese every single time I make this recipe.
Mixtures gouda, goat, cheddar, mozzarella, colby-jack, and others are all great choices.
Don't forget the dry mustard, you won't believe how good it makes this recipe!
Ingredients
4 cups dried macaroni
1 whole egg, beaten
4 tablespoons butter, unsalted
1/4 cup all-purpose flour
2-1/2 cups whole milk
2 teaspoons dry mustard
1 pound cheese, grated
1/2 teaspoon salt
1/2 teaspoon ground black pepper
1/2 cup breadcrumbs (optional)
Instructions
Cook macaroni until very firm. Macaroni should be too firm to eat right out of the pot. Drain.
In a small bowl, beat the egg.
In a large pot, melt butter and sprinkle in the flour.
Whisk together over medium-low heat.
Cook mixture for five minutes, whisking continually. This step is super important - don't let it burn.
Pour in milk, add mustard, and whisk until smooth.
Cook for five minutes until very thick. Reduce heat to low.
Take 1/4 cup of the sauce and slowly pour it into a beaten egg, whisking constantly to avoid cooking eggs. Whisk together till smooth.
Pour egg mixture into sauce, whisking constantly. Stir until smooth.
Add in cheese and stir to melt.
Add salt and pepper. Taste sauce and add more salt and seasoned salt as needed!
Pour in drained, cooked macaroni, and stir until the macaroni is fully coated with the melted cheese.
Serve immediately as stovetop mac and cheese or pour into a buttered baking dish, top with extra cheese, breadcrumbs (if you'd like), and bake for 20 to 25 minutes or until bubbly and golden on top.
Notes
I don't usually bother to bake this recipe. I love it super creamy and without breadcrumbs. If I do bake it, I use breadcrumbs and use a glass dish. If I am feeling fancy, I'll use a cast-iron skillet and bake a bit longer if necessary.
Adapted from The Pioneer Woman
Recommended Products
This post contains affiliate links. I will make a small commission if you make a purchase through one of these links, at no extra cost to you.
Nutrition Information:
Yield:
8
Serving Size:
1
Amount Per Serving:
Calories:

476
Total Fat:

29g
Saturated Fat:

16g
Trans Fat:

1g
Unsaturated Fat:

10g
Cholesterol:

102mg
Sodium:

595mg
Carbohydrates:

32g
Fiber:

2g
Sugar:

5g
Protein:

21g