These gingerbread cookies are a true classic! They make a great gift for the holidays and are a great addition to your holiday spread.
They can also be a fun activity for children during the holidays.
You can package them in cellophane or eat them right away!
These little gingerbread men were made for my nieces and nephew.
Before Christmas, I gathered ingredients for these guys in a plastic bag and headed out for a day of shopping, followed by a night cooking and baking.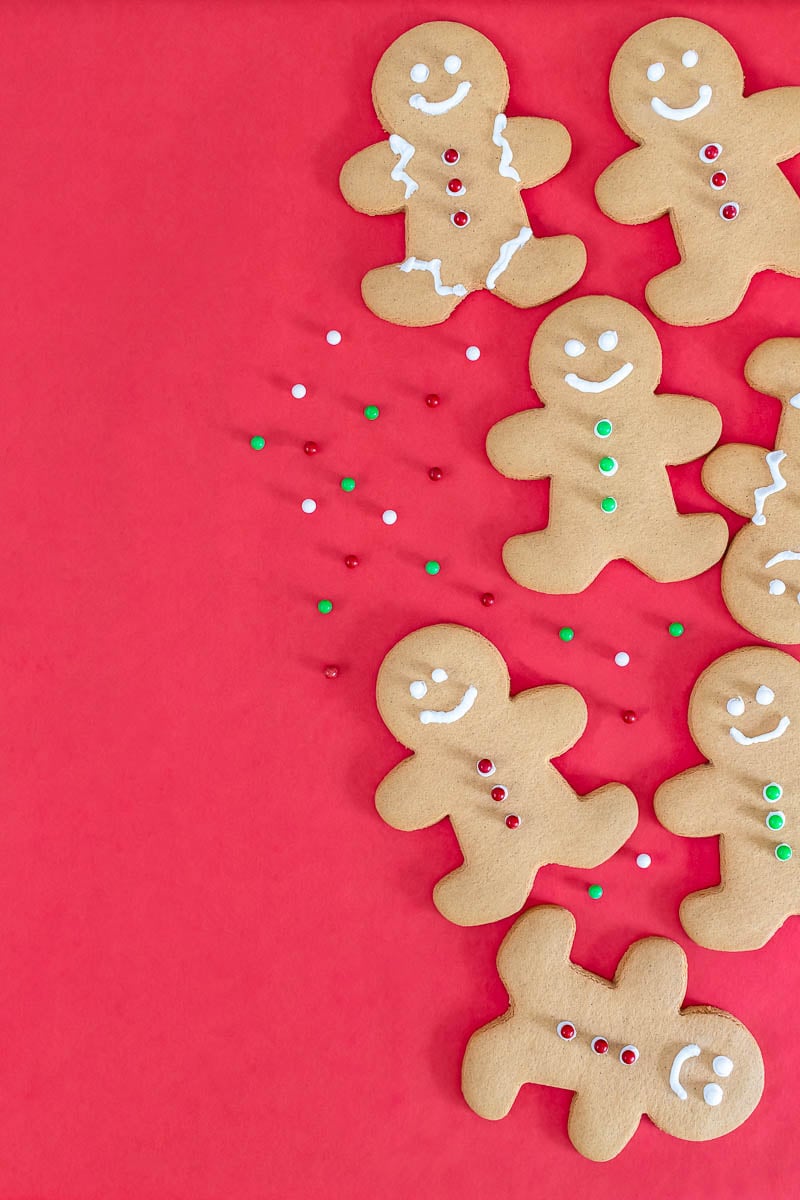 Can I use other shapes for the Gingerbread Cookies?
You absolutely can! In addition to these classic person-shaped gingerbread cookies, I also made them in the shape of snowflakes, bells, and candy canes!
There is absolutely no need to stick with the classic gingerbread cookie cutter.
Snowflakes can be really pretty when piped just right with some meringue icing.
How To Decorate Gingerbread Cookies
#1 Fit a Pastry Bag With a Small Piping Tip
The first step is to make the icing. Once you make the meringue icing you'll want to fit a pastry bag with a small tip.
The pastry bags that I use are these ones from Wilton (affiliate link).
The piping tips that I love are also Wilton (another affiliate link).
#2 Fill The Pastry Bag with Your Icing
Once that's all set, you will want to then fill it with the icing. The easiest way to do this is to use a tall glass. Once the bag is fitted with your pastry tip of choice, you can put it (tip down) into a cup. Then you can use your spatula to fill the bag up.
You'll then pick the bag up out of the glass and squeeze the end until the icing reaches the tip.
#3 Start Piping the Frosting
If you're sitting there thinking, I can't do fancy piping, I'm here to tell you that you can make it easy on yourself if you just draw a few lines and dots.
I can pipe a cupcake and ice a cake but I don't like doing it for elaborate cookies. You would think that because I have an artistic background that I would be all for it, but I've never mastered it.
Elaborate gingerbread cookies take patience so if you have other plans for the decorating, have at it but if you're worried, a few squiggles around the hands and feet, a smiley face, and a few dots for some candies (on the torso) should do the trick.
More Holiday Desserts
Yield: 16 cookies
Gingerbread Cookies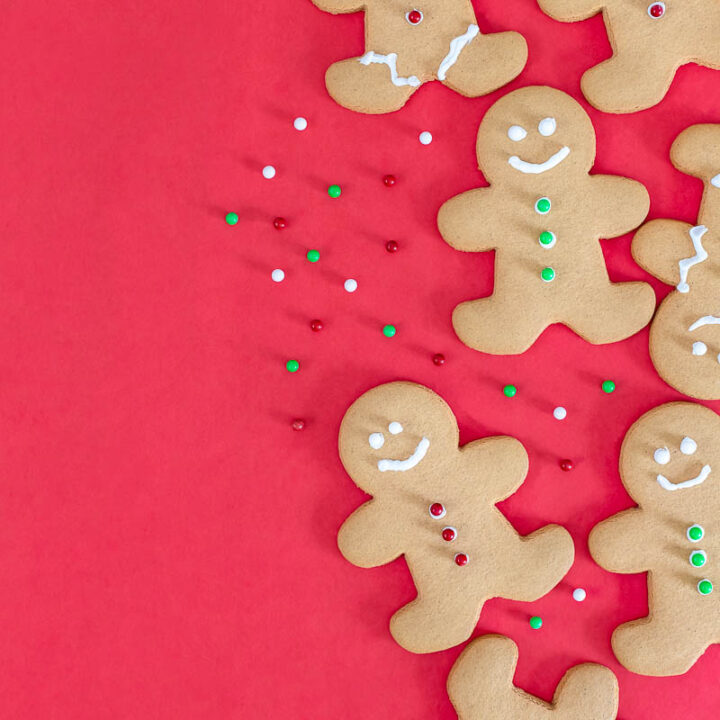 classic gingerbread cookies make a quick, easy, and great gift for the holidays!
Ingredients
6 cups all-purpose flour, plus more for work surface
1 teaspoon baking soda
1/2 teaspoon baking powder
1 cup unsalted butter (2 sticks)
1 cup packed brown sugar
4 teaspoons ground ginger
4 teaspoons ground cinnamon
1 1/2 teaspoons ground cloves
1 teaspoon finely ground pepper
1 1/2 teaspoons coarse salt
2 large eggs
1 cup unsulfured molasses
Instructions
Whisk the dry ingredients (flour, baking powder, baking soda) and set aside.
Place the butter and sugar in a mixing bowl and mix together on medium speed until fluffy. (Use an electric mixer fitted with paddle attachment or a hand mixer.)
Add spices and salt then eggs and molasses.
Switching to a lower setting and slowly mix in the flour until combined.
Divide dough in half and refrigerate for at least an hour before rolling out.
Preheat oven to 350 and roll out the dough to about 1/4 inch thick (I usually do this between two sheets of wax paper. )
Bake for 12-14 minutes or until lightly brown around the edges.
Recommended Products
This post contains affiliate links. I will make a small commission if you make a purchase through one of these links, at no extra cost to you.
Nutrition Information:
Yield:
16
Serving Size:
1
Amount Per Serving:
Calories:

390
Total Fat:

13g
Saturated Fat:

7g
Trans Fat:

0g
Unsaturated Fat:

4g
Cholesterol:

54mg
Sodium:

315mg
Carbohydrates:

64g
Fiber:

2g
Sugar:

27g
Protein:

6g
Nutrition information isn't always accurate. You should spot check this information.