Disclosure: As a Sabra Tastemaker, I have been monetarily compensated for this post, recipe development, and photography. However, all opinions are 100% my own. This post contains affiliate links. I will make a small commission if you make a purchase through one of these links, at no extra cost to you.
Are you ready for some football? Do you have snack ideas floating around in your head? Make room for one more because I have the perfect Buffalo Chicken Hummus Dip Recipe for you to impress your guests on game day. If your guests aren't the "impressing" kind, they will still really dig this dip!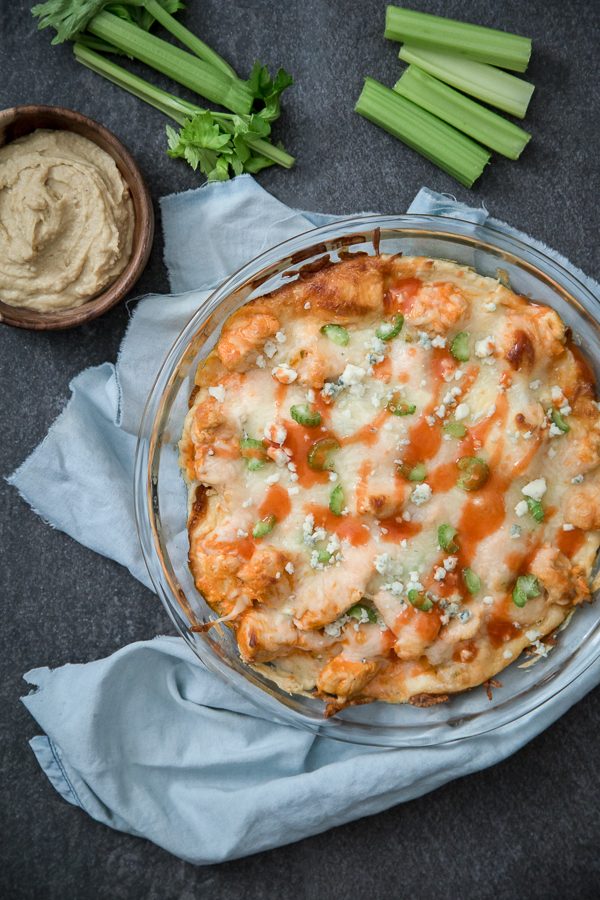 I have been obsessed with buffalo chicken as of late. On New Year's Eve I made a special stop JUST for this buffalo chicken salad that this local pizza place makes. We waited about 30-45 minutes before coming out of the pizza place with said buffalo chicken salad. It was crazy packed… probably because it was new years eve.
When thinking about the impending Super Bowl and all of the party food that goes along with it, I knew I wanted to make a buffalo chicken dip layered with cream cheese and Sabra hummus. After all, Sabra is the official dip sponsor of the Super Bowl. How fitting!
Speaking of the Super Bowl, who are you rooting for? Whichever team you are a fan of, just know that…
It doesn't matter who scores the final touchdown, this dip is still on point.
The recipe makes enough for two big plates so it will feed all of your hungry guests. When I make these types of dips, I use a pie plate because they are shallow enough so that it isn't a pain to get the dip itself onto your dipping vessel of choice, in this case, chips or celery.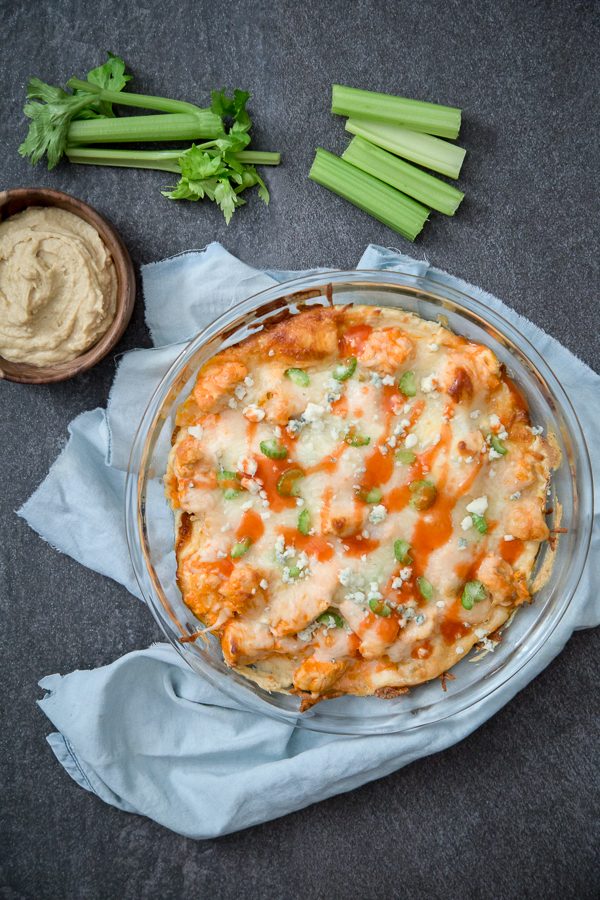 Yield: 12 servings
Buffalo Chicken Hummus Dip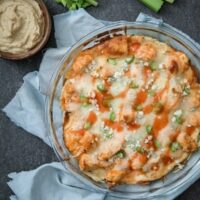 This dip has a great kick of flavor with the hummus as a secret (and totally delicious!) ingredient. It's perfect for your game day snack-age.
Total Time
1 hour
30 minutes
Ingredients
1 tablespoon olive oil
1 lb boneless, skinless chicken breast, cut into chunks
6 oz buffalo sauce
1/2 cup of hummus
12 oz cream cheese (1 1/2 blocks), divided
4 stalks of celery, diced and divided
1/2 cup blue cheese crumbles + 2 tablespoons, divided
16 oz mozzarella cheese
Instructions
Preheat oven to 350 ° F.
In a large skillet heat the olive oil on low-medium heat.
Once oil is hot, add chicken and cook until fully cooked, about 6-8 minutes.
Add the buffalo sauce and 4 oz of cream cheese to the skillet and mix to combine the chicken and buffalo sauce mixture.
Once mixed add half of the diced celery.
In a small bowl, mix together the hummus and 8 oz of cream cheese.
Layer the mixture in two 8" round dish with the back of a spoon, set aside.
Once the buffalo chicken mixture has cooled, mix in 1/2 cup of blue cheese crumbles and add it on top of the cream cheese and hummus mixture.
Top the buffalo chicken with mozzarella cheese and bake for approximately 30 minute or until the mozzarella cheese has melted.
Remove from oven and top with remaining blue cheese crumbles and diced celery. Drizzle buffalo sauce on top and serve with chips and celery sticks.
Recommended Products
This post contains affiliate links. I will make a small commission if you make a purchase through one of these links, at no extra cost to you.
Nutrition Information:
Yield:
12
Serving Size:
1
Amount Per Serving:
Calories:

325
Total Fat:

23g
Saturated Fat:

12g
Trans Fat:

0g
Unsaturated Fat:

9g
Cholesterol:

95mg
Sodium:

843mg
Carbohydrates:

5g
Fiber:

1g
Sugar:

2g
Protein:

24g