If you're looking for a healthier cupcake recipe that still delivers on flavor and texture, this acorn squash cupcake recipe is it! It uses alternative ingredients, such as coconut oil and coconut sugar, in place of processed oils and granulated white sugar.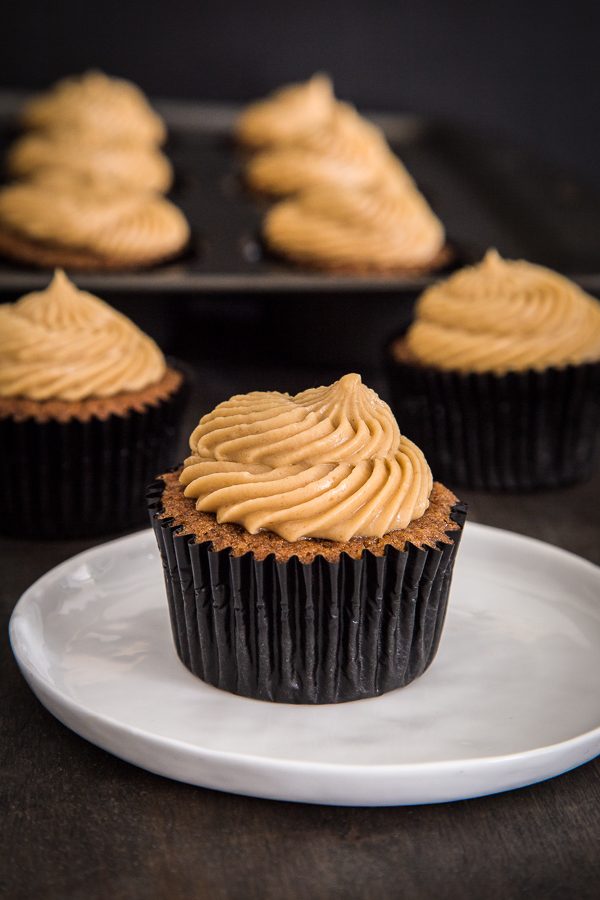 Acorn squash is the unsung hero of fall. It's such a shame that pumpkin, while still wonderful, pushes this darling squash option out of the spotlight.
These acorn squash cupcakes might just help you forget their pumpkin spice counterpart.
Although this recipe takes a tiny bit more prep work than your average cupcakes, the end result is really worth it.
These acorn squash cupcakes are super tender. I would go as far as to say they are a refreshing change from pumpkin spice.
You have to cut the acorn squash in half and bake it in a baking dish filled with water.
Once it is soft, just pull the acorn squash "meat" away from the outer shell and blend it to make a puree.
I wrote a step-by-step tutorial on how to make fresh pumpkin puree from scratch. You can use the same method with acorn squash (and butternut, spaghetti and kabocha for that matter) for this recipe.
This cupcake recipe uses some less traditional ingredients, and I hope you'll trust that each unique ingredient makes these cupcakes that much more delicious!
So, what are these special ingredients?
Let's talk frosting first – I used mascarpone cheese in place of the more typical cream cheese.
There is something special about the use of mascarpone cheese. I can't quite put my finger on it – maybe it's the extra creaminess and density it brings to the frosting – but it's delicious!
The cake batter is made with healthy coconut oil instead of heavily processed vegetable or canola oil.
If you're anti-coconut from a flavor perspective, rest assured I used virgin coconut oil in this cake and there isn't a strong coconut flavor. I suspect that is due to the other strong flavors such as cinnamon and acorn squash.
Instead of powdered sugar, I blended coconut sugar to make powdered coconut sugar, which gives the frosting it's rich caramel color. Again, this ingredient is coconut in name, but not in flavor. It's more of a rich caramel flavor.
Another bold choice? Spelt flour! Because it's milled as a whole kernel, spelt is much more nutritious than all-purpose flour, as it's higher in both dietary fiber and protein. The taste is decidedly nutty, and pairs oh so beautifully with the cozy fall flavors of cinnamon and squash.
Whether these ingredients are totally foreign to you, or you're an old pro, give this cupcake recipe a try. They do not disappoint!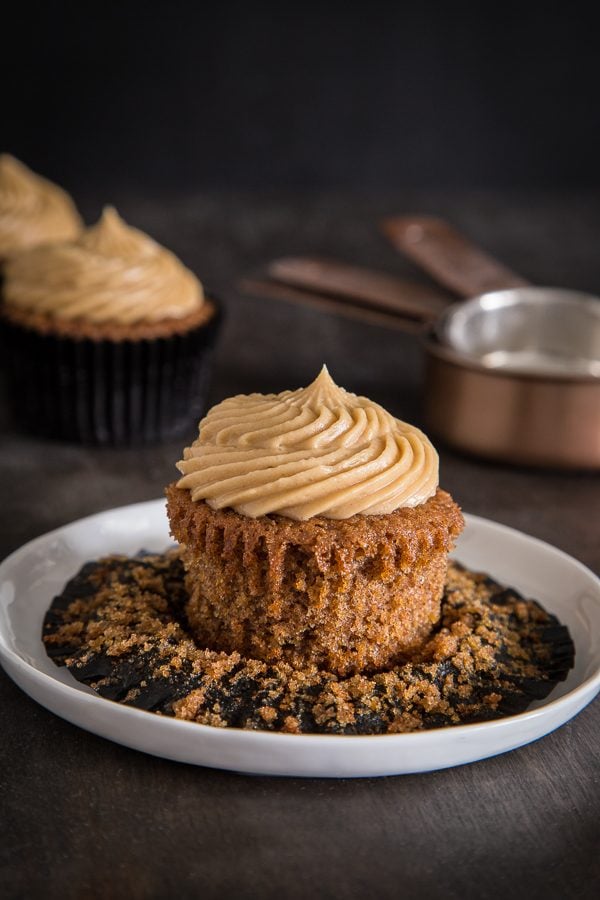 HOW DO YOU KNOW WHEN ACORN SQUASH IS RIPE?
There are a few factors to consider when picking a ripe acorn squash. Factor one is the stem – believe it or not, you're looking for a brown, withered stem. Factor two is the texture of the skin, which is super tough when the squash is ripe. The third factor is also skin related – if the sheen of the skin is dull/matte and primarily a very deep green with an orange patch, you've got yourself a winner!
CAN I SUBSTITUTE PUMPKIN FOR ACORN SQUASH?
If you can't find acorn squash, or if you're just feeling new-squash-phobic, pumpkin or butternut squash could be used in this recipe. While other winter squashes may offer a similar texture to acorn, the flavors of pumpkin and butternut lend themselves really well to baked goods.
CAN I SUBSTITUTE ALL PURPOSE FLOUR OR WHOLE WHEAT FLOUR FOR SPELT FLOUR?
Because spelt flour is lower in gluten than all purpose flour, this isn't something that can be fully swapped without messing with the texture of the cake. If you're having trouble finding spelt flour, it can be substituted one-for-one with whole wheat flour.
CAN I SUBSTITUTE ANOTHER OIL FOR COCONUT OIL?
The coconut oil in this recipe can be replaced one-for-one with another oil you have on hand. Vegetable and avocado oils are great substitutions in baking, because they won't impart any strong (and less than delicious) flavors. For that reason, I do not recommend using olive oil.
CAN I SUBSTITUTE CREAM CHEESE FOR MASCARPONE?
While substituting cream cheese for mascarpone is doable, you'll get a much better result by blending 8 ounces of plain cream cheese with 1/4 cup of heavy whipping cream.
The most notable differences between cream cheese and mascarpone is the fat content (mascarpone's is higher) and the tang factor (cream cheese is tangier) so adding the heavy whipping cream to the cream cheese adds some fat and reduces the tang. Magic!
You'll only use 8 ounces of this cream cheese + heavy whipping cream mixture in the recipe, so expect a bit left over. Side note, I highly recommend mixing frozen berries into the leftovers. So. damn. yum.
WHAT ARE THE HEALTH BENEFITS OF USING COCONUT OIL AND COCONUT SUGAR?
Ingredients made from coconuts like coconut oil and coconut sugar are typically less processed than their more traditional counterparts (i.e. vegetable and canola oils, and powdered and granulated cane sugar). Coconut has anti inflammatory, hormone balancing and brain health boosting properties.
SHOULD COCONUT OIL BE MEASURED AS A LIQUID OR SOLID?
Oils are intended to be measured as a liquid. Depending on the season and temperature in your kitchen, you may need to melt a scoop of coconut oil before measuring.
INGREDIENTS YOU'LL NEED FOR THIS CUPCAKE RECIPE:
Spelt Flour
Eggs
Coconut Sugar
Cinnamon
Coconut Oil
Acorn Squash Puree
Mascarpone Cheese
Almond Milk
Baking Pantry Staples: Baking Soda, Baking Powder + Salt
MORE DESSERT RECIPES!
Yield: 18 cupcakes
Acorn Squash Cupcakes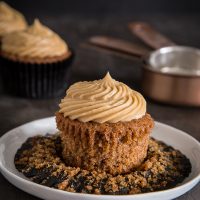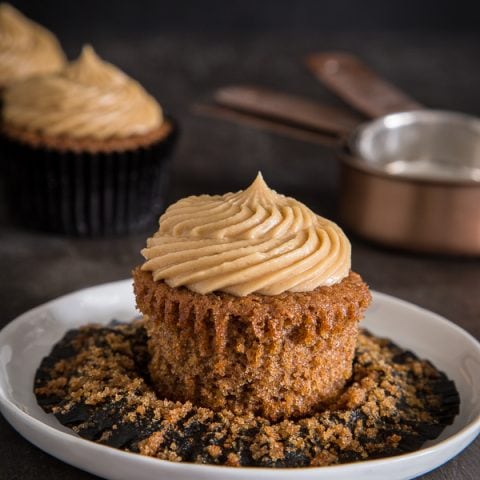 This cake is dairy-free but the frosting does have butter and mascarpone cheese. If you need a dairy-free version, cut out the mascarpone cheese use your favorite dairy-free butter substitute.
When substituting, make sure to double the butter substitute to 1 cup!
Total Time
1 hour
40 minutes
Ingredients
Cake
1 3/4 cup spelt flour
1 teaspoon baking soda
1 teaspoon baking powder
1 teaspoon salt
1 tablespoon cinnamon
1 1/2 cup coconut sugar
1 cup coconut oil
4 large eggs
1 1/2 cup acorn squash puree
Frosting
1 cup mascarpone cheese
1/2 stick butter
1 cup coconut sugar
2 tablespoons almond milk
Instructions
CAKE
Preheat the oven to 350 degrees F. Line two cupcake pans with cupcake liners.
In a medium bowl, combine the flour, baking soda, baking powder, salt, and cinnamon. Set aside.
In the bowl of a stand mixer, combine the coconut sugar and coconut oil on low speed.
Add one egg at a time while the mixer is on.
Add the flour mixture to the wet ingredients and add the acorn squash puree.
Mix on low-medium speed. Using a large cookie scoop, scoop mixture into cupcake liners.
Bake for 20 minutes or until a toothpick or a tester comes out of the center of the cupcakes clean.
FROSTING
While cupcakes are baking, add the coconut sugar to the bowl of a food processor and blend for 2-5 minutes or until the coconut sugar is finely ground and resembles powdered sugar. Let settle in the bowl before removing the lid.
Wash the bowl of the stand mixer and combine the mascarpone cheese, butter, powdered coconut sugar, and almond milk.
Mix together on low speed.
Fit a piping tip into a piping bag. Spoon the frosting into the bag.
Once cupcakes are cooled, pipe frosting onto cupcakes.
Recommended Products
This post contains affiliate links. I will make a small commission if you make a purchase through one of these links, at no extra cost to you.
Nutrition Information:
Yield:
18
Serving Size:
1
Amount Per Serving:
Calories:

385
Total Fat:

27g
Saturated Fat:

19g
Trans Fat:

0g
Unsaturated Fat:

6g
Cholesterol:

82mg
Sodium:

360mg
Carbohydrates:

34g
Fiber:

1g
Sugar:

27g
Protein:

3g