It's strawberry time! This recipe makes a really great tasting summer dessert in no time at all. It's pretty perfect to bring along to a BBQ!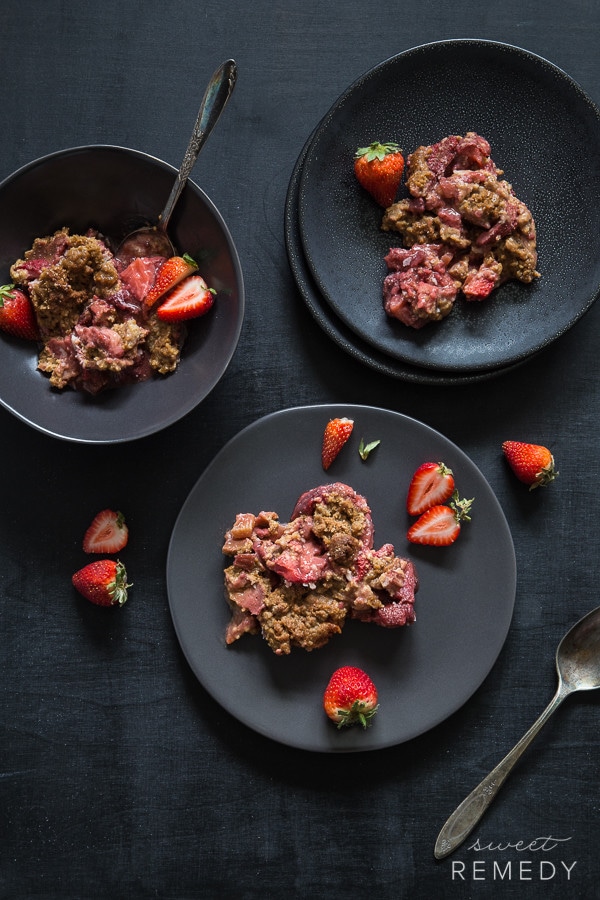 It's June and you know what that means: Strawberries and plenty of them! It's time for the "pick your own" fields and farm stands on almost every road in the Hudson Valley!
Before I know it, strawberry season will be gone until next year and I'll be stuffing my face with blueberries and peaches but I'd really like to savor berry season.
Dear Summer, let's slow down a bit.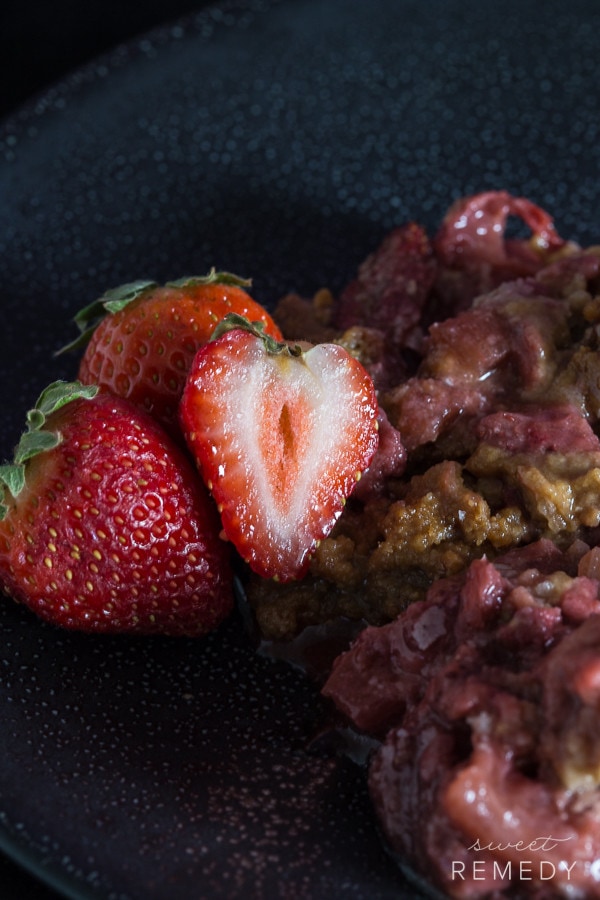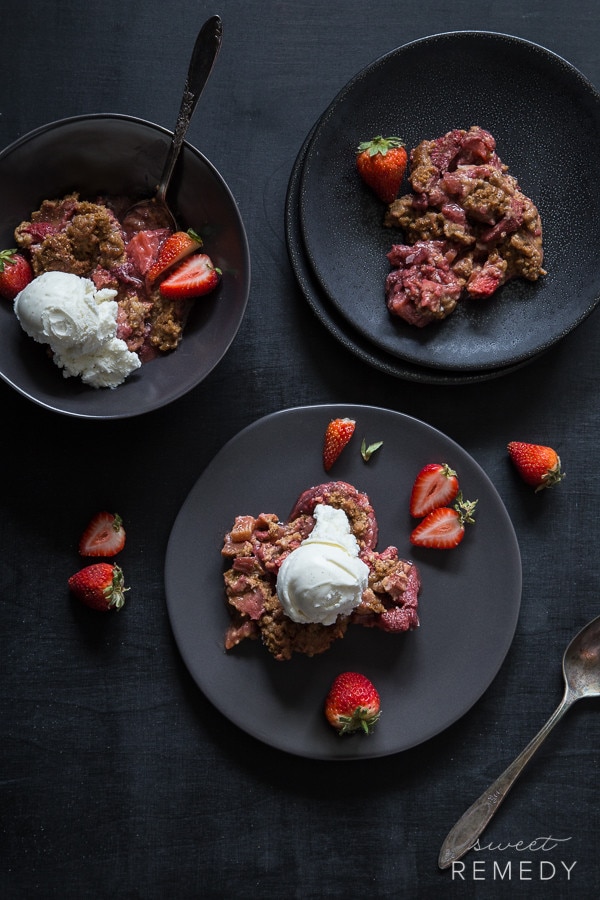 Add ice cream to the top of this whole wheat strawberry rhubarb cobbler or some fresh homemade whipped cream.
Can I make this recipe dariy free or vegan?
You sure can!
If you're dairy-free or vegan you have some options for the egg and the butter.
Replacing eggs can be tricky but the most common egg relacements are flax seeds mixed with water, mashed bananas, or applesauce.
You can use coconut oil instead of the butter and top with your favorite vegan ice cream or whipped cream.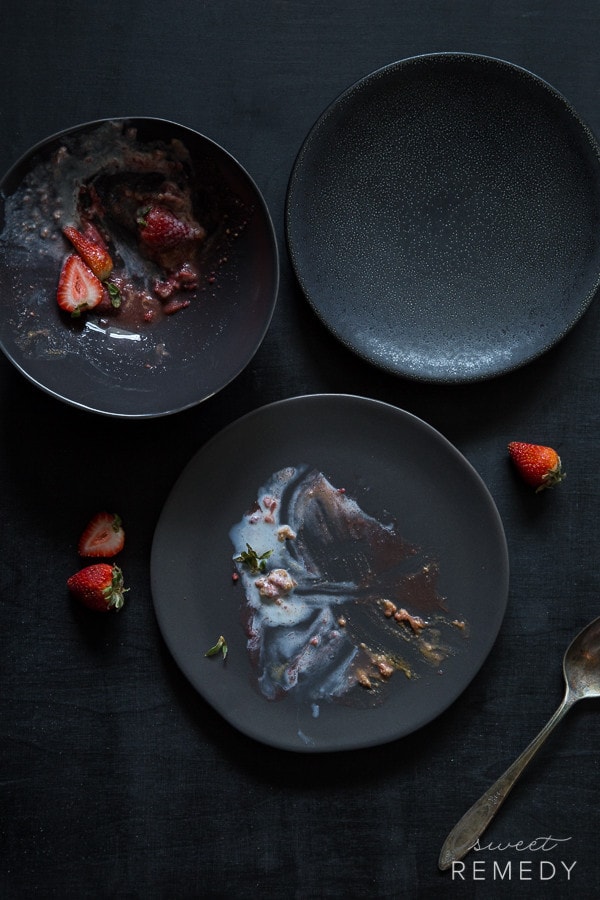 I always love the look of cleaned plates.
It makes me feel like whoever just ate what I made them really enjoyed it.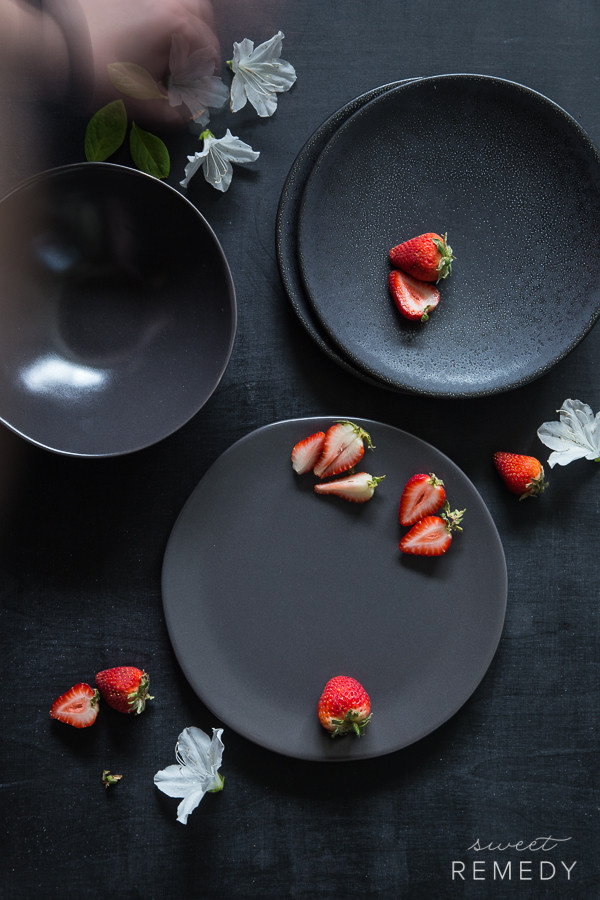 As I was preparing the scene for this food photography shoot I accidentally hit my remote and got this ghostly photo of my hand.
I didn't realize that the shutter released until I was post-processing this batch in Lightroom.
I completely fell in love with this creepy image. I almost wish I wasn't wearing a Fitbit, it would have made it creepier!
Yield: 6
Strawberry Rhubarb Cobbler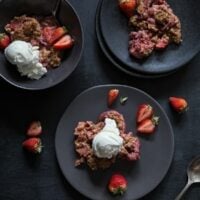 If you need a dairy-free version of this recipe, use melted coconut oil in place of the melted butter.
Ingredients
1 cup rhubarb (about 3 stalks)
3 cups strawberries
1 large egg
3/4 cup coconut or unrefined sugar
3/4 cup + 2 tbsp white whole wheat flour
6 Tbsp butter, melted
1 Tbsps lemon juice
Instructions
Preheat oven to 375 ° F.
Grease a square 8x8 pan with butter and set aside.
Hull and slice strawberries into quarters and chop the rhubarb stalks, making sure to discard the leaves.
Toss the strawberries and rhubarb with lemon juice in the 8x8 pan and set aside.
In a medium bowl, stir together the large egg, coconut or unrefined sugar and white whole wheat flour with a spatula until the mixture becomes coarse.
Sprinkle the coarse mixture over the fruit and drizzle with the melted butter.
Bake in the preheated oven for 25-35 minutes, or until the top of the cobbler is golden brown.
Serve with ice cream or whipped cream and garnish with any remaining sliced strawberries.
Recommended Products
This post contains affiliate links. I will make a small commission if you make a purchase through one of these links, at no extra cost to you.
Nutrition Information:
Yield:
6
Serving Size:
1
Amount Per Serving:
Calories:

206
Total Fat:

16g
Saturated Fat:

10g
Trans Fat:

0g
Unsaturated Fat:

4g
Cholesterol:

62mg
Sodium:

136mg
Carbohydrates:

16g
Fiber:

3g
Sugar:

9g
Protein:

3g
Nutrition information isn't always accurate. You may want to spot check this information.