This pomegranate cocktail is a perfect last-minute valentine's day drink!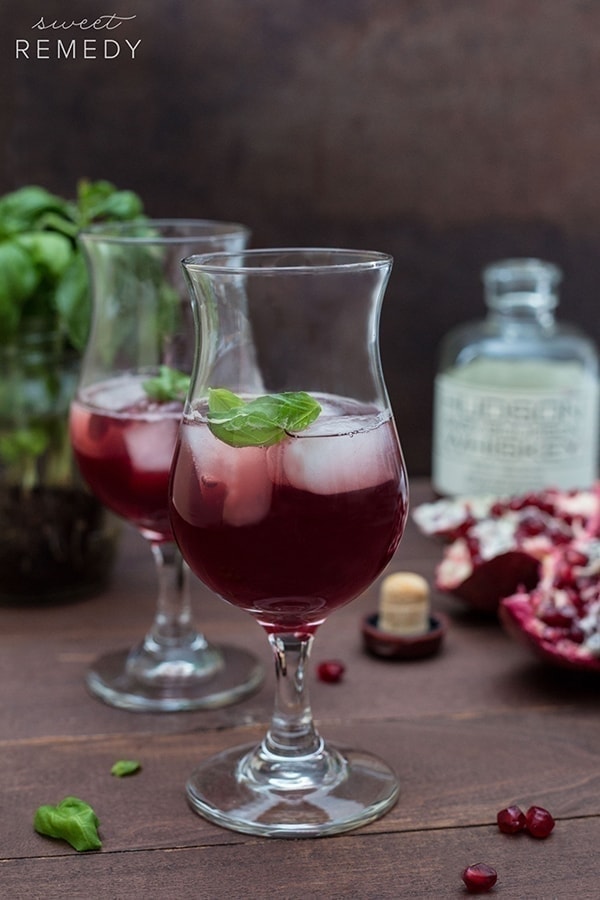 No one should feel bad today! If you're single, have a drink (or two) and celebrate your freedom! If you're dating someone or you are in a long-term relationship, feel free to share. Either way, you have a really tasty drink in your hands. I call that a win/win.
Today everyone I know is dealing with the aftermath of the most recent winter storm. In the northeast, we have been buried in snow.
Cars are completely covered due to the snow plows and it is getting to the point where there is nowhere left to put the snow once the roads are cleared. It's becoming hard to navigate my snow blower and cut through the ice.
My poor mail carrier can no longer see my mailbox.
The drive to work was quite terrifying. I don't do well driving in snow, even as a passenger. It's hard to believe that I still live in New York. I really don't belong in the cold weather.
Getting out of the driveway this morning was intense and I still see people are digging their cars out to get to work and get on with their lives. I really need to get to the grocery store and replenish my pantry!
Since people go insane before a storm, I avoided the store. I'm sure it will be just as busy tonight as everyone will need to stock back up.
I was just planning on getting ingredients for recipes, so I opted to stay clear of all the crazies buying milk and bread.
Be safe out there and Happy Valentine's Day!
Yield: 2
Basil Pomegranate Cocktail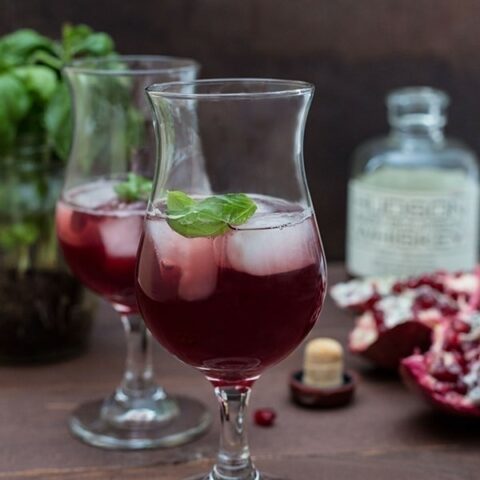 I added maple syrup to this recipe at the last minute because maple syrup and bourbon just go so well together.
Ingredients
basil simple syrup
1 cup water
1 cup sugar
4-5 fresh basil sprigs
1/2 cup pomegranate juice
2 oz (1 jigger) of bourbon
1/4 cup basil simple syrup
1 tsp maple syrup
garnish
basil leaf
pomegranate seeds
Instructions
basil simple syrup
Combine water and sugar in a small pot. Heat on medium until sugar dissolves.
Stir to help sugar along.
Add the basil sprigs to the sugar water.
Steep for 5 minutes.
Transfer to a jar with a lid and store in the refrigerator until ready to use.
Will keep for about a month.
basil pomegranate cocktail
Add the pomegranate juice, bourbon, simple syrup and maple syrup into a cocktail shaker.
Shake until combined and pour into a glass with ice.
Add pomegranate seeds and basil leaf to top and serve.
Recommended Products
This post contains affiliate links. I will make a small commission if you make a purchase through one of these links, at no extra cost to you.
Nutrition Information:
Yield:
2
Serving Size:
1
Amount Per Serving:
Calories:

902
Total Fat:

2g
Saturated Fat:

0g
Trans Fat:

0g
Unsaturated Fat:

0g
Cholesterol:

0mg
Sodium:

18mg
Carbohydrates:

212g
Fiber:

6g
Sugar:

204g
Protein:

3g
Nutrition information isn't always accurate. You may want to spot check this information.