With the sweet tang of blood orange and aromatic rosemary, this is the perfect cocktail with vodka, even if you're more of a bourbon fan at heart!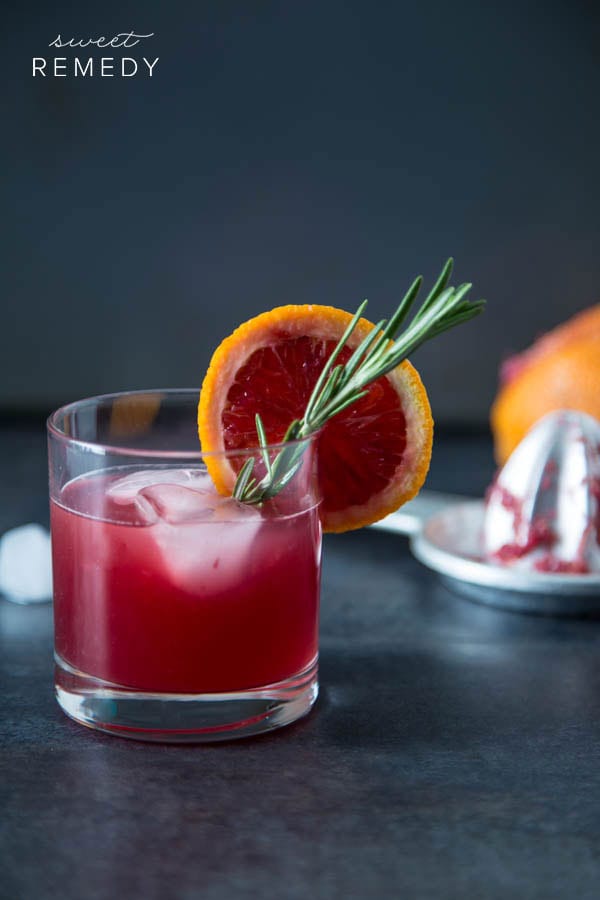 I started a personal photography project titled "leftovers" in which I eat food and then take photos and style whatever is left. There is something so satisfying to see an empty plate with a full belly.
So I drank both of these drinks in about 3 minutes. What a head rush. But it had to be done.
There's nothing that a few shots of vodka can't cure.
For art.
I've wanted to make rosemary infused simple syrup for a long time so I finally just did it. I don't know what took me so long since it's just sugar, water, and whatever herbs you want.
I like the idea of rosemary specifically here, and not just for the yum factor. It's an herb that's said to deliver a potent dose of antioxidants and health benefits, not to mention support brain health and even prevent memory loss.
This way, I can remember where my bed is if I need to lie down after the rapid-fire cocktail consumption.
So really, this is for art and science.
Fresh blood orange slices have such a gorgeous color so it is hard to resist not putting this orange cocktail in a glass container. This way you can see all that beautiful color!
The sprigs of rosemary accompany this cocktail so well, particularly because of the rosemary syrup I've created specifically for this drink.
If you don't have blood oranges, because you missed out on blood orange season, you could use regular oranges and get a similar flavor but not all citrus fruits are created equal.
## WHAT IF I DON'T HAVE ROSEMARY?
If you don't have any fresh rosemary sprigs around you can opt to use other fresh herbs. A personal favorite of mine (for cocktails) is fresh sage.
## WHAT ARE SOME OTHER FRESH HERB COCKTAILS
You can use sage, mint, and basil in a variety of recipes. Check out this Basil Pomegranate Cocktail!
WHY USE SIMPLE SYRUP FOR COCKTAILS?
With just a few ingredients and five minutes of simmering away on the stovetop, simple syrup is an easy way to add sweetness to an alcoholic drink without leaving gritty sugar granules at the bottom of the glass.
IS THIS A SEASONAL COCKTAIL RECIPE?
Blood oranges can be found year-round, but their peak season is December through April.
This is the perfect cocktail for winter and Valentine's Day. In fact, I've dubbed this Blood Orange Rosemary Cocktail the "drink of February."
This citrus fruit is perfect to help you forget the snow and pretend it's June!
WHAT ALCOHOL CAN I SUBSTITUTE FOR VODKA IN THIS COCKTAIL?
I'm normally a bourbon girl but for this drink, I opted for vodka. Mainly because it was snowing outside and I only had a few shots of vodka left in the house.
Gin and bourbon both pair well with punchy citrus and hearty herbs, so they would also be delicious!
I still think vodka made the most sense for this drink.
WHAT DOES THIS VODKA COCKTAIL PAIR WELL WITH?
I know for most of us, date night has become a night spent on the couch with the same old takeout and Netflix. Try getting in the kitchen together instead to whip up an easy better-than-takeout dinner for two!
First, be sure to have plenty of these Blood Orange Rosemary Cocktails on hand. This. Is. Critical.
Check out this simple Spinach Pomegranate Feta Salad for dinner and try some Creamy Chocolate Fondue Dip for dessert.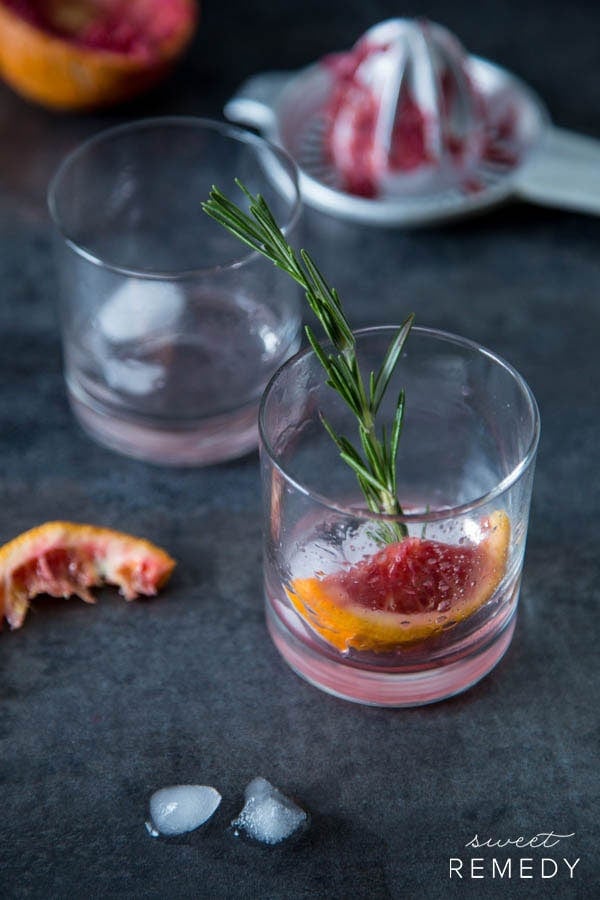 HOW DO I MAKE THIS COCKTAIL RECIPE?
I mixed this drink with the help of a fancy jigger and cocktail shaker.
I suppose you could pour into a glass and stir, but I doubt you'll get that real bartender feeling I had…
All that shaking, pouring, and garnishing with fancy herbs and pretty fruit!
INGREDIENTS YOU'LL NEED FOR THIS COCKTAIL RECIPE:
Blood orange juice
Rosemary sprigs, fresh
Sugar
Vodka
MORE COCKTAIL RECIPES!
Yield: 2
Blood Orange Rosemary Cocktail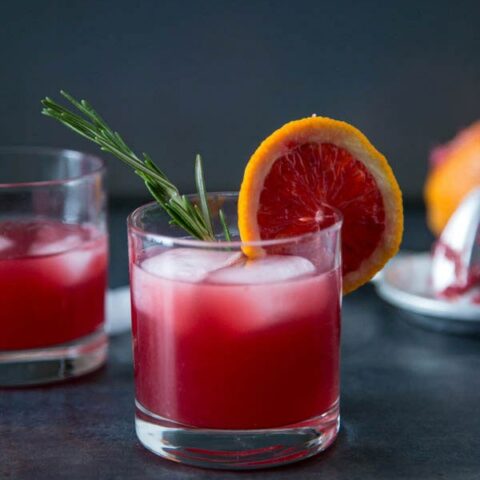 This blood orange cocktail is so sweet, it is perfect for a Valentine's Day drink for two. It's also a great use of the abundant winter citrus!
Ingredients
drink
garnish
rosemary sprig
blood orange slice
Instructions
Pour blood orange juice, rosemary infused simple syrup, and vodka into a cocktail shaker.
Shake until combined.
Line a glass with ice, a blood orange slice, and a rosemary sprig.
Pour cocktail mixture into the glass.
Serve immediately.
Recommended Products
This post contains affiliate links. I will make a small commission if you make a purchase through one of these links, at no extra cost to you.
Nutrition Information:
Yield:
2
Serving Size:
1
Amount Per Serving:
Calories:

442
Total Fat:

2g
Saturated Fat:

1g
Trans Fat:

0g
Unsaturated Fat:

1g
Cholesterol:

0mg
Sodium:

11mg
Carbohydrates:

94g
Fiber:

7g
Sugar:

81g
Protein:

1g