This recipe for Pasta with Chickpeas (Pasta E Ceci) is great for a snowy day in the middle of Winter.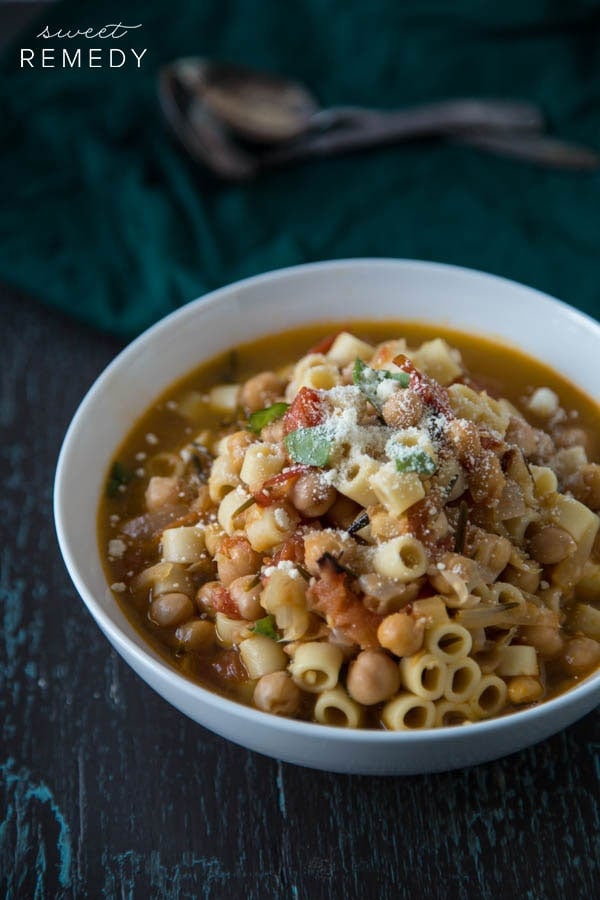 Have you ever looked at the cover of a food and recipe magazine and wondered if it was really worthy of the front page?
How many people who subscribe to these magazines, or pick them up in line at the grocery store actually make any recipes from them?
If you're anything like me you flip through them once, dog-ear, or use a sticky note as a place holder for some recipes but never return with the ingredients in hand.
I decided that I was missing out on some potentially delicious meals by solely using these magazines as inspiration to create my own recipes.
I set out to make the cover of the December 2013 edition of Vegetarian Times, a recipe for Pasta E Ceci or Pasta with Chickpeas.
I loved the cover photo for this month's issue and it is the precise reason why I picked the magazine up and purchased it.
While I was in the grocery store, I flipped open the recipe and gathered all of the ingredients.
Luckily, a few were already in my cart. I had trouble finding the ditalini or tubetti pasta and was about to settle for shells or bow-ties but as I shrugged my shoulders and began to exit the pasta aisle, I spotted a box of ditalini.
I rejoiced, huzzah!
The moody food photography of this cover recipe drew me in and persuaded me to shell out the cash for the magazine. Was the recipe worthy?
Did this Chickpea Pasta deserve the cover spotlight for the month of December? While I was making this dish, the rosemary smell was almost intoxicating and I couldn't wait to dig in.
I give credit to the food photographer on this one, what a beautiful presentation! The recipe itself was great too. Perfect for a rain-filled or snow-covered day in New York?
Definitely.
Yield: 6
Pasta E Ceci (Pasta with Chickpeas)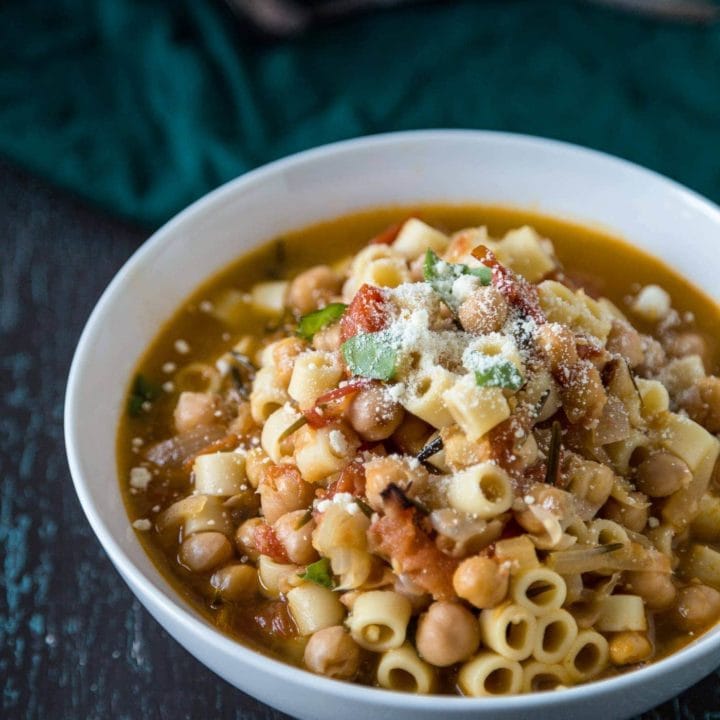 Pasta E Ceci is a classic Italian recipe. The chickpeas, tomatoes, basil, and rosemary mingle well together in this hearty soup.
Ingredients
1 tablespoon olive oil
1 medium onion, chopped (1½ cups)
3 sprigs fresh rosemary
2 cloves garlic, minced (2 tsp.)
3 plum or Roma tomatoes, seeded and chopped (2 cups)
1 15-oz. can chickpeas, rinsed and drained, or 1½ cups cooked chickpeas
4 cups low-sodium vegetable broth
½ cup ditalini or tubetti
½ teaspoon freshly ground black pepper
6 tablespoon grated Parmesan cheese
2 tablespoon finely chopped fresh basil or parsley, for garnish
Recommended Products
This post contains affiliate links. I will make a small commission if you make a purchase through one of these links, at no extra cost to you.
Nutrition Information:
Yield:
6
Serving Size:
1
Amount Per Serving:
Calories:

260
Total Fat:

7g
Saturated Fat:

1g
Trans Fat:

0g
Unsaturated Fat:

4g
Cholesterol:

5mg
Sodium:

381mg
Carbohydrates:

39g
Fiber:

9g
Sugar:

10g
Protein:

12g
Nutrition information isn't always accurate. You may want to spot check this information.