You can never go wrong with a classic BLT. Three little ingredients paired together so effortlessly that they make your taste buds want to dance.
While I was web surfing, I came across the blog What Should I Eat For Breakfast Today? Marta suggested adding egg and avocado and I just couldn't help myself. I also added a little ground chipotle spice to my mayo for a little extra zing. It was totally worth it.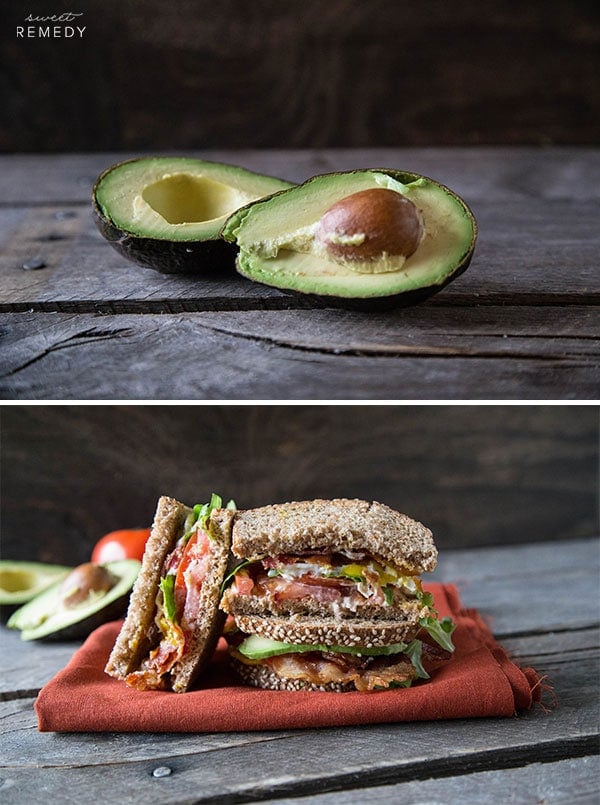 For this epic sandwich, I used Applegate Sunday Bacon and Ezekiel Sesame Bread, which are two of my favorite products! I just love how Applegate calls their bacon "Sunday Bacon." They must have a really great marketing team because I always, always buy it!
You can slice or mash up the avocados and spread it on alongside the chipotle mayo. Either method will give you similar results. I suggest mashing since it makes it easier to get that avocado flavor in every single bite.
I left the egg a bit runny, as you can see. It all welled up after shooting out of the egg. Not exactly the look I was going for, but you can always dip the sandwich in the puddle of egg yolk to sop up some of that gooey egg flavor.
Bacon Tip:
I always cook my bacon in the oven. I saw my Sister-in-Law do it once and my life was instantly changed forever.
No more grease flying out of a hot frying pan.
I just line a baking sheet with foil, lay the bacon flat and throw it in the oven at 350 degrees. After about 20-25 minutes, you have perfectly crisp bacon! Near the end of the 20 minutes, I'd start to keep an eye on the baking sheet.
The time will depend on how crispy you like your bacon. The cleanup is almost non-existent if you line your baking sheet correctly.
No leftover grease to deal with!
Yield: 4
Egg and Avocado BLT with Chipotle Mayo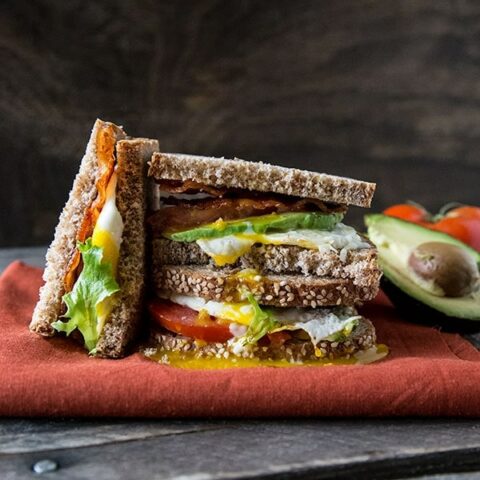 You can never go wrong with a BLT. Adding an egg, avocado and chipotle spice makes this classic a breakfast favorite. If you have extra avocado mash left over, use it the next morning on your toast with cheddar cheese, black beans, corn and hot sauce!
Ingredients
1 package of bacon
1-2 avocados
1/4-1/3 cup mayonnaise
1/2 tsp ground chipotle
8 slices of bread
2 tomatoes
8 romaine lettuce leaves
4 eggs
Instructions
Preheat oven to 350° F.
Line a baking sheet with foil or parchment paper, lay bacon flat on sheet and cook in the oven for 20-25 minutes, or until bacon is as crispy as you like.
While bacon is cooking, Slice avocados in half and remove stone.
Hull the entire avocado and mash with a fork.
Slice up your tomatoes and set aside with the avocado mash.
Mix the mayonnaise with the chipotle spice until completely combined.
Set aside the avocado and mayonnaise mixtures.
Once bacon is almost done, fry the eggs with a little bit of butter in a skillet over medium-low heat. Flipping once.
Make your egg more or less runny depending on your preferences.
Next, toast the bread in the toaster.
Set cooked eggs and toasted bread aside with the avocado mash, tomato slices and mayonnaise.
Once bacon is done, set it on a plate lined with paper towels to soak up the excess grease.
Use another paper towel and press down on the top of the bacon and pat grease off lightly.
Assemble the sandwich first by spreading the mayonnaise on one side of a slice of toast and using the other slice for the avocado spread.
Layer 2-3 slices of bacon, lettuce, tomato and 1 egg inside the two layers of bread.
Cut in half and enjoy.
Recommended Products
This post contains affiliate links. I will make a small commission if you make a purchase through one of these links, at no extra cost to you.
Nutrition Information:
Yield:
4
Serving Size:
1
Amount Per Serving:
Calories:

597
Total Fat:

42g
Saturated Fat:

8g
Trans Fat:

0g
Unsaturated Fat:

32g
Cholesterol:

202mg
Sodium:

638mg
Carbohydrates:

41g
Fiber:

8g
Sugar:

6g
Protein:

15g
Nutrition information isn't always accurate. You may want to spot check this information.