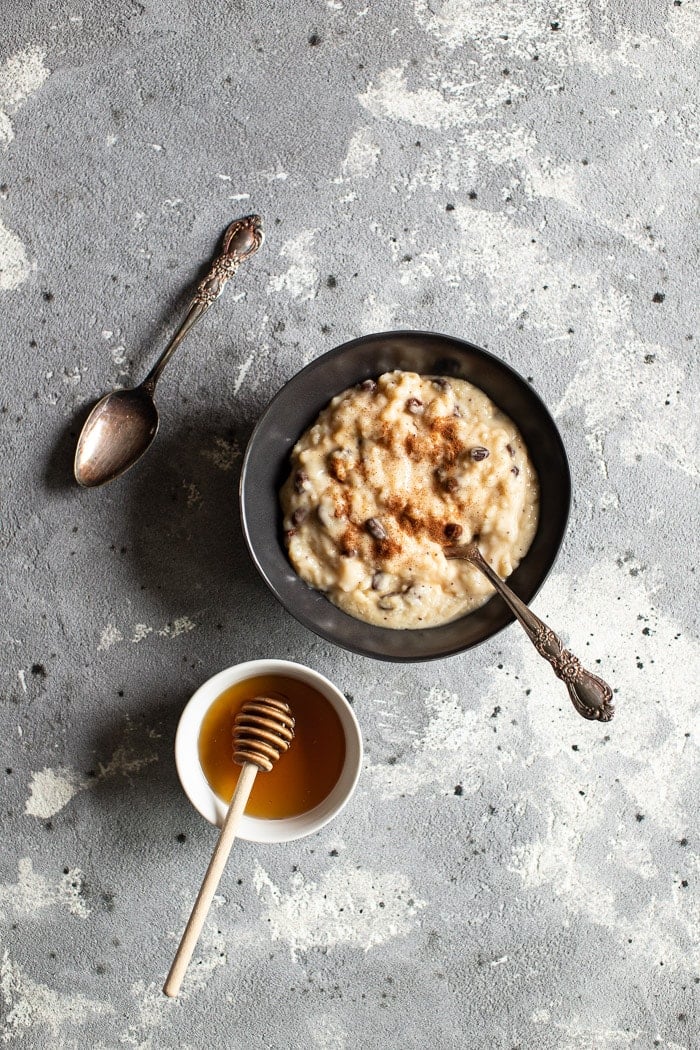 Rice pudding is so easy to make I'm not really sure why I waited so long to share it here.
The best part about this brown rice pudding recipe is that you can also swap out the brown for white rice, if you are so inclined.
I decided that I needed to make some but I only had almond milk and brown rice on hand. I figured that would be fine and went with it.
This was my first time using brown rice in a rice pudding recipe, it went pretty smoothly!
I took my book of family recipes, found the rice pudding recipe, and twisted it into something just a bit different with brown rice and almond milk so it isn't a traditional rice pudding but it is helpful for special diets. This recipe is technically vegan and is helpful for healthy eating.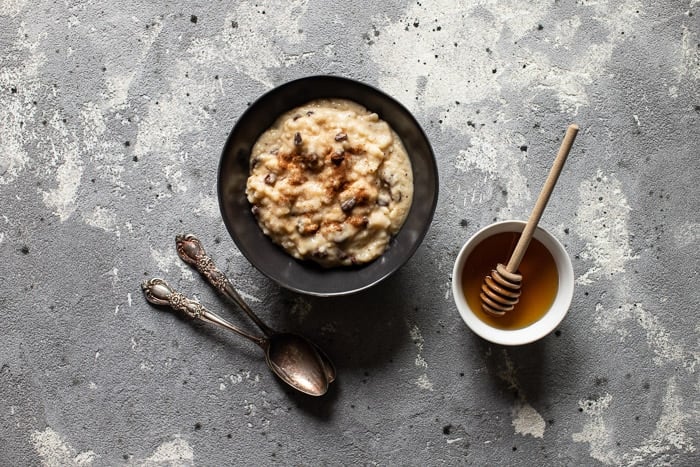 What can you add to rice pudding?
I really wanted to add dried figs and maple syrup into the mix but I decided this time I would stick to ground cinnamon since I was making it for other people.
Next time I'll experiment with some flavor combinations. Doesn't fig and maple sound pretty great?
If you don't like raisins, feel free to omit them or eat around them. I won't be offended.
In addition to raisins, you can also add:
chocolate chips (why not!)
chia seeds (for those extra omega 3's!)
any type of dried fruit (my go-to here would be figs!)
teaspoon maple syrup
teaspoon vanilla extract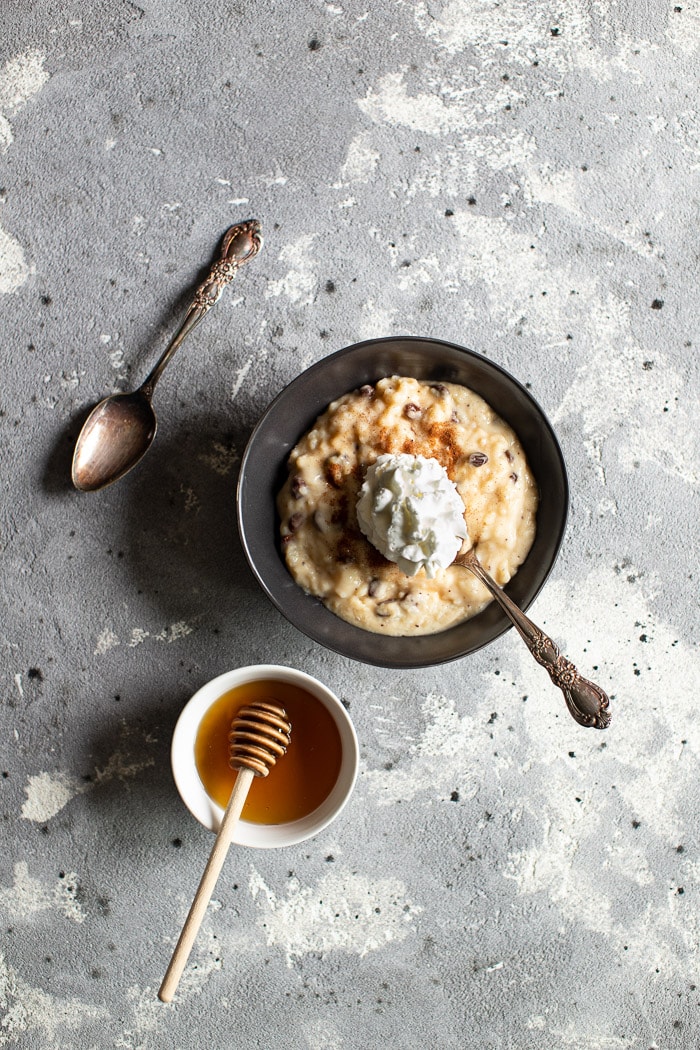 What kind of milk should I use with Rice Pudding?
Whole milk is going to give you the really creamy rice pudding, but you can absolutely use non-dairy milk in a rice pudding recipe. I've used Almond milk here but Coconut milk would be another great option.
I would imagine that adding heavy cream in addition to the milk would be a way to make a really creamy dessert.
What type of rice should I use?
For a traditional recipe, you'll want to use white rice. Brown rice came out really well this time around for that whole grain recipe. I would not recommend trying wild rice for a creamy texture.
How to make creamy rice pudding?
You'll find full instructions in the recipe card but briefly, on the stovetop, boil 4 cups of water and stir in the brown rice over medium-high heat. Once boiling lower heat to a simmer and cook for thirty minutes.
Next, you'll want to transfer the rice to a large bowl and set aside.
Bring almond milk, sugar, honey, and spices to a low boil.
Add in the rice, butter, and a handful of raisins for a bit more chewy texture.
What type of Sugar do I use in Rice pudding?
You can use regular cane sugar but if you are so inclined to try brown sugar, I wouldn't fight you!
If you're looking to create a healthy snack, you might consider trying coconut sugar.
Yield: 4-6 servings
Cinnamon Brown Rice Pudding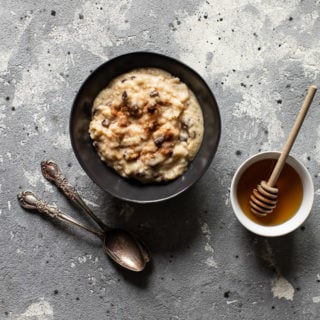 You can easily replace the rice with white and the milk with whole in this recipe. Omit the raisins if you aren't into sun-dried grapes!
Total Time
1 hour
30 minutes
Ingredients
4 cups water
1 cup brown rice
4 cups almond milk
2 Tbsp sugar
2 Tbsp honey
1 Tbsp cinnamon
1 tsp nutmeg
2 Tbsp butter
1/2 cup raisins
Instructions
Boil 4 cups of water and stir in brown rice.
Lower to medium heat and simmer rice for 30 minutes, uncovered.
Stir occasionally. Drain water and transfer rice back to its original pot.
Put the lid on the pot and let steam for 10 minutes, away from the flame.
After 10 minutes, transfer rice to a bowl and set aside.
Bring almond milk, sugar, honey and spices to a low boil.
Stir often so the milk doesn't burn.
Add the rice, butter and raisins, stir often.
Simmer until milk cooks down, about 30-45 minutes.
Serve cold or at room temperature with a pinch of cinnamon on top.
Add raisins to your liking.
Recommended Products
This post contains affiliate links. I will make a small commission if you make a purchase through one of these links, at no extra cost to you.
Nutrition Information:
Yield:
6
Serving Size:
1
Amount Per Serving:
Calories:

189
Total Fat:

6g
Saturated Fat:

3g
Trans Fat:

0g
Unsaturated Fat:

3g
Cholesterol:

10mg
Sodium:

45mg
Carbohydrates:

34g
Fiber:

2g
Sugar:

22g
Protein:

2g
Nutrition information isn't always accurate. You may want to spot check this information.