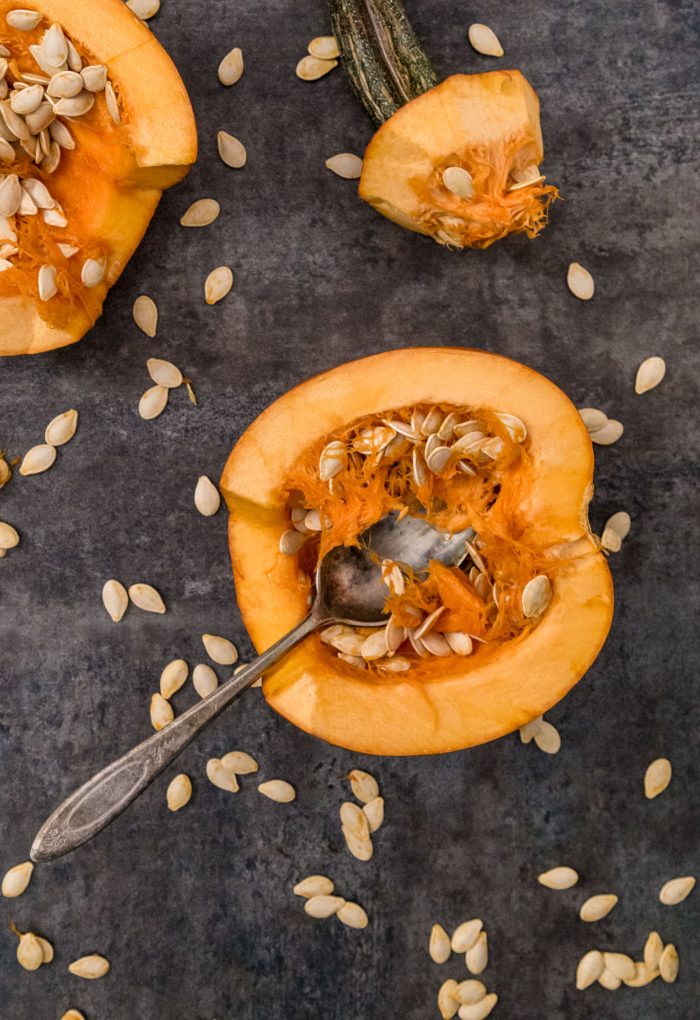 It's the most wonderful time of the year! FALL! The leaves are changing and the temps are getting cooler. It's time for pumpkins and Halloween!
I picked up a tiny little organic pie pumpkin from a local farm called Norbury Acres.
I'm here to share with you instructions on how to make fresh pumpkin puree yourself in lieu of buying the cans.
Remember the great pumpkin shortage of 2010? No? Well, those cans were hard to come by back then. May we never have to experience that again!
What type of pumpkin do I need?
I used a small pie pumpkin that I got from a local farm. You can use small sugar pumpkins, too!
You can also do this same exact process with squash. My favorites include butternut and acorn squash.
What you need to make your own pumpkin puree from Scratch
The two most valuable tools for making pumpkin puree from scratch are a very sharp knife (Like this one, we love our knives!) and a food processor.
If you don't have a food processor, you might have some trouble but you can try to mash it up with a potato masher or fork and do your very best!
Pro Tips for Making Pumpkin Puree
While blending the pumpkin into a puree with your food processor, if you need to add a bit of water to it, go for it.
I used the water I baked the halves in. It may be easier to blend that way.
This will also likely make the final puree a bit smoother.
Use a really sharp knife for this. If your knives suck, you should really consider buying a good set of knives.
It will be one of the best investments for your kitchen.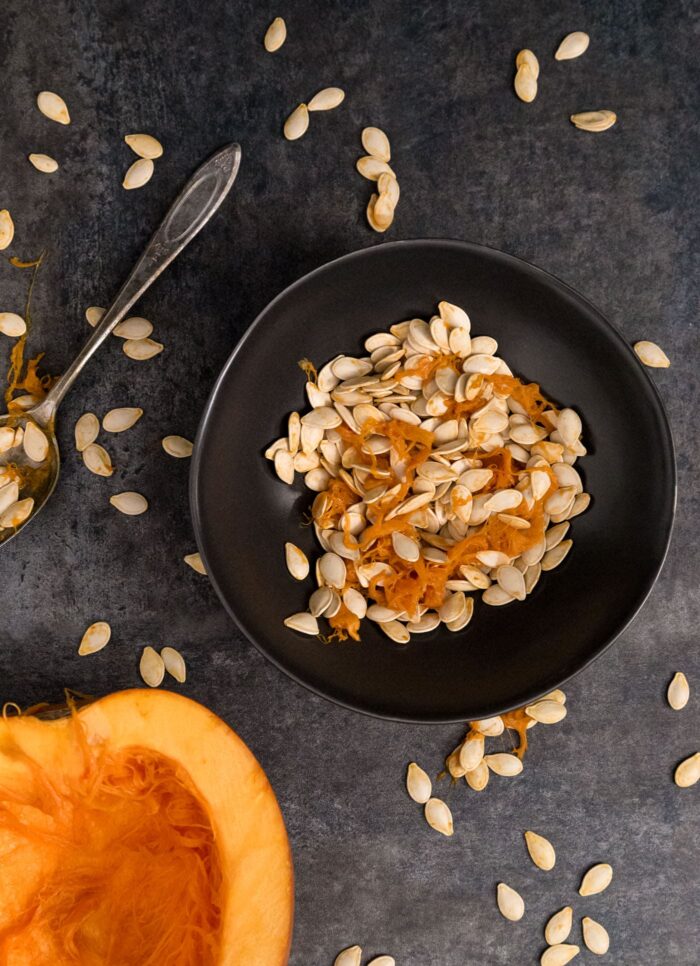 how do you store fresh pumpkin puree?
Freeze the pumpkin puree until you are ready to use it.
You can freeze it in a plastic freezer bag and lay it flat in the freezer.
If you are going to use it within a day or two, you can leave it in the fridge in a glass container with a lid.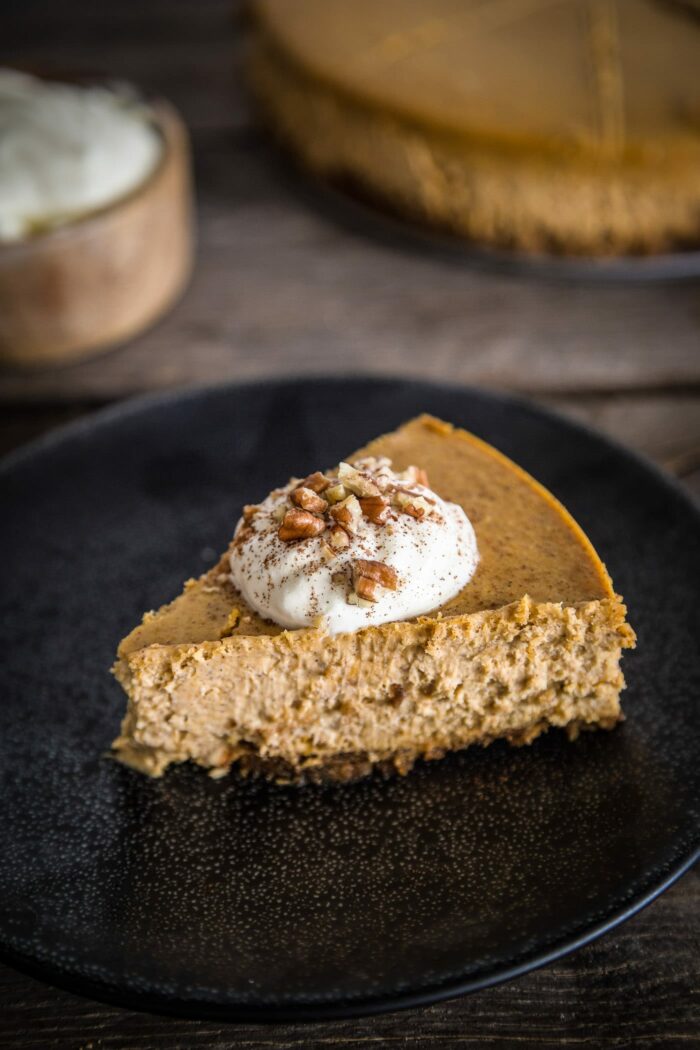 WHAT TO MAKE WITH ALL THIS FRESH PUMPKIN PUREE?
I'm so glad you asked! I have so many pumpkin recipes for you to try out.
I suppose at one point, I went a little pumpkin spice crazy like the rest of the world.
I'm here to say: it's okay to be basic sometimes.
Here are a few of my favorite pumpkin spice recipes: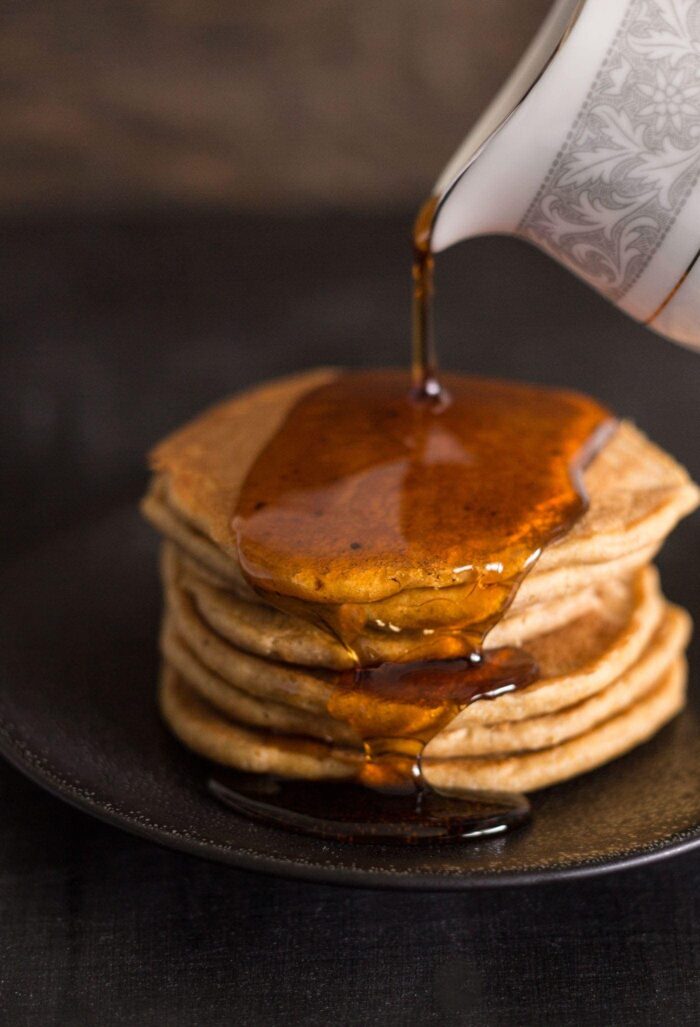 So what do you all call pumpkin insides?
Some people call it pulp, some membrane, some just call it pumpkin insides…But I will henceforth refer to pumpkin insides as pumpkin guts.
I really like saying pumpkin guts for some reason.
Yield: 1 lb
Pumpkin Puree From Scratch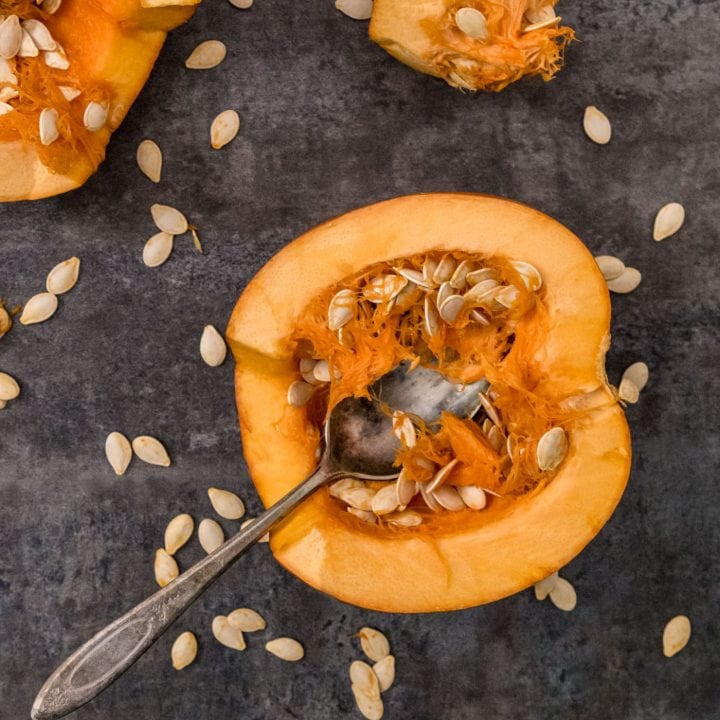 Ingredients
1 small pumpkin
1 cup water
Instructions
Preheat your oven to 350 ° F
Cut open the top of the pumpkin and remove the stem. Just like you would if you were going to carve the pumpkin.
Scoop out as much of the seeds and stringy bits as you can.
Cut the pumpkin into two halves. You will need a really sharp knife for this. Turn the pumpkin over and started to slice it down the middle.
Remove the remaining seeds that you may have missed
Take the two pumpkin halves and place them face down in a baking dish and fill with 1 cup of water.
Place them in the oven for 45 minutes or until the inside of the pumpkin is soft.
After you take your pumpkin halves out of the oven, slice horizontal and vertical lines in the pumpkin halves.
Turn out the pumpkin and remove the pumpkin pulp away from the shell with a knife and discard the shell.
Place the pumpkin in the food processor and blend until smooth.
Recommended Products
This post contains affiliate links. I will make a small commission if you make a purchase through one of these links, at no extra cost to you.
Nutrition Information:
Yield:
5
Serving Size:
1
Amount Per Serving:
Calories:

10
Total Fat:

0g
Saturated Fat:

0g
Trans Fat:

0g
Unsaturated Fat:

0g
Cholesterol:

0mg
Sodium:

2mg
Carbohydrates:

2g
Fiber:

1g
Sugar:

1g
Protein:

0g
Nutrition information isn't always accurate. You should spot check this information.