Disclosure: Vermont Creamery sent me a package of their products in exchange for this recipe and blog post. All opinions are 100% my own and I do indeed adore Vermont Creamery products. This post contains affiliate links. I will make a small commission if you make a purchase through one of these links, at no extra cost to you.
This Pear Creme Fraiche Tart has a luscious filling with creme fraiche, mascarpone cheese, a pear mixture that resembles pie and chopped pecans.
The crust is made with creamy cultured butter and gluten-free honey graham crackers. Feel free to substitute a non-gluten free brand or even some gingersnap cookies as I suspect that would be delicious.
Creme Fraiche is a super silky and delicious alternative to heavy cream or sour cream. In this recipe, I used Vermont Creamery's Madagascar Vanilla Creme Fraiche as part of a silky filling for a pear tart.
It's mixed with their mascarpone cheese which I like to use in place of cream cheese. The final recipe resembles a cheesecake but with superior ingredients.
Thanksgiving is this week. THIS WEEK! If you're bored with the same old desserts give this recipe a shot. If you've never heard of creme fraiche, I hope these photos and this recipe gave you some inspiration to try a new ingredient.
There are so many ways to use creme fraiche. You can use it in place of heavy cream in this homemade whipped cream recipe. Or how about a replacement for the sour cream in any cake recipe that uses sour cream?
You can see the tiny specks of vanilla because I used the Madagascar Vanilla Creme Fraiche. I love those specs. Aren't they just gorgeous?
After the tarts were assembled, I coarsely chopped some pecans and sprinkled them on top of the pear filling. It was a really nice touch. You can also use walnuts, hazelnuts or even almonds. Do your thang, make it yours.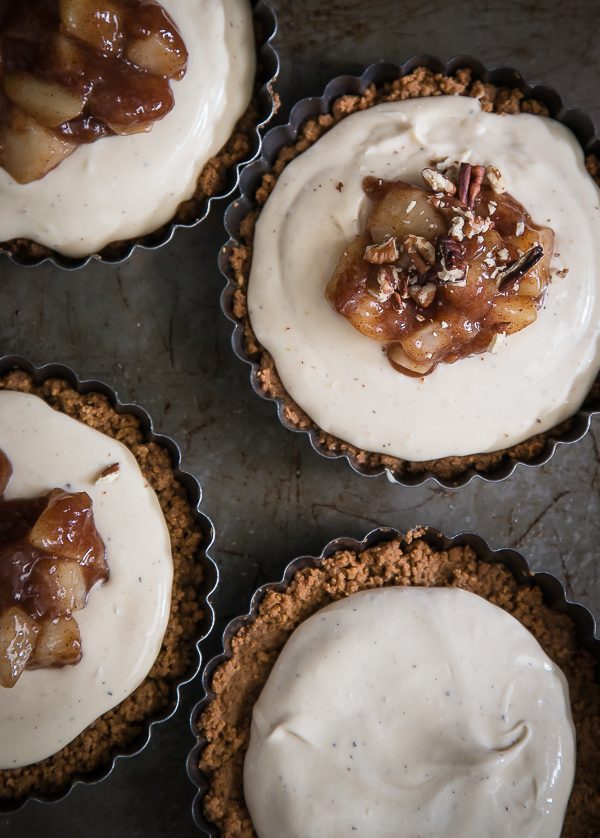 Some variations of this recipe:
Use apples instead of pears
Walnuts instead of pecans
Gingersnap cookies instead of honey graham crackers
Use apples, pears, walnuts, and pecans because you're crazy like that
I like that last one…
Have I convinced you to try something new for Thanksgiving this year? No? Did you already do all of your shopping for the impending holiday? I understand. You can make this next year.
You know that other Holiday celebrations are in December, right? Maybe make it then?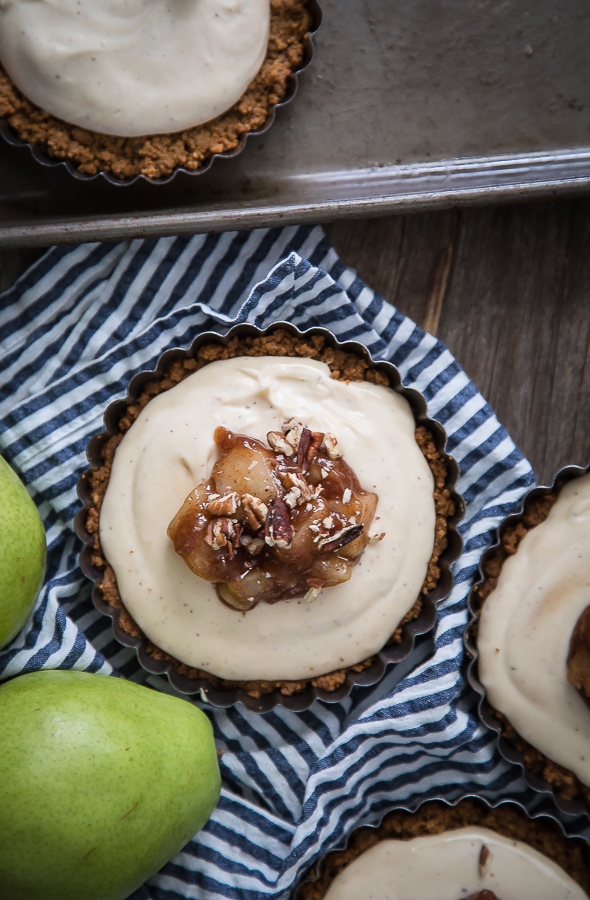 Even if you did do all of your holiday food shopping already and were set to make one apple and one pumpkin pie because that is what Uncle John is expecting…
…Go run to the store, buy a tub of creme fraiche and use it in place of that store bought whipped cream because I'm telling you one dollop of creme fraiche on top of your pumpkin pie is pure bliss.
Yield: 4 mini tarts
Pear Crème Fraîche Tart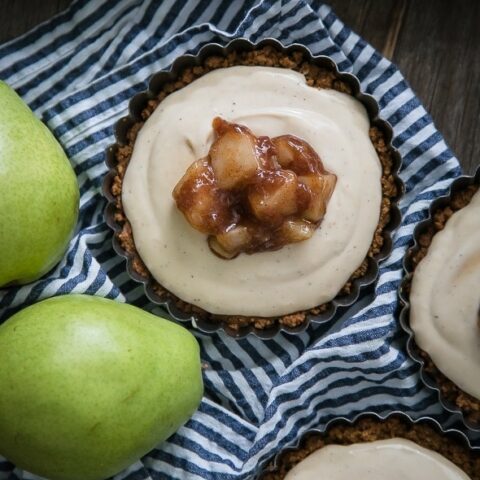 If you're having a large crowd over for the Holiday season and you want to make this recipe, make sure to double it as this recipe as written only makes 4 mini (personal sized) tarts. You could also put this into a pie dish or a larger tart pan and cut slices from it.
Ingredients
12 graham crackers (gf)
5 tablespoons butter, melted
1 cup sugar, divided
3 pears, peeled and cut into chunks
2 tablespoons cornstarch (gf) or arrowroot starch
1/2 tablespoon cinnamon
1 cup water
4 ounces vermont creamery mascarpone cheese
4 ounces vermont creamery creme fraiche
1/2 cup pecans, coarsely chopped (optional)
Instructions
Preheat your oven to 350 degrees F.
Crush the graham crackers into crumbs either by hand using a plastic bag or in a food processor.
In a small bowl, combine the crushed graham crackers and melted butter.
Lightly grease four small tart pans with butter and pat the mixture into the tart pans.
Bake for 10 minutes and remove from oven to let cool. While crust is baking, in a small sauce pan, combine 1/2 cup sugar, peeled and cut pears, corn or arrowroot starch, cinnamon, and water.
Mix thoroughly and heat on medium-low heat until the mixture thickens, about 3-4 minutes.
Set aside in the refrigerator to cool. In a small bowl, whisk together the mascarpone cheese, creme fraiche and the remaining sugar.
Place in the refrigerator until you are ready to combine the tart.
Once the pear mixture is cooled, begin to assemble the tart. With a large cookie scoop, fill the tart shell with the creme fraiche mixture. Top with pear filling in the center. Repeat until all tarts are filled. If desired, top with coarsely chopped pecans.
Recommended Products
This post contains affiliate links. I will make a small commission if you make a purchase through one of these links, at no extra cost to you.
Nutrition Information:
Yield:
4
Serving Size:
1
Amount Per Serving:
Calories:

953
Total Fat:

54g
Saturated Fat:

26g
Trans Fat:

1g
Unsaturated Fat:

24g
Cholesterol:

112mg
Sodium:

501mg
Carbohydrates:

117g
Fiber:

8g
Sugar:

76g
Protein:

8g