This pumpkin spice cheesecake is rich and super creamy. It's packed full of pumpkin spice flavor!
The crust is made with crushed gingersnap cookies which pair really well with the pumpkin spice and fall flavors we all know and love.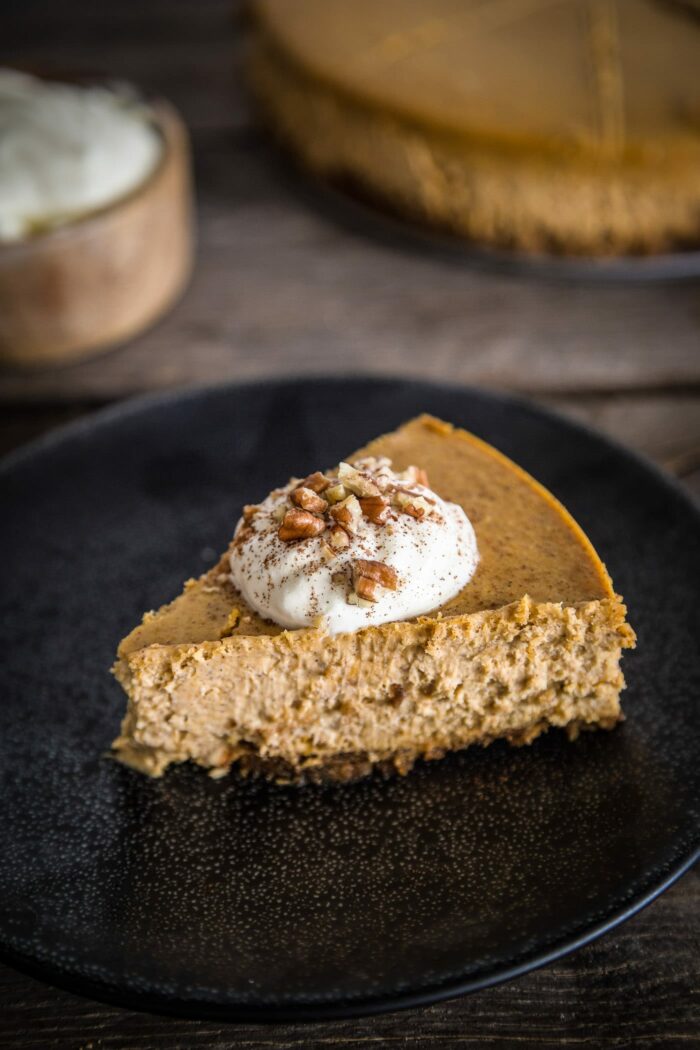 Disclaimer: There are affiliate links within this post and within the recipe.
What Is In Pumpkin Spice?
A lot of people think that pumpkin is found within pumpkin spice. It's actually not! I know, seems pretty strange, right?
Pumpkin Spice is actually just the following spices: cinnamon, nutmeg, ginger, and cloves!
Usually in baked goods you do have some actual pumpkin puree in the recipes.
What's Better: Fresh or Canned Pumpkin Puree?
It's really a toss-up! For this recipe, I have used both fresh pumpkin puree and canned pumpkin puree. I say use whatever you have on hand or can find.
If you have a small sugar pumpkin that you picked this year hanging around the house, you might want to try your hand at carving it up and using the puree in this recipe.
Luckily for you, I have a tutorial on how to make fresh pumpkin puree. It's simple and if you have time, quite satisfying! There isn't anything wrong with using the canned puree.
What can I substitute for pumpkin spice?
For this recipe, you can use just cinnamon if you'd like. I'd just use the same amount of cinnamon it calls for and omit the other spices. I've done that before and it still came out fantastic!
If you don't have the individual spices but you have pumpkin spice in one container you can use just 2 tablespoons and you should be good to go!
I've also made it both ways, with the pumpkin pie extract and without it. I was always pleased with the final outcome.
So you'll see in the recipe below that is listed as optional along with the pecans that I sprinkled on top.
What should I put on top of the Pumpkin Spice Cheesecake?
My go to is fresh whipped cream and chopped pecans with a sprinkle of cinnamon or pumpkin pie spices.
It's really up to you though! You could also use walnuts and that would be equally as good.
What do I need to make Pumpkin Spice Cheesecake
You'll definitely need a springform pan for the cheesecake itself.
You also will need a deep pan for the boiling water. This one is a roasting or a lasagna pan and it should work fine. You'll just want to make sure that your springform pan will fit inside it!
You'll also need a butter knife to run along the edge of the baked cheesecake. This will help remove it from the springform pan and allow it to come out easier.
Don't forget your mixing bowl and spatula!
Yield: 8 slices
Pumpkin Spice Cheesecake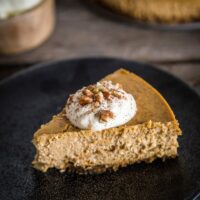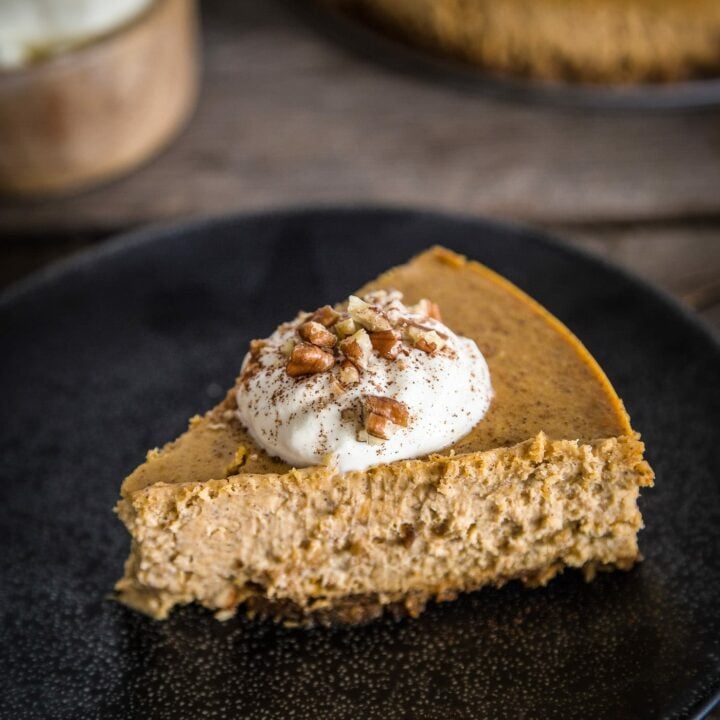 This pumpkin spice cheesecake is creamy and packed full of pumpkin spice flavor! The crust is made with gingersnap cookies which pair really well with the pumpkin spice and fall flavors we all know and love.
Total Time
1 hour
20 minutes
Ingredients
1 cup crushed gingersnap cookies
1/3 cup melted butter
4 8oz packages of cream cheese
1 1/2 cups sugar
2 Tbsp cornstarch
4 eggs
1 cup pumpkin puree
1/2 teaspoon salt
2 teaspoons ground cinnamon
1/2 teaspoon ground ginger
1/4 teaspoon ground nutmeg
1/8 teaspoon ground cloves
2 Tbsps pumpkin pie extract (optional)
1/3 cup pecans (optional)
Instructions
Preheat to 350 ° F.
While the oven is preheating, crush the gingersnap cookies.
Mix the crushed gingersnap cookies with the melted butter.
Pat the mixture into the bottom of a springform pan to form the crust.
Bake the crust for 10 minutes.
Remove from the oven and set aside.
In a separate bowl, mix the sugar and cornstarch with one package of cream cheese.
Beat in the remaining cream cheese, one package at a time.
Mix in the pumpkin pie extract and one of the eggs.
Add the remaining three eggs one at a time until the mixture is combined.
Add the pumpkin puree and the cinnamon and mix in with a spoon.
Place the baked crust in a baking dish surrounded by boiling water
Pour the filling over the crust
Smooth the top with the back of a spoon and bake at 350 ° F for 55 minutes
Recommended Products
This post contains affiliate links. I will make a small commission if you make a purchase through one of these links, at no extra cost to you.
Nutrition Information:
Yield:
8
Serving Size:
1
Amount Per Serving:
Calories:

810
Total Fat:

55g
Saturated Fat:

30g
Trans Fat:

0g
Unsaturated Fat:

20g
Cholesterol:

229mg
Sodium:

603mg
Carbohydrates:

70g
Fiber:

1g
Sugar:

48g
Protein:

12g
Nutrition information isn't always accurate. You should spot check this information.