These Red Velvet Cupcakes are tender and tasty, pairing perfectly with the sweet tang of cream cheese frosting. Truly classic!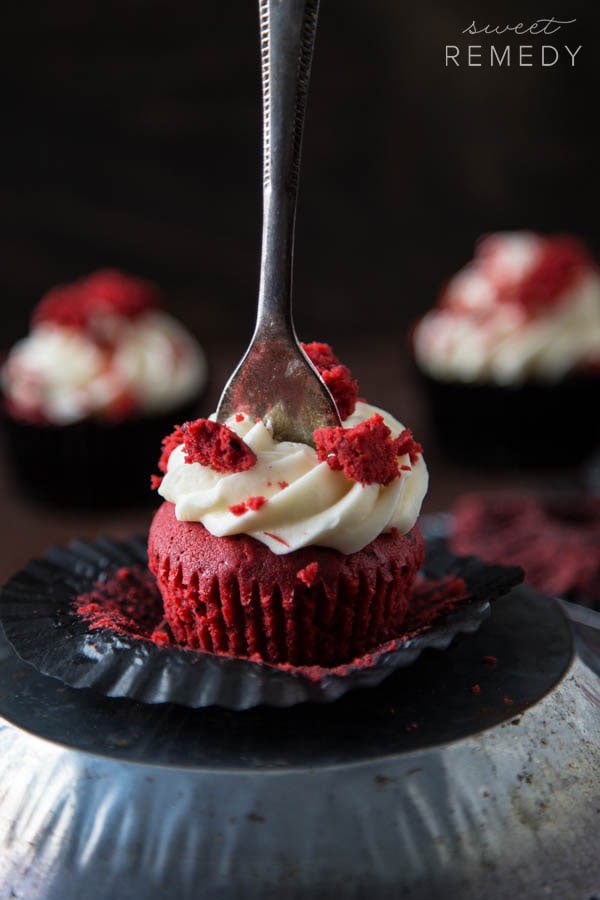 I've made a lot of cupcakes in my day.
A whole lot.
When I first started this website it was called 'Sweet Remedy' but it really began as a tiny booth at a farmers' market where I sold cupcakes, cookies, and brownies every weekend.
It was so much work, but truly a labor of love.
There's just something about getting together as a community of bakers, gardeners, florists, chefs and makers. Whether you're running the booth or there to shop small and local, you feel like you're part of something really meaningful.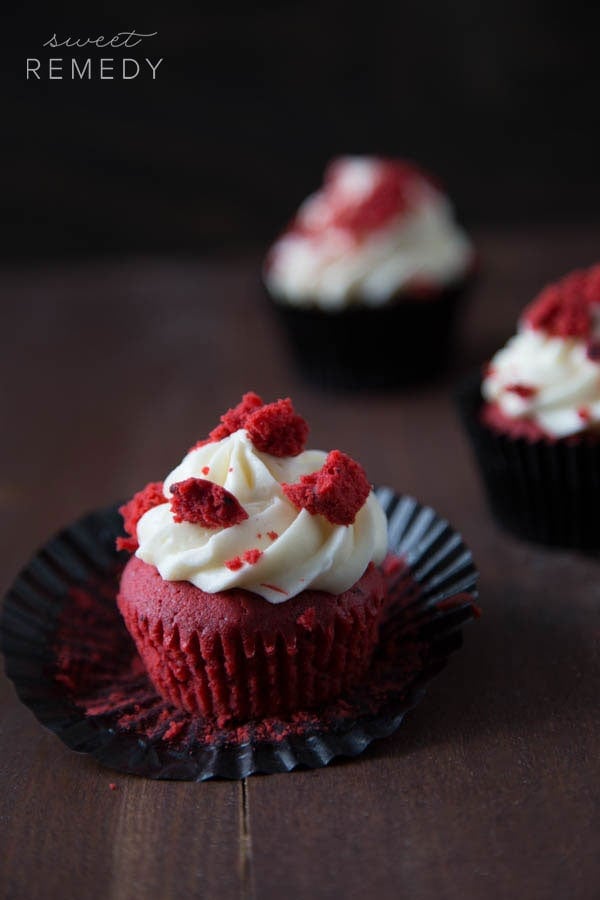 Are you a farmers' market fan?
My two favorite cake flavors – back then at my tiny booth and now – are Red Velvet and Carrot Cake.
Making a cake is something I'm a big fan of, but I absolutely love to decorate cupcakes. Getting that perfect swirl took me a long time to master and now it's like muscle memory.
Whenever I brought red velvet to the farmers' market, which was often, I took one of the unfrosted cupcakes, broke it into tiny pieces and sprinkled it on top of the frosted ones.
Not only did it look pretty, but it also gave them even more of that divine red velvet flavor.
If you've never made Red Velvet Cupcakes before, give these a try! This recipe is a scrumptious pairing of tender, vibrantly red cake with sweet and tangy cream cheese frosting.
If you're as big a fan of Red Velvet as I am, Red Velvet Cake Ice Cream is an excellent way to get those same classic flavors, but with a fun twist!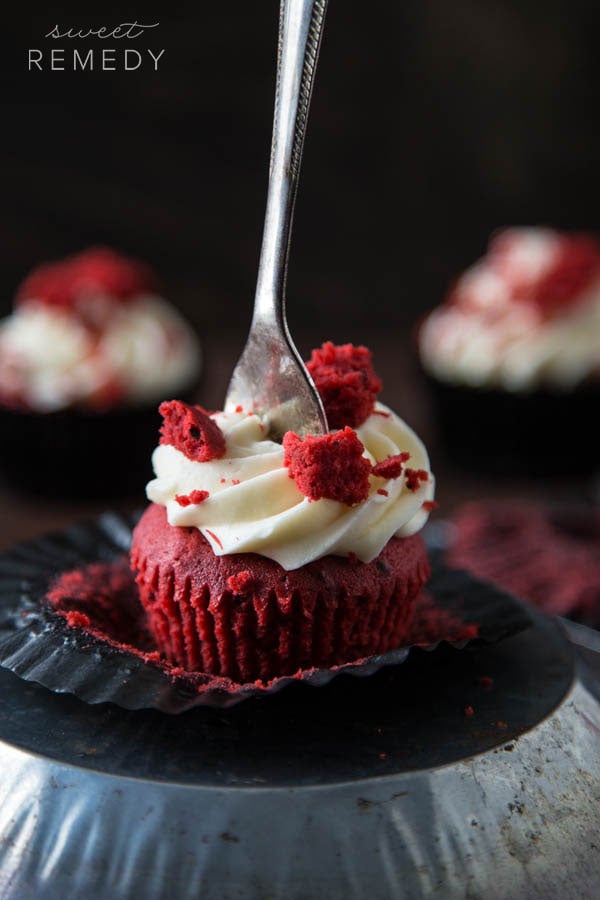 CAN I SUBSTITUTE GEL FOOD COLORING FOR LIQUID?
The quick answer is yes, you can. But beware of how differently the gel and liquid food coloring will behave in the batter. The gel food coloring can provide a more vibrant and bold color, but you may need to add a tiny (and I mean tiny!) splash of extra liquid (like buttermilk) to make up for the missing moisture the liquid color would have added.
CAN I SUBSTITUTE ANOTHER OIL FOR CANOLA OIL?
The canola oil in this recipe can be replaced one-for-one with another oil you have on hand. Coconut or avocado oils are great substitutions in baking, because they won't impart any strong (and less than delicious) flavors. I wouldn't recommend using olive oil here.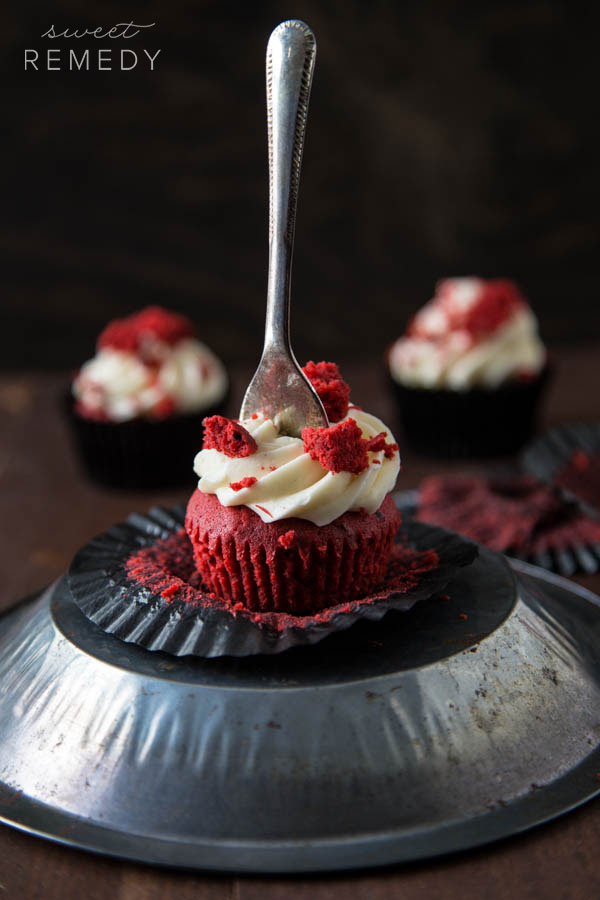 DO I HAVE TO USE BUTTERMILK OR IS THERE A SUBSTITUTE I CAN USE?
Buttermilk has an incredible tang and thickness that just can't be replicated by whole milk alone. The best substitutes for buttermilk involve adding lemon juice or white vinegar to milk.
For every 1 cup of milk, add 1 tablespoon of lemon juice OR 1 tablespoon white vinegar. So for this recipe, you'll need 1 ¼ cups whole milk + 1 ¼ tablespoon lemon juice or white vinegar.
IS RED VELVET CAKE REALLY JUST CHOCOLATE CAKE?
Certainly not! Yes, there's cocoa in Red Velvet Cake, but it's there for more than just flavor. The buttermilk, baking soda and cocoa powder create a chemical reaction that leavens the cake, making it moist and very tender. The other effect of this ingredient combo is that the finished product has a much more complex flavor that a traditional chocolate cake.
WHAT IF I DON'T HAVE A PIPING BAG?
If you don't have a piping bag handy, no problem! Grab a plastic bag with a zipping closure, fill with donut batter, zip the bag (hopefully I don't need to drive home just how vital this step is – hello, mess!), snip off one corner of the bag, and pipe your heart out.
INGREDIENTS YOU'LL NEED FOR THIS CUPCAKE RECIPE:
Flour
Cocoa Powder
Canola Oil
Granulated Sugar
Eggs
Red Food Coloring
Vanilla Extract
Buttermilk
White Vinegar
Butter
Cream Cheese
Confectioners' Sugar
Milk
Baking Pantry Staples: Baking Soda + Salt
MORE CAKE RECIPES!
Yield: ~3 dozen
Red Velvet Cupcakes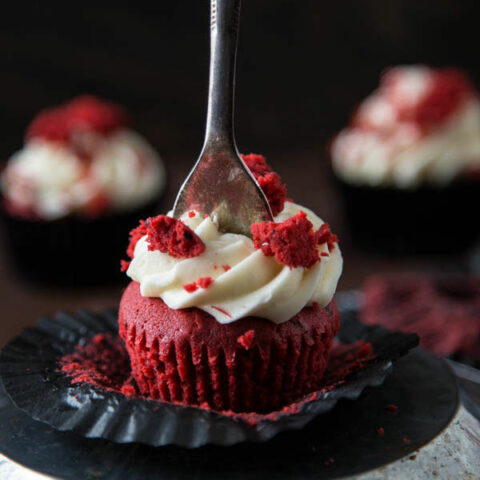 This red velvet cupcakes are so moist and flavorful. Perfect for professing your love on Valentine's Day! (Or any day of the year!)
Ingredients
cake
3 1/2 cups flour
1/2 cup cocoa powder
1 1/2 tsp salt
2 cups canola oil
2 1/4 cups granulated sugar
3 large eggs
1 oz red food coloring
1 1/2 tsp vanilla extract
1 1/4 cup buttermilk
2 tsp baking soda
2 1/2 tsp white vinegar
frosting
1 stick of butter
8 oz cream cheese
4 cups confectioners' sugar
2 Tbsp milk
Instructions
cake
Preheat oven to 350 ° F.
Line a cupcake pan with liners and set aside.
Sift the flour, cocoa and salt into a medium bowl.
Mix the oil and sugar together with a beater blade in a stand mixer.
Beat until combined and add the eggs until they are full incorporated.
Add the vanilla extract and red food coloring.
Add half of the flour, cocoa and salt mixture to the wet ingredients in the stand mixer.
Next add half of the buttermilk and the remaining dry ingredients and follow up with the last of the buttermilk. Stir the baking soda and vinegar together to make a slurry and add to the mixer.
Using a large scoop, place batter into prepared liners.
Bake for 18-20 minutes or until a toothpick comes out of the middle of a cupcake clean.
If you need to bake for longer than 20 minutes, keep a close eye on the cupcakes.
frosting
Cream butter and cream cheese together in a medium bowl using a hand beater or in the bowl of a stand mixer with a beater blade, after you've cleaned the bowl of all red velvet batter.
Slowly add each cup of sugar to the butter and cream cheese.
Add milk and continue to cream mixture until silky smooth.
Swirl onto top of cupcakes once they cool and top with the crumbs of one cupcake.
Recommended Products
This post contains affiliate links. I will make a small commission if you make a purchase through one of these links, at no extra cost to you.
Nutrition Information:
Yield:
36
Serving Size:
1
Amount Per Serving:
Calories:

307
Total Fat:

18g
Saturated Fat:

4g
Trans Fat:

0g
Unsaturated Fat:

13g
Cholesterol:

29mg
Sodium:

230mg
Carbohydrates:

35g
Fiber:

1g
Sugar:

25g
Protein:

3g
Nutrition information isn't always accurate. You may want to spot check this information.