Oatmeal and smoothies together equal pure bliss. I make these smoothies for a quick breakfast in the morning and sip it on my drive into work in my super cool travel cup.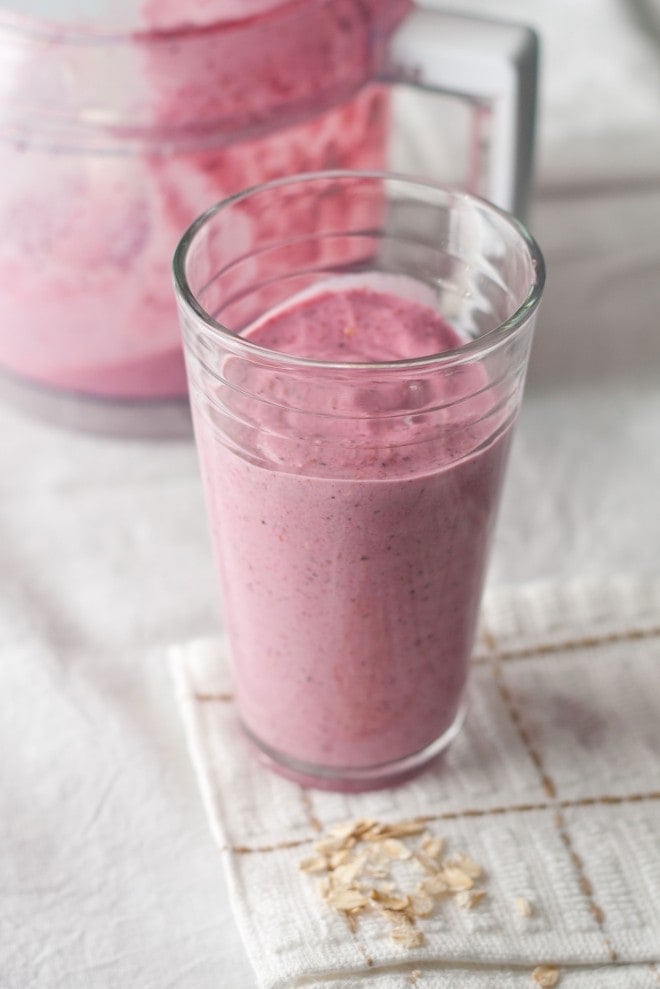 What type of fruit to use
In terms of the type of fruit used, I used all the berries. This recipe can be adapted as you see fit. My favorite types of recipes are customizable because whenever you are missing something like say….strawberries, you can substitute them for the blueberries that are about to mold in the fridge.
That is great for me as someone who always forgets something and then doesn't want to go back out to the store to get it.
What Other Ingredients can be used in smoothies?
In terms of other ingredients, I mean "add-ins." Add-ins could be whatever you want or have available in your pantry but in this smoothie, I added oatmeal and flax seeds.
You can add in honey, chia seeds, flax seeds, oatmeal, protein powder, anything really!
What Type of Liquid to Use?
Smoothies are made up of a few parts:
You'll need a liquid of some kind! This could be a lot of different ingredients and what makes smoothies super customizable.
Here is a list of liquids or thickeners you can use in your smoothies:
Green tea
Ice
Almond Milk
Cows Milk
Oat Milk
Soy Milk
What Types of Add In to Use in Your Smoothie?
What is a thickener? Greek Yogurt is a good example of a thickener. It will effectively thicken your smoothie up! You could also use protein powder to do this and give yourself a boost of protein.
Some ingredients you can add in to your smoothie:
Greek Yogurt
Protein Powder
Oats
Flax Seeds
Hemp Seeds
Bee Pollen
Nutritional Boosters
Chia Seeds
Nuts
How to Blend a Smoothie
I use my trustworthy food processor for most smoothies because my blender is the worst blender, ever.
But you can use whatever you want; a food processor, a blender, your super cool Vitamix that I hate you for having…
Fruit and Oatmeal Flax Smoothie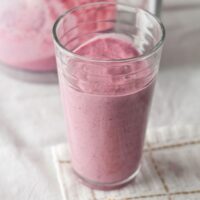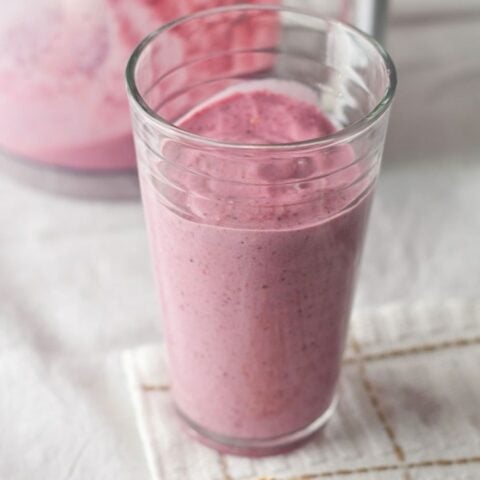 Ingredients
1 cup ice
1 cup mixed berries
1/2 cup oats
1 cup almond milk
1/2 cup Greek yogurt (plain & low fat)
2 tablespoons flaxseed meal
Instructions
Add the ice and fruit to a food processor or blender.
Blend together until ice is crushed
Next, add the oats and flaxseed meal to the food processor and blend until the oats are incorporated fully.
Add the yogurt and milk and pulse a few more times until creamy.
Recommended Products
This post contains affiliate links. I will make a small commission if you make a purchase through one of these links, at no extra cost to you.
Nutrition Information:
Yield:
2
Serving Size:
1
Amount Per Serving:
Calories:

205
Total Fat:

6g
Saturated Fat:

1g
Trans Fat:

0g
Unsaturated Fat:

5g
Cholesterol:

3mg
Sodium:

34mg
Carbohydrates:

29g
Fiber:

7g
Sugar:

10g
Protein:

11g
Nutrition information isn't always accurate. You should spot check this information.