This Slow Cooker Pot Roast recipe is sure to please a big crowd while freeing up your day for other activities!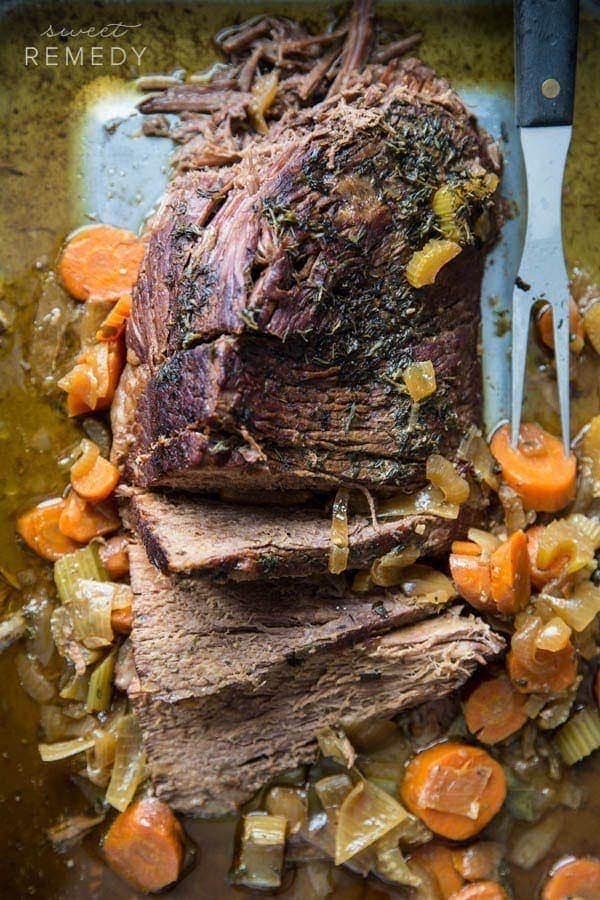 Ah, the slow cooker, one of the greatest kitchen appliances. I love to use it on the weekends as it frees up more time for me to be social, relax, take naps or work on photography projects.
This recipe is one that my Mom would make quite often and I hated growing up. Isn't it funny how our childhood taste buds don't know anything?
Pot roast has never been a favorite dish of mine. There was always something "funny" about the texture. Today, I smile when I smell the aroma of a slow cooking roast filling the house.
I served this alongside carrots, celery, onions, and garlic all in the crockpot with a healthy serving of beef broth. I roasted red potatoes separately in the oven and rubbed them with olive oil, paprika, garlic powder, and parsley. I made a small side salad and served everything with a loaf of bread for dipping.
If you are looking for a quick meal, a slow cooker recipe is the best solution. This recipe does have a bit of prep work. You will need to chop and dice the vegetables and you will need to brown the roast before situating it into the crock-pot.
The good news is that you can do most of this work the night before and assemble once you are ready to turn on your crock-pot 8 hours before dinner!
Yield: 6-8
Slow Cooker Pot Roast with Garden Vegetables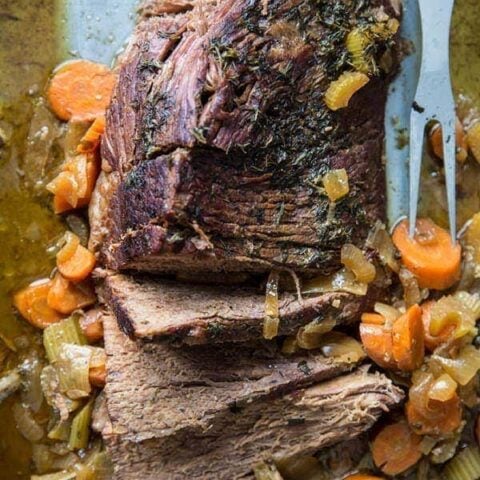 While this recipe takes 30 minutes of active preparation, you can easily cut that in half by chopping the onions, celery and carrots the night before and storing in the refrigerator until you are ready to turn on the slow cooker. In theory, I'm sure you could also brown the roast the night before.
Total Time
8 hours
30 minutes
Ingredients
4 lb bottom roast
1 Tbsp olive oil
1 1/2 onions, chopped
3 cloves garlic, minced
3-4 celery, chopped
3-4 carrots, chopped
2 1/2 cups low-sodium beef broth, divided
2 Tbsp dried parsley or 3 fresh parsley sprigs
2 Tbsp dried thyme or 3 fresh thyme sprigs
2 bay leaves
Instructions
Sear roast in 2 Tbsp olive oil. Set aside on a plate.
In the same pan add chopped onion and minced garlic cloves and cook on medium low until soft, about 5 minutes.
Add in 1/2 cup of the low sodium beef broth and scrape the bits.
Transfer mixture to the bottom of a slow cooker.
Place browned roast on top and add the chopped celery and carrots around the roast.
Add 2 cups of the beef broth and add the dried or fresh herbs to mixture along with the bay leaves.
Cook in slow cooker on high for 6 hours or on low for 8 hours.
Nutrition Information:
Yield:
8
Serving Size:
1
Amount Per Serving:
Calories:

729
Total Fat:

46g
Saturated Fat:

18g
Trans Fat:

0g
Unsaturated Fat:

22g
Cholesterol:

272mg
Sodium:

302mg
Carbohydrates:

6g
Fiber:

2g
Sugar:

2g
Protein:

70g
Nutrition information isn't always accurate. You may want to spot check this information.