This Garlic Scape Pesto Pasta is a gem of weekday cooking. If you make the pesto ahead of time, you can easily be done in 30 minutes or less. If you are one person, you can eat this recipe for an entire week (without getting sick of it! Trust me, this happened!) If you have a family to feed, it will easily feed 6-8 people or 4-6 hungry people.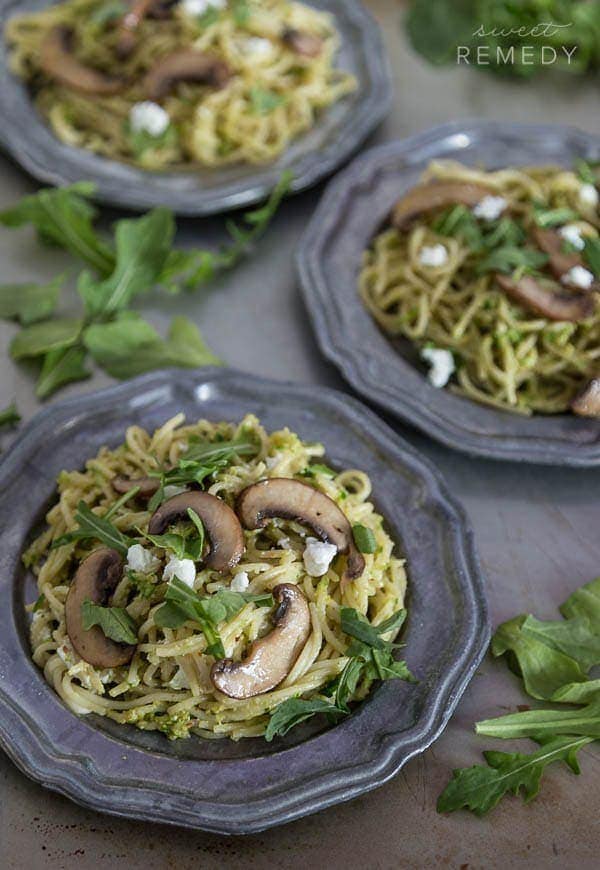 Remember when I shared the Garlic Scape Pistachio Pesto that was pure magic? How could you forget?
Today I'm going to share just one way that I used it. I cooked up some angel hair pasta and mushrooms, put it all together in a bowl and added the pesto. On top of all of that goodness, I added fresh arugula and goat cheese.
Mushrooms are such a delicious fungus, don't you agree? I know you do! I ate this dish for at least 6 days out of the week and I kept adding more goat cheese to the top as the week went on.
There is nothing simpler than pasta so you will be done with this meal in less than 30 minutes if you make the pesto the day before.
I was lucky enough to get the garlic scapes in my CSA basket one day. If you can't find a farmers market that is selling garlic scapes then you can omit them and use basil or more arugula. But remember to add minced garlic cloves if you aren't using the garlic scapes! (This is important! Especially if you are a fiend for garlic.)
If you have any pistachios left over, I wouldn't call you crazy if you wanted to sprinkle some crushed pistachios to the top of this pasta dish. In fact, I'd go as far to say that you are a genius.
Yield: 6-8
Garlic Scape Pesto Pasta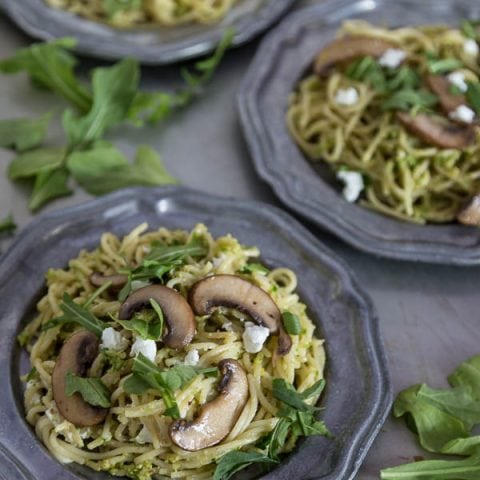 This recipe calls for my garlic scape pesto recipe made with garlic scapes, pistachios and arugula but please feel free to substitute any kind of pesto.
Ingredients
1 lb angel hair pasta (1 box)
1/4 tsp salt
1 Tbsp butter
1 cup mushrooms, sliced
1 cup fresh arugula
1 cup garlic scape pesto
3/4 cup crumbled goat cheese
Instructions
Fill a large pot with water and bring to a boil on high.
Add the angel hair pasta and salt. Turn down the stove top to medium-low while stirring the pasta occasionally for approximately 12 minutes or until Al dente.
Drain with a colander or strainer and put pasta in a large bowl. Set aside.
In a skillet, melt the butter. Add the sliced mushrooms and use a spatula to mix them around.
Remove mushrooms when they are brown on both sides. About 5 minutes.
Take your pre-made garlic scape pesto and add about 1 cup to the pasta.
You can add more than a cup if you'd like to coat all of the pasta thickly with the pesto.
Use your best judgment! Add the cooked mushrooms, fresh arugula, and crumbled goat cheese to the bowl and gently mix together.
Feel free to also top with pistachios or other nuts. Serve with crusty bread.
Nutrition Information:
Yield:
6
Serving Size:
1
Amount Per Serving:
Calories:

302
Total Fat:

14g
Saturated Fat:

6g
Trans Fat:

0g
Unsaturated Fat:

6g
Cholesterol:

21mg
Sodium:

304mg
Carbohydrates:

33g
Fiber:

2g
Sugar:

2g
Protein:

13g
Nutrition information isn't always accurate. You may want to spot check this information.