Disclosure: As a Sabra Tastemaker, I have been monetarily compensated for this post, recipe development, and photography. However, all opinions are 100% my own. This post contains affiliate links. I will make a small commission if you make a purchase through one of these links, at no extra cost to you.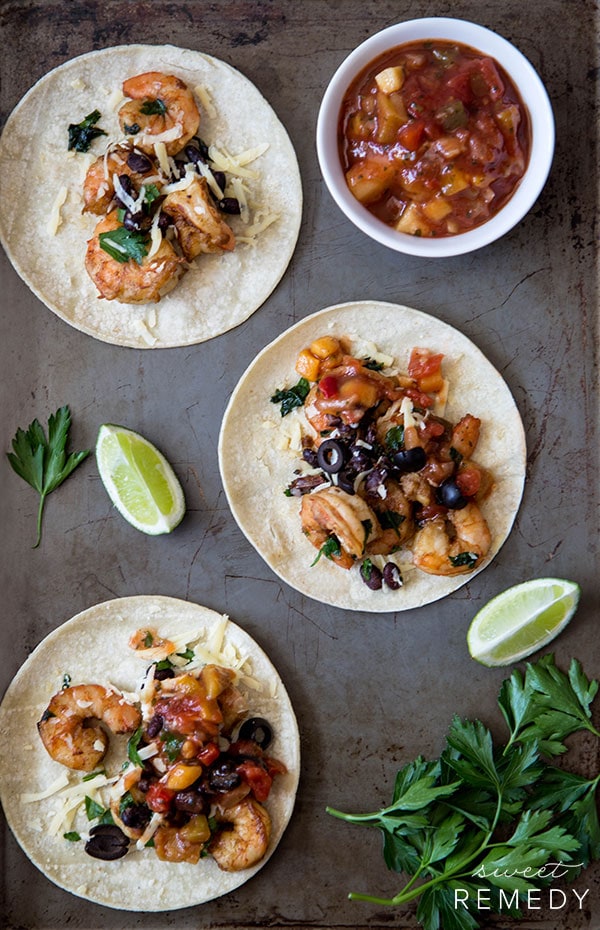 I struggle with the question of what to make for dinner every single night but once in a while, I hit the nail on the head with something that takes less than 30 minutes and is super tasty.
I plan to keep these Mango Peach Shrimp Tacos in my go-to recipe rotation!
With a little help from my friends at Sabra I was able to come up with these mango peach shrimp tacos.
Out of all of the salsas in the Sabra salsa line-up, the mango peach is my favorite. It's hard to beat for me. It's sweet and enticing, especially piled high on top of some spicy shrimp with shredded cheddar cheese, black beans, cilantro and a spritz of lime.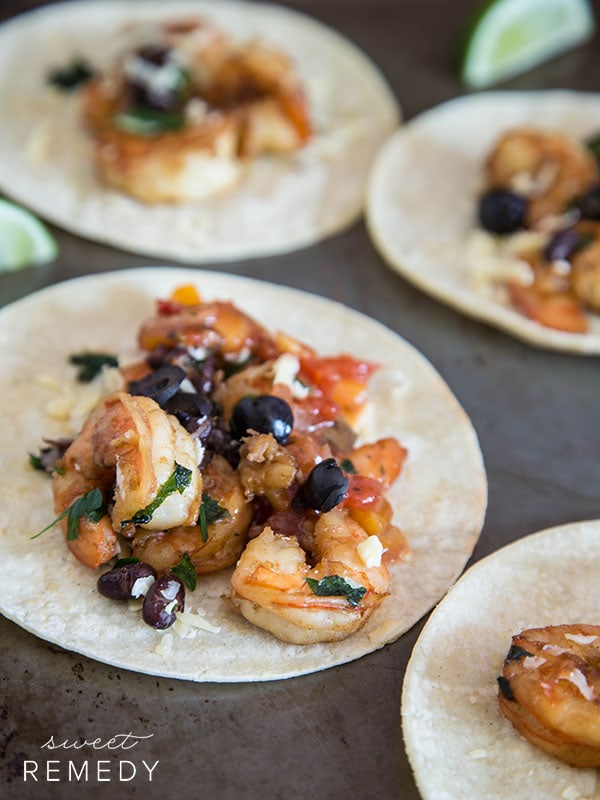 For this recipe, I used the shrimp that you have to peel and devein yourself. I know that it is gross but I can't get behind the tiny, pre-cooked shrimps they sell in stores. Just roll up yourselves and prepare yourself for the disgusting job in front of you. Just do it. Get it over with.
But don't be like me and leave some of the shells on because you are in a rush to get.it.over.with.
It's okay to get your hands dirty sometimes while cooking. It's a part of it.
Embrace it and eat some tasty shrimp wrapped in a tortilla shell topped with Sabra Mango Peach Salsa.
Another quick tip: Arrange tacos on the tortillas and heat in the oven for less than 5 minutes to get them a bit toasted and warm. The end result will be so much better!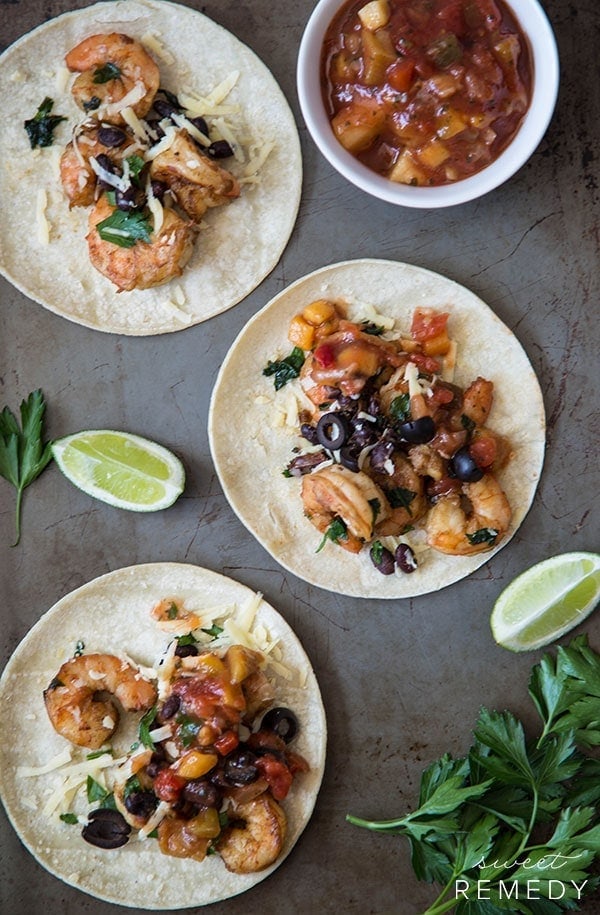 Yield: 4-6 tacos
Mango Peach Shrimp Tacos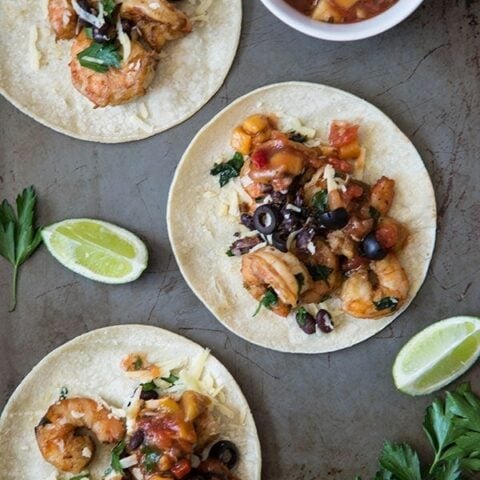 The mango peach salsa pairs really well with these shrimp tacos!
Ingredients
4 tablespoon olive oil, divided
1 cup black beans
1 lb shrimp, uncooked, deveined and peeled
1/2 teaspoon cumin
1/4 teaspoon cayenne
1 cup cheddar cheese, shredded
1/4 cup fresh cilantro, chopped
1/2 cup black olives, sliced
1 lime
1/2 cup mango peach salsa
Instructions
Preheat oven to 350 ° F.
Heat 2 tablespoons of olive oil in a medium sized skillet.
Add black beans. Cook for 3-5 minutes.
Remove from skillet and set aside in a bowl.
Add the remaining 2 tablespoons of olive oil to the same skillet.
Add shrimp and cook while moving shrimp around until color turns from opaque to pink, about 5 minutes.
Add cumin and cayenne to shrimp toss with a spatula and cook for a few more minutes.
Once fully cooked, remove from pan.
Arrange tacos on tortillas by adding the cooked shrimp, black beans, cheddar cheese, cilantro and black olives.
Squirt the juice of one lime on top of the tacos.
Put on a baking sheet and heat in the oven for 2-3 minutes. Spoon mango peach salsa on top and serve.
Nutrition Information:
Yield:
6
Serving Size:
1
Amount Per Serving:
Calories:

314
Total Fat:

18g
Saturated Fat:

5g
Trans Fat:

0g
Unsaturated Fat:

12g
Cholesterol:

178mg
Sodium:

940mg
Carbohydrates:

13g
Fiber:

4g
Sugar:

2g
Protein:

24g
Nutrition information isn't always accurate. You may want to spot check this information.