This Whole Grain Apple Cake is my attempt to make my favorite desserts a little bit more healthful.
I've made this apple cake quite a bit in my 28 years.
It's been passed down through my family but with a little too much sugar and some not so good for you oils.
I thought that the first recipe I attempted to bake using whole grains instead of white flour and alternative oils and sugars should be this cake.
It seems fitting as the cake is basically a family heirloom!
I've had this cake quite a bit throughout my life and I'd know right away if the whole grains used in this recipe (spelt and white whole wheat) changed the cake too much to still be considered a damn fine cake.
The substitutions in this recipe thankfully do not make a huge difference in the end result.
In addition to the flour changes, I also substituted coconut oil for the original canola or vegetable oil.
I say canola or vegetable as the original recipe just reads oil, most older recipes that I've come across are very vague!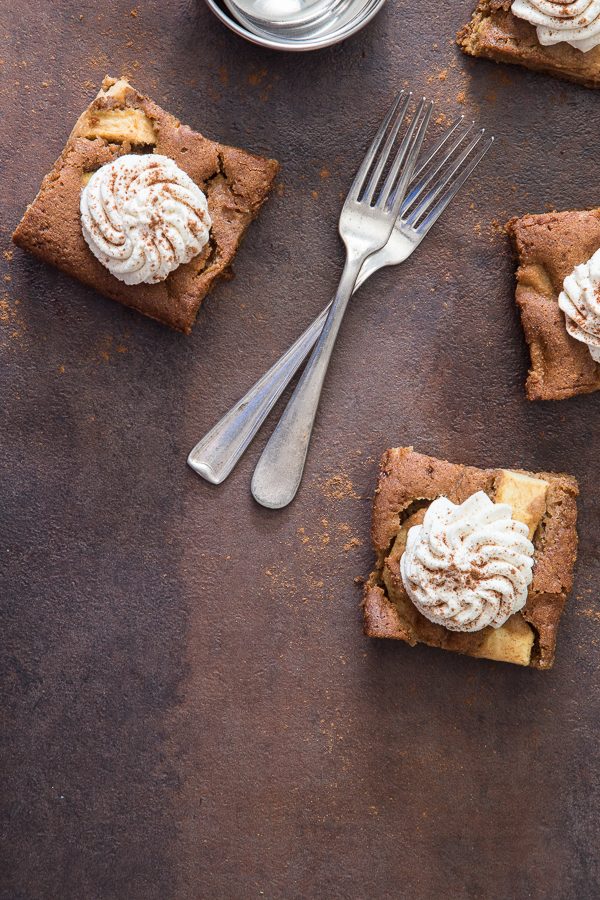 This recipe is whole grain and dairy free.
The eggs don't quite make it vegan and I didn't want to compromise the chemistry or integrity of the cake by trying to replace them with flax seeds and water.
If you decide to add the homemade whipped cream to the top, then it obviously is no longer dairy free.
I sprinkled a little cinnamon on top as a finishing touch.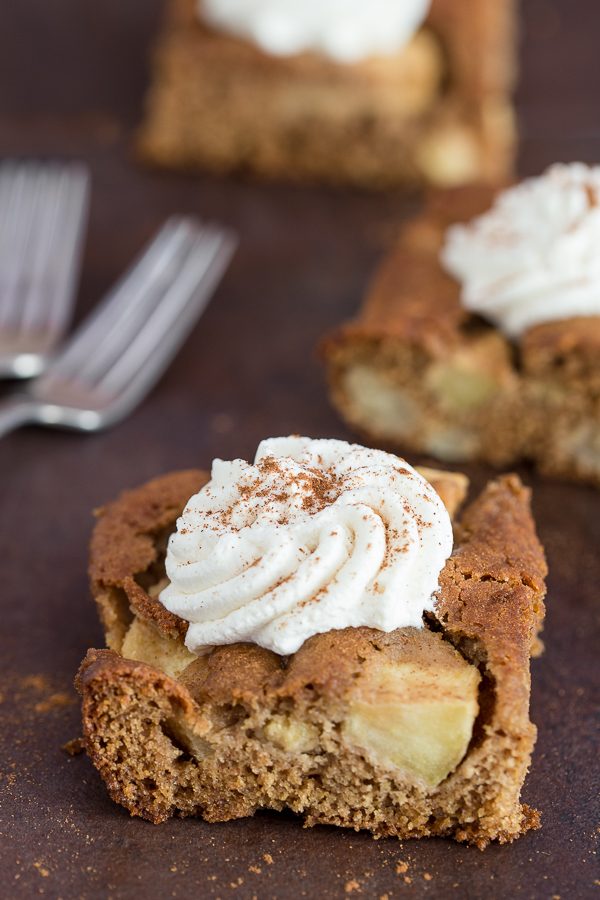 The coconut sugar I used here is also cut down a bit.
The sliced apples and the whipped cream topping make it possible to not use all of the sugar that the recipe calls for.
I shared this recipe with my friends on a hockey night last week.
I got some rave reviews and no one had any idea that there are only whole grains in this apple cake.
I definitely call that a success!
Yield: 12
Whole Grain Apple Cake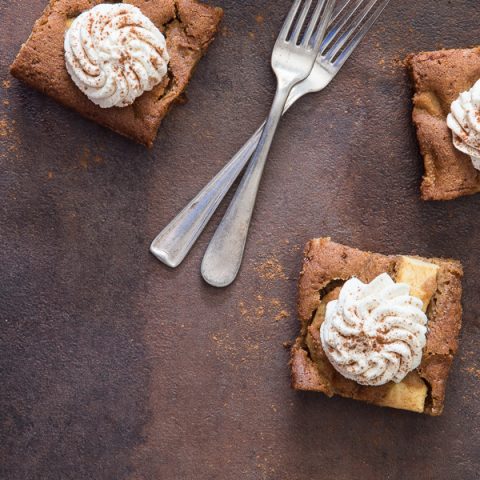 This whole grain apple cake is made healthier with whole grains, coconut oil and a reduced amount of coconut sugar. It calls for spelt and white whole wheat flour but you could make it with one or the other by using 1 3/4 cup of spelt or white whole wheat. Using all purpose flour? 2 cups should do it. If you don't have coconut oil in your kitchen, feel free to use a 1:1 substitution for canola oil.
Total Time
1 hour
10 minutes
Ingredients
3/4 cup + 2 tablespoons spelt flour
3/4 cup + 2 tablespoons white whole wheat flour
1 teaspoon cinnamon
1 teaspoon baking soda
1/4 teaspoon salt
3/4 cup coconut sugar
3 eggs
1 cup coconut oil, melted
6 apples
Instructions
Preheat oven to 350 ° F.
Peel and slice the apples.
Grease a 9x13 pan with coconut oil or butter with wax paper. Set aside.
If coconut oil is solid, melt in 10 second intervals in the microwave or on the stove top.
Mix sugar, eggs and oil in a large bowl until smooth.
Sift spelt and white whole wheat flours into a separate bowl.
Add cinnamon, baking soda and salt into the flours.
Add the dry ingredients to wet ingredients and stir with a spatula until combined.
Stir apples into the mixture. bake at 350 ° F for 40-45 minutes or until a toothpick inserted in the center of the cake comes out clean.
Cut into 12 squares and top with homemade whipped cream and cinnamon.
Recommended Products
This post contains affiliate links. I will make a small commission if you make a purchase through one of these links, at no extra cost to you.
Nutrition Information:
Yield:
12
Serving Size:
1
Amount Per Serving:
Calories:

280
Total Fat:

19g
Saturated Fat:

15g
Trans Fat:

0g
Unsaturated Fat:

2g
Cholesterol:

47mg
Sodium:

168mg
Carbohydrates:

26g
Fiber:

2g
Sugar:

21g
Protein:

2g
Nutrition information isn't always accurate. You may want to spot check this information.