Whether you're gluten-free or gluten-friendly, these Double Chocolate Brownies will not disappoint!
These gluten-free double chocolate brownies are double the chocolate punch with cocoa powder and semi-sweet chocolate chips.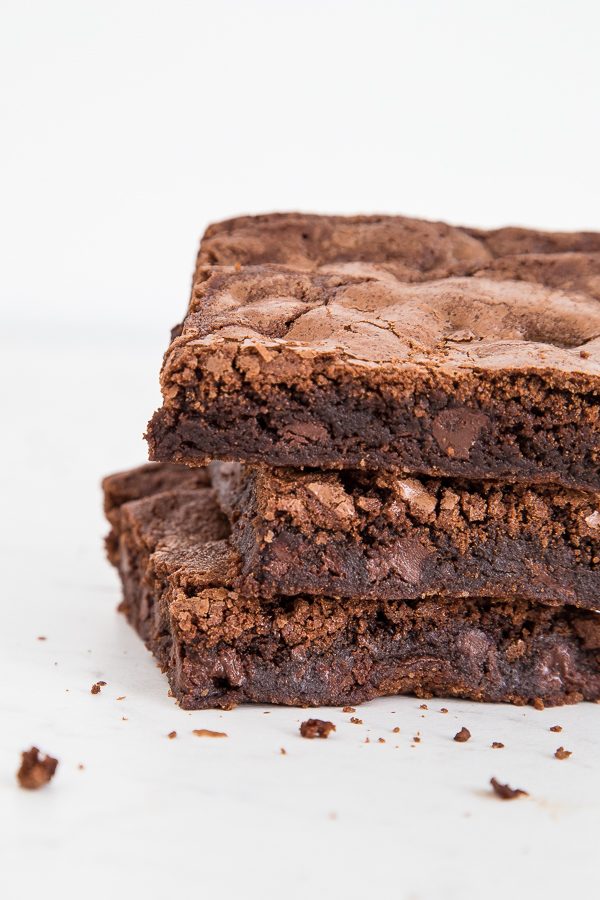 Yes, I said cocoa powder and chocolate chips!
Don't you love it when there are whole chocolate chips in a brownie recipe? They get a little bit crunchy and melty at the same time. How that's possible, I'm not exactly sure, but it's amazing.
When I finished making these brownies I was really proud. Not only had I made my all time favorite dessert gluten-free, I also accomplished the ever elusive task of making them cakey and fudgy at the same time.
If you've ever tried converting a traditional baked good recipe to gluten-free, you know what a challenge it can be! You don't just swap out gluten-laden items for gluten-free – oh no no, it couldn't be that easy!
If you've ever asked yourself "what does gluten do in baking anyways?" read on! If you've never asked yourself that question, read on anyways – we learn something new everyday!
Gluten does more than taste delicious and torture the tummies of those with a gluten sensitivity or allergy. It's a leavening agent that helps doughs and batters rise, and it also lends itself to that signature chewiness of a freshly baked loaf of bread.
So when gluten is removed from a recipe, some nerdy science and substitutions are required to replace the shape and texture gluten would otherwise provide.
For this recipe, you can use a store bought 1:1 gluten-free flour mix or follow a few simple steps to make your own. If you want to know more about various traditional flour replacement options, see the questions below.
I added baking soda to the dry mixture to get the crackle on the top of the brownie. For years I longed for boxed brownies because of that crackle. I always tried to figure out a way to do it myself from scratch.
Who knew it was as easy as adding baking soda? Now you do!
Pro Tip: When you're making these brownies, coat the chocolate chips with a tiny bit of flour before you mix them in. It keeps them from sinking to the bottom so they're more evenly distributed in each bite.
WHAT IS XANTHAN GUM?
Xanthan gum is a thickening and binding agent made from soluble fiber. You'll often see it in gluten-free recipes because it offers the stabilizing properties that gluten would in a traditional recipe.
DO I NEED XANTHAN GUM IF USING A STORE BOUGHT ALL PURPOSE GLUTEN-FREE FLOUR (SUCH AS BOB'S RED MILL BRAND)?
If you're using an already mixed all purpose gluten-free flour from the store, you do not need to add xanthan gum to this recipe.
If you follow my tutorial on how to make a gluten-free all purpose flour mix, you will need to add the xanthan gum to stabilize the recipe.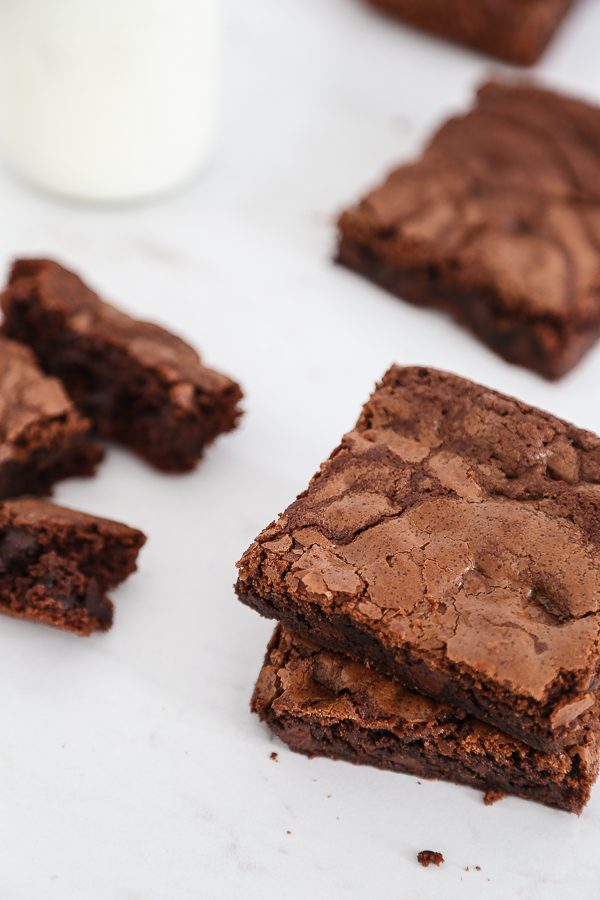 CAN I SUBSTITUTE OTHER FLOURS, LIKE ALMOND FLOUR OR COCONUT FLOUR, FOR THE GLUTEN-FREE ALL PURPOSE FLOUR?
Because the texture, density and rate of moisture absorption is different in most gluten-free flours than traditional all purpose flour, there's typically some hoops to jump through when converting a recipe to gluten-free. This recipe is formulated specifically for a 1:1 gluten-free flour mix, so I don't recommend using other gluten-free options like almond flour or coconut flour.
WHAT IS 1:1 GLUTEN-FREE FLOUR?
A 1:1 gluten-free flour is one that's been specifically formulated to replace regular flour without any conversion math or hoop jumping. If the recipe calls for 1 cup of regular all purpose flour, you simply swap in 1 cup of the 1:1 gluten-free flour. Easy peasy.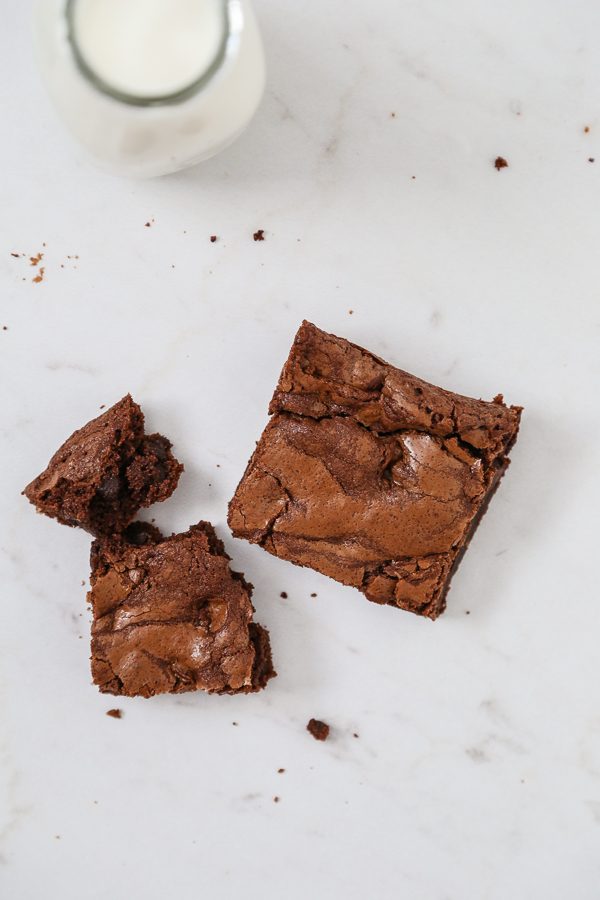 INGREDIENTS YOU'LL NEED FOR THIS GLUTEN-FREE BROWNIE RECIPE:
All Purpose Gluten-Free Flour
Cocoa Powder
Xanthan Gum
Butter
Eggs
Coconut Sugar or Unrefined Sugar
Vanilla Extract (GF if preferred)
Baking Pantry Staples: Baking Soda + Salt
MORE CHOCOLATE RECIPES!
Yield: 9 servings
Gluten Free Brownies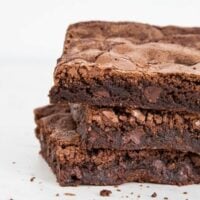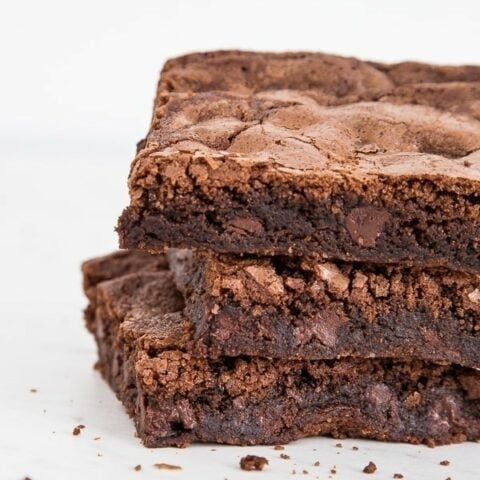 These brownies were made gluten free using a gluten-free all purpose flour mix. Feel free to use any brand 1:1 gluten-free flour such as Bob's Red Mill. Make sure if you need this to be completely free of gluten that you mindfully purchase your ingredients. If you are using an already mixed all-purpose gluten-free flour from the store, you won't need to add xanthan gum as I did in this recipe.
Total Time
1 hour
10 minutes
Ingredients
3/4 cup all purpose gluten free flour
1/2 cup cocoa powder
1/2 teaspoon salt
1/2 teaspoon baking soda
1/2 teaspoon xanthan gum (unless you are using a 1:1 flour mix)
1/2 cup butter
1 egg
1 1/2 cup unrefined or coconut sugar
1/2 teaspoon gluten-free vanilla extract
1/2 cup chocolate chips
Instructions
Preheat oven to 350 degrees F.
Prepare a 8x8 pan by generously greasing it with butter.
Set pan aside. In a large bowl, combine the flour, cocoa powder, salt, baking soda and xanthan gum.
In the bowl of a stand mixer, cream together the sugar and melted butter using the beater attachment.
Beat the egg into the sugar and butter.
Add the gluten free vanilla extract.
Slowly add the dry mixture into the wet and mix on a low speed.
Lightly coat the chocolate chips with some flour and add into the mixture.
Once fully incorporated, spread mixture onto the prepared pan.
Bake for 20 minutes or until a toothpick or tester come out of the center of the brownie pan clean.
Remove brownies while slightly gooey. Let cool in pan and remove. Cut with a knife and serve.
Notes
If you are using an already mixed all purpose gluten free flour from the store, you won't need to add xanthan gum as I did in this recipe.
Recommended Products
This post contains affiliate links. I will make a small commission if you make a purchase through one of these links, at no extra cost to you.
Nutrition Information:
Yield:
9
Serving Size:
1
Amount Per Serving:
Calories:

288
Total Fat:

14g
Saturated Fat:

8g
Trans Fat:

0g
Unsaturated Fat:

4g
Cholesterol:

48mg
Sodium:

278mg
Carbohydrates:

41g
Fiber:

1g
Sugar:

37g
Protein:

2g
Nutrition information isn't always accurate. You may want to spot check this information.