You won't taste the whole wheat in this Whole Wheat Zucchini Bread recipe!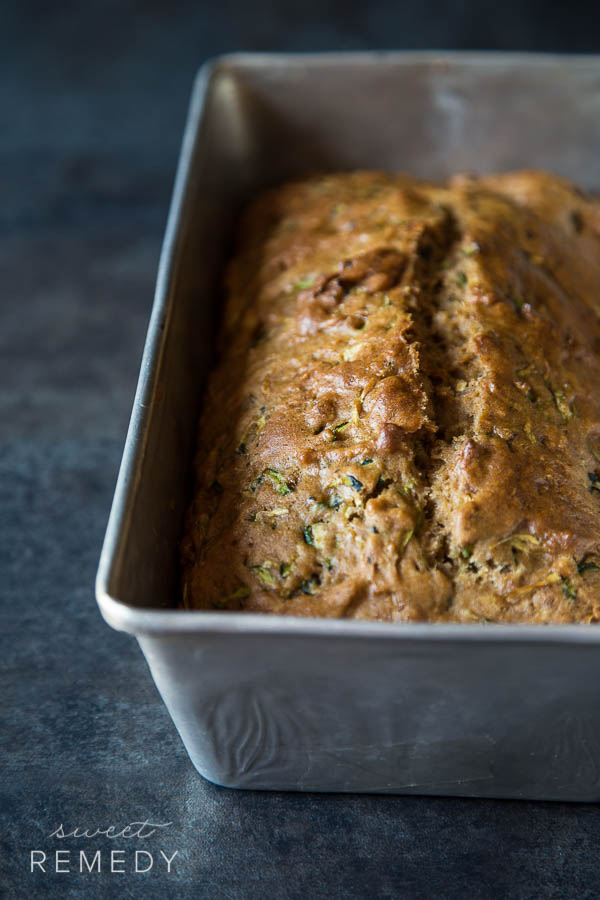 It's not too late for zucchini. I just got two massive zucchinis in my CSA share this week. So don't worry, you can still make this bread.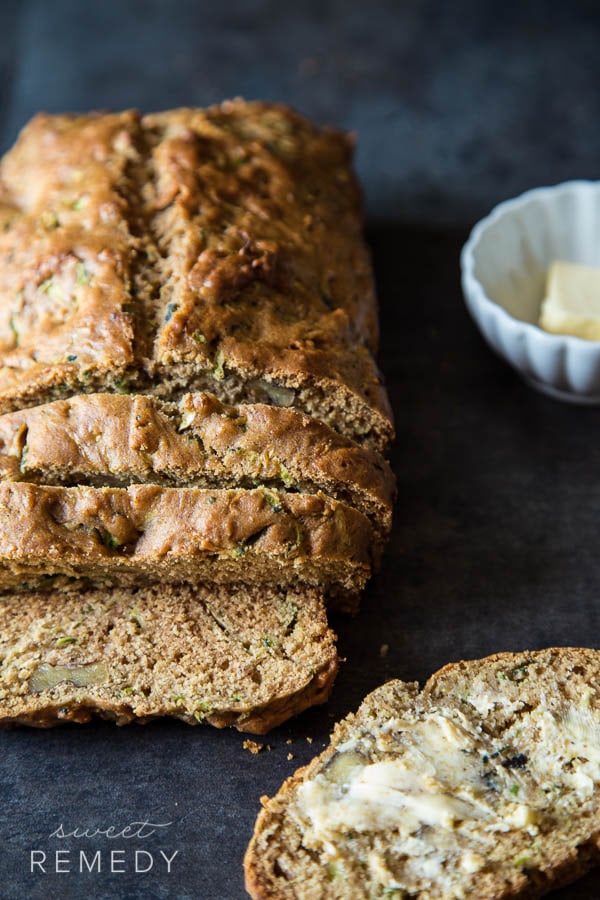 I'm a huge fan of zucchini bread. Especially zucchini bread with golden raisins. Why golden? I have no idea whatsoever but it really needs to be golden. I wouldn't sneeze at a bread made with purple raisins but I'd secretly wish they were golden.
You also need to slather a lot of real butter onto the slices. I use Kerry Gold butter and love every second of it. Irish cows are the best.
I don't think that you can taste the whole wheat in this recipe but that could just be because I actually like the taste of whole wheat better than other flours. Does that make me crazy? Maybe. If you currently hate whole wheat, just keep eating it and I guarantee that your tastes will change and it will grow on you.
If you want some zucchini muffins that are more portable, fill up your muffin tins with this batter! You'll get 12 smaller muffins or 6 very large muffins depending on the tin you use. I tend to use paper wrappers because that is just how I roll but feel free to grease the pan and skip the waste.
Yield: 1 loaf
Whole Wheat Zucchini Bread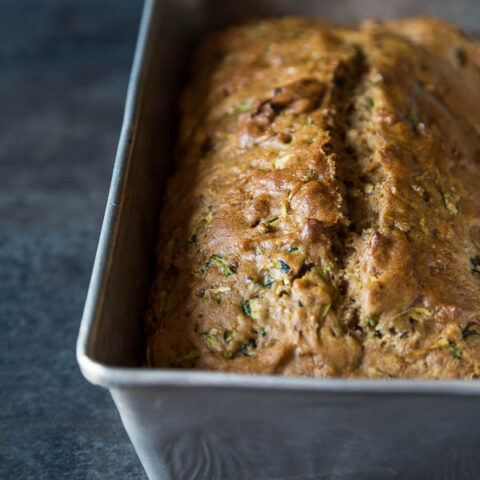 You won't taste the whole wheat in this Whole Wheat Zucchini Bread recipe! You can freely add chocolate chips instead of raisins or make this bread recipe as muffins.
Total Time
1 hour
10 minutes
Ingredients
2 large eggs
1/3 cup honey
1/2 cup vegetable oil
1/3 cup brown sugar
1 teaspoon vanilla extract
2 cups Whole Wheat Flour
1 teaspoon salt
1/2 teaspoon baking soda
1/2 teaspoon baking powder
1 teaspoon ground cinnamon
2 cups shredded, unpeeled zucchini
3/4 cup chopped walnuts
3/4 cup golden raisins
Instructions
Preheat oven to 350°F and grease a loaf pan or muffin tins with butter.
Shred the zucchini with a grater and use a paper towel to get rid of the excess moisture.
In a large bowl, beat the eggs, honey, oil, sugar, and vanilla together.
In a separate bowl mix the dry ingredients together: flour, salt, baking soda, baking powder, and cinnamon.
Combine the dry ingredients into the wet ingredients and mix until fully incorporated.
Stir in the zucchini, walnuts and raisins.
Pour batter into the loaf pan or muffin tins.
If making muffins, use a large scoop to fill the wells.
Bake bread for 45-55minutes.
After 45 minutes, check the consistency with a toothpick.
If it comes out clean (with a few crumbs), remove from oven.
If it comes out slightly wet let bake for another 5-10 minutes.
Check on it throughout the last 10 minutes.
Remove from oven and let cool for 10 minutes.
Turn the pan over onto a cooling rack to remove loaf.
You may need to run a knife along the edges before turning over to help the loaf out.
Cool completely before slicing and eating.
Recommended Products
This post contains affiliate links. I will make a small commission if you make a purchase through one of these links, at no extra cost to you.
Nutrition Information:
Yield:
8
Serving Size:
1
Amount Per Serving:
Calories:

439
Total Fat:

23g
Saturated Fat:

2g
Trans Fat:

0g
Unsaturated Fat:

20g
Cholesterol:

47mg
Sodium:

398mg
Carbohydrates:

56g
Fiber:

5g
Sugar:

29g
Protein:

8g
Nutrition information isn't always accurate. You may want to spot check this information.