Apple crisp is one of those recipes that is so simple that it's hard not to make a quick batch.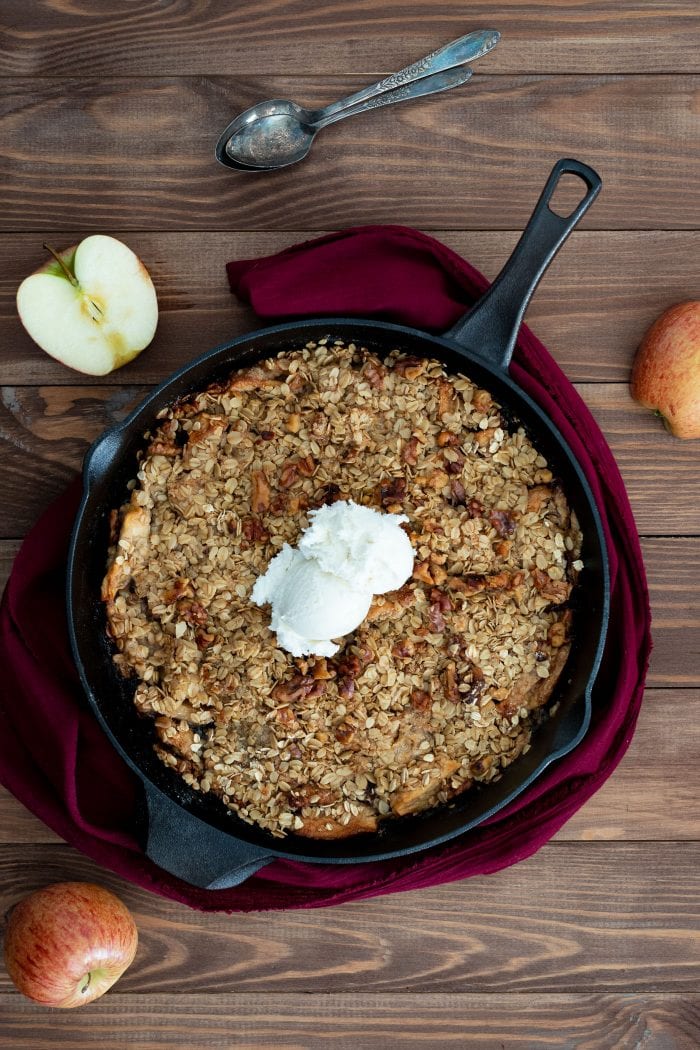 Especially when you live in New York and it's quite easy to get ridiculously crisp, sweet, and juicy apples.
It's almost a sin to buy them at the grocery store and not a farm stand.
God forbid you don't pick them yourself. In New York, you better lie and say you did.
It's October so if I tell you that I picked these apples, you'd believe me as it is prime apple picking season.
(I did pick these apples, I swear)
(Do you believe me?)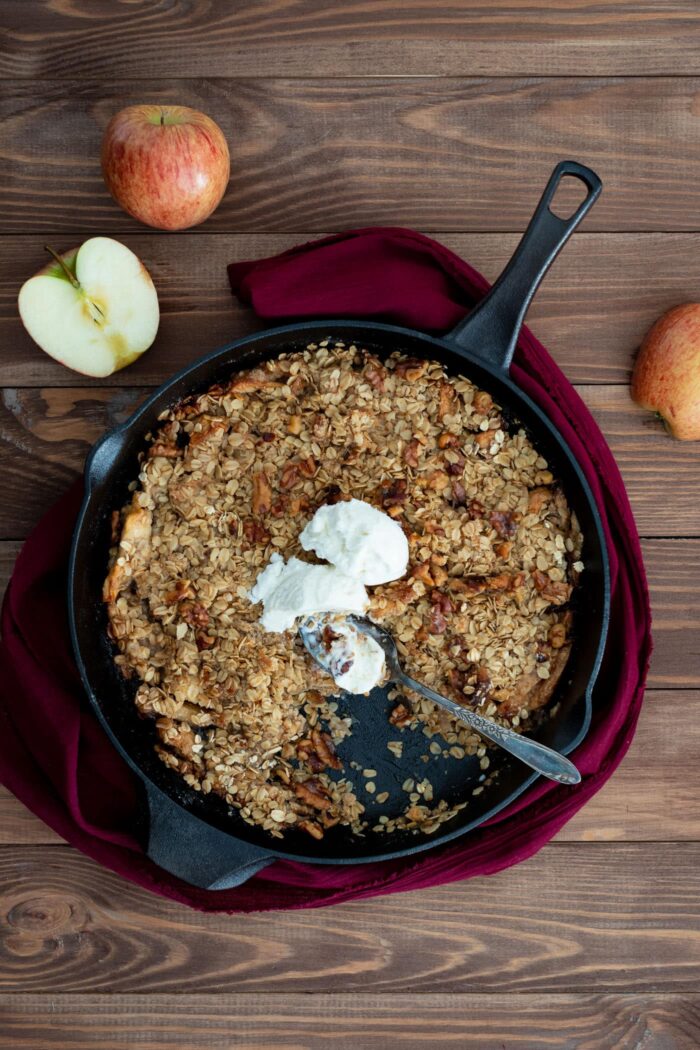 The photos show a cast iron skillet. The first time I made this recipe, I loaded it all in a baking dish and it was done in 25 minutes.
The second time, I decided to use a seasoned cast iron skillet because I'm all about those babies.
The cast iron skillet took forever.
… almost 2 hours.
Precisely, 1 hour and 50 minutes.
My advice? Use the baking dish.
Especially if you agree with me that the hardest part about making apple crisp is waiting for it to come out of the oven.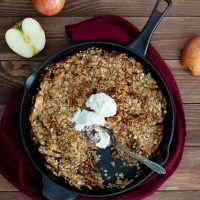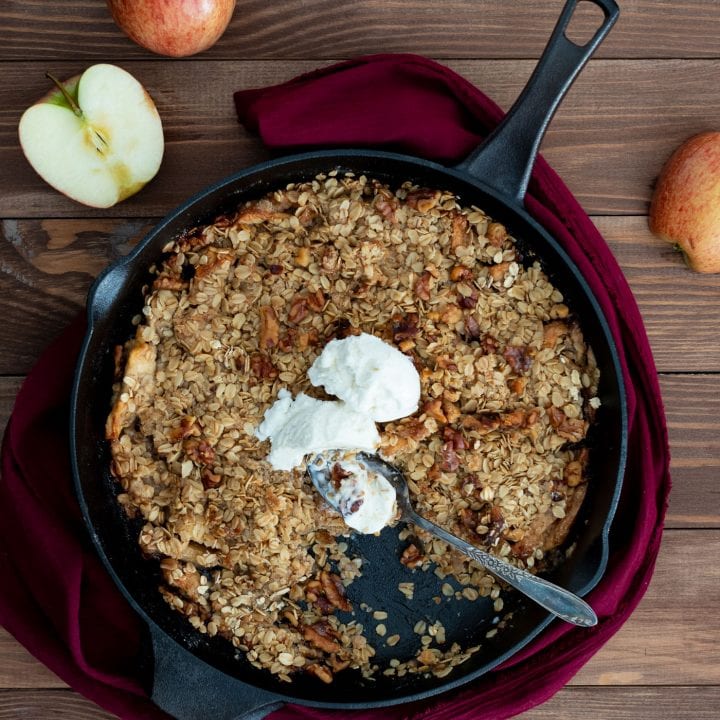 For this apple crisp, I used a mixture of apple varieties: Golden Delicious, Macoun and Empire.
Ingredients
6 apples, peeled, cored and sliced
1/2 cup walnuts, chopped and divided
3/4 cup + 3 Tbsps white whole wheat flour, divided
2 tablespoons maple syrup
2 tablespoon lemon juice
1 cup brown sugar, divided
1/4 teaspoon ground cinnamon
1/4 teaspoon salt
8 tablespoons chilled butter
1/2 cup oats
Instructions
Preheat the oven to 350 degrees F.
Lightly grease a 8x13 inch baking dish with butter. Set dish aside.
In a small bowl, mix the sliced apples, 1/4 cup walnuts, 3 Tbsps of flour, maple syrup, lemon juice and 1/2 cup of the brown sugar together.
Transfer the mixture to the lightly greased baking dish.
In a medium bowl, mix together 3/4 cup flour, 1/2 cup of the brown sugar, cinnamon, and salt.
Cut the butter into smaller chunks and blend into the flour mixture with a fork or pastry cutter.
Sprinkle the mixture over the filling and add the oats and the remaining walnuts to the top.
Put the prepared baking dish in the oven for 20-25 minutes or until the top has started to turn brown and apples begin to bubble.
Remove from the oven and let cool slightly. Top with vanilla ice cream and serve warm if desired.
Notes
In the photo for this recipe I used a seasoned cast iron skillet. The baking times will vary if you decide to also use a cast iron skillet. The bake time for me was around 1 hour and 50 minutes. Next time I will just use a baking dish.
Nutrition Information:
Yield:
8
Serving Size:
1
Amount Per Serving:
Calories:

351
Total Fat:

17g
Saturated Fat:

8g
Trans Fat:

0g
Unsaturated Fat:

8g
Cholesterol:

31mg
Sodium:

167mg
Carbohydrates:

51g
Fiber:

5g
Sugar:

40g
Protein:

3g
Nutrition information isn't always accurate. You may want to spot check this information.