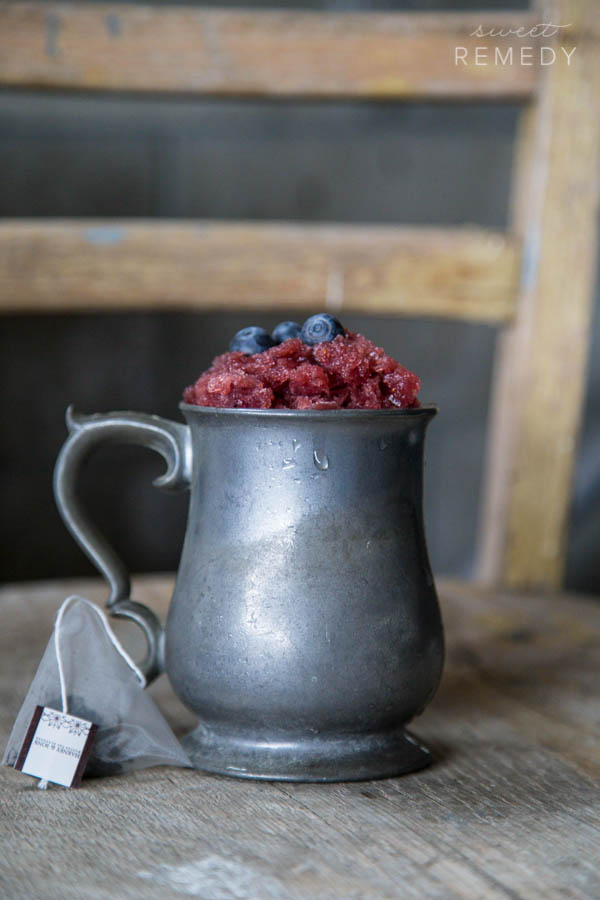 There's nothing like a frozen treat in March with snow still blanketing the ground and a chill still in the air. I can't help but keep wishing for warmer weather, sunshine, and popsicles, or in this case, a Blueberry Earl Grey Granita.
This infusion of tea, simple syrup, and blueberries became a beautifully crystallized granita recipe in a matter of minutes. There is very little work involved in this recipe and really, your freezer does most of the heavy lifting. You just have to remember to "fluff" the mixture with a fork every so often during the freezing process. Easy enough, right?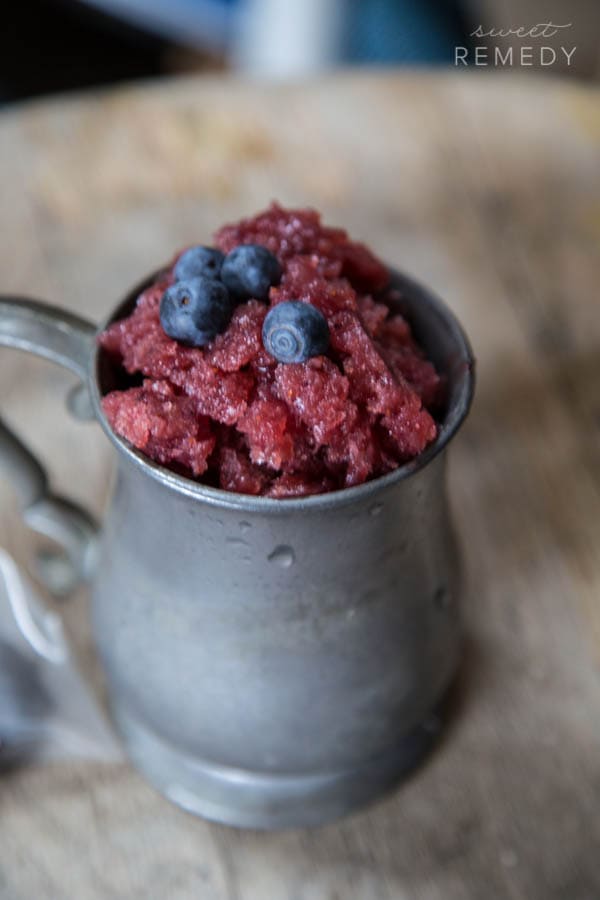 In this recipe, I used local tea from Harney & Son's, based in Millerton, New York. Harney & Son's tea can be found almost everywhere (their tea canisters and satchels are found in Target and Williams Sonoma!) but they are a local Hudson Valley treasure.
Feel free to use your favorite brand of Earl Grey tea but I do highly suggest Harney & Son's. Is it because they are local to me? Probably, but their tea is tops!
Harney & Son's tea comes in satchels, not bags. They are so fancy!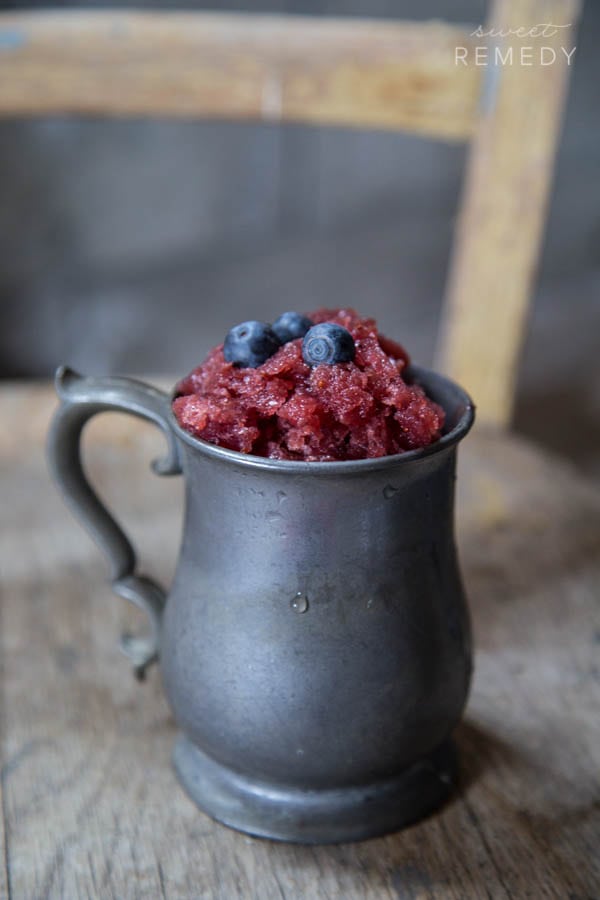 Green tea was always my go-to tea but lately, I am finding myself gravitating towards earl grey and chai. The spices of chai tea are almost intoxicating and the citrus aroma found in earl grey is a wonderful smell. The citrus you smell isn't quite a lemon or orange but it is bergamot!
What is bergamot, you ask? Well, David Lebovitz will tell you.
I wish I had gotten my hands on one of these babies so I could have squeezed some juice into the final mixture before freezing. If you happen to come across one of these beauties, do try it and tell me all about it!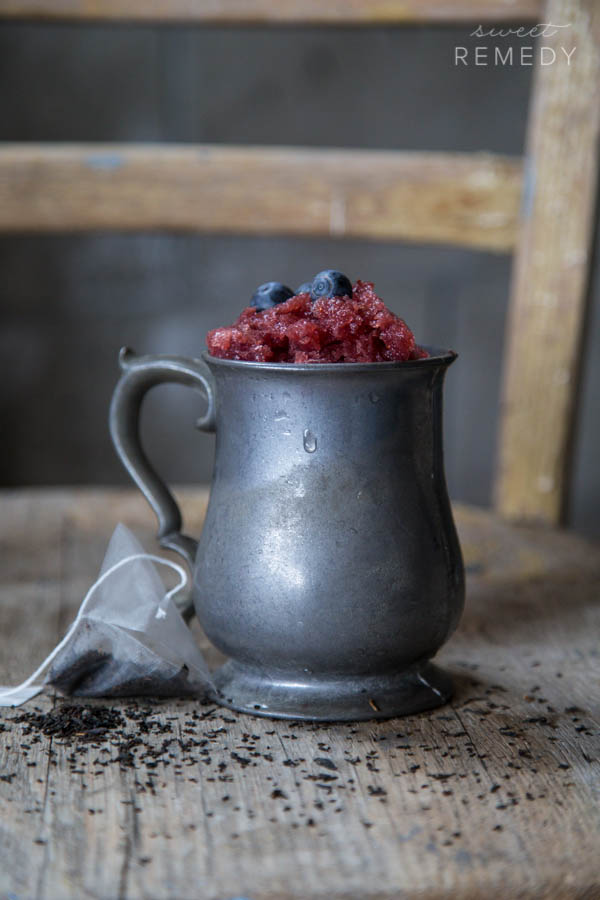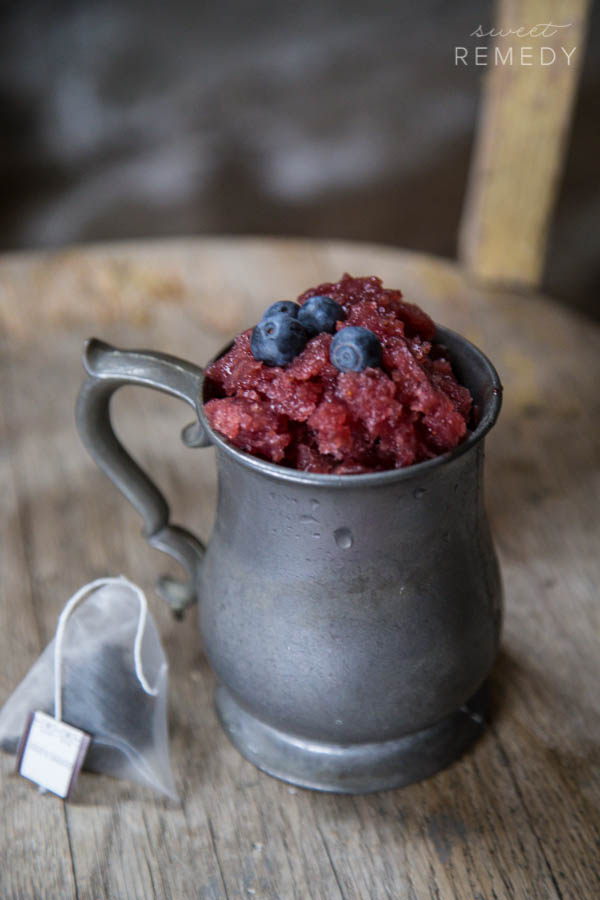 Yield: 4
Blueberry Earl Grey Granita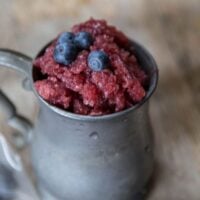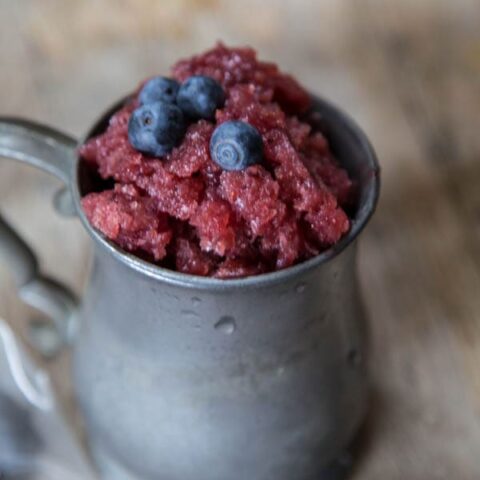 An easy frozen treat! Substitute local honey for the sugar. It really doesn't need that much sweetness, the fruit and earl grey flavors are blended quite nicely.
Ingredients
2 cups water
3 earl grey tea bags
1/4 cup granulated sugar
1 pint blueberries
Instructions
Boil the water in a medium sized pot. Once boiling, add the sugar and stir until dissolved. Once dissolved, add the tea bags steep and let sit for 5 minutes.
Add 1/4 cup of the water mixture and the pint of blueberries to a blender or food processor. Blend until as smooth as possible.
Strain the blueberry mixture over the pot and stir until smooth. Discard leftover blueberry pulp.
Add mixture to a 9x13 baking dish. Freeze for an hour, scrape with a fork to form crystals and re freeze.
Repeat until no liquid remains and crystals have formed.
Using a fork, scrape and fluff the pan and add ice crystals to a serving dish.
Recommended Products
This post contains affiliate links. I will make a small commission if you make a purchase through one of these links, at no extra cost to you.
Nutrition Information:
Yield:
4
Serving Size:
1
Amount Per Serving:
Calories:

92
Total Fat:

0g
Saturated Fat:

0g
Trans Fat:

0g
Unsaturated Fat:

0g
Cholesterol:

0mg
Sodium:

6mg
Carbohydrates:

24g
Fiber:

2g
Sugar:

20g
Protein:

1g
Nutrition information isn't always accurate. You may want to spot check this information.