These Avocado Breakfast Bowls are a healthy way to start your day. You don't even need a plate which makes clean up a snap.
Disclosure: As a Sabra Tastemaker, I have been monetarily compensated for this post. However, all opinions are 100% my own. This post contains affiliate links. I will make a small commission if you make a purchase through one of these links, at no extra cost to you.

Happy National Hummus Day!
I decided to celebrate national hummus day with a nice big breakfast filled with healthy fats from avocados, plenty of chickpeas and hummus, and classic breakfast foods such as scrambled eggs, black beans, and bacon.
The recipe for these Avocado Breakfast Bowls came out of the desire to stuff something with breakfast foods.
Why not give it a go and celebrate hummus in one shot?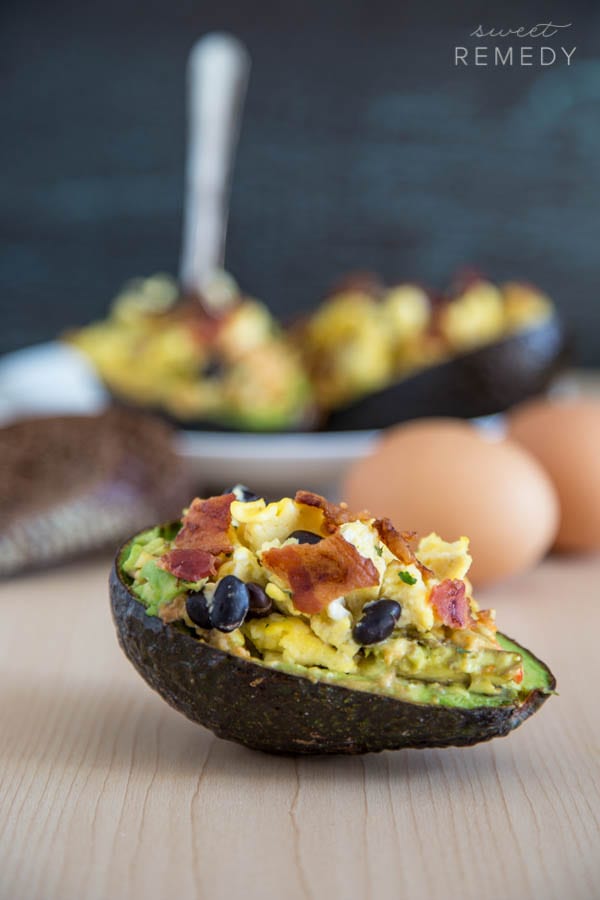 I scarfed down two of these 'bowls' and I felt good about it because avocado is awesome for you!
I did douse these with some hot sauce because that is just how I roll in the mornings.
You'll find some spicy hummus, black beans, scrambled eggs, parsley, and bacon in between the mashed up avocado.
I paired these with some pumpernickel toast and breakfast was created!
Yield: 2-4
Avocado Hummus Breakfast Bowls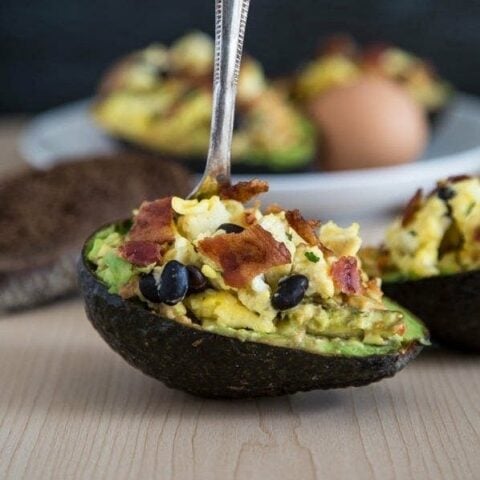 For this recipe, you don't even need a plate! You use the avocado as your very own bowl. Add cheddar cheese on top to melt or douse with some high quality hot sauce. Just don't forget the hummus.
Ingredients
2 avocados
4 Tbsp hummus (I used Sabra Roasted Garlic Hummus)
5 bacon strips
1 tsp butter
2 eggs
2 Tbsp milk
1/4 cup black beans
parsley, for garnish
Instructions
Preheat the oven to 350 ° F (If using the baking method for cooking the bacon. If using the stovetop method, skip this step.)
Slice each avocado down the middle and remove the large pit.
Mash the inside of the avocado with a fork and add 1 Tbsp of hummus to each half. Set aside.
Cook the bacon on the stove top in a non stick skillet or lay the bacon on a baking sheet lined with parchment paper (or foil) and bake in the oven at 350 degrees F for 20 minutes or until crispy.
Remove from oven and use tongs to place the bacon on a plate lined with paper towels to soak up the extra grease.
In a medium bowl, crack the eggs and add the milk.
Whisk until combined. In a non-stick skillet, melt the butter and add the egg mixture.
Using a spatula, move the eggs around until they cook and become scrambled eggs.
Add the black beans to the mixture near the end of cooking.
Add the egg and black bean to the avocado and hummus bowls.
Once the bacon is cooled, crumble and place on top of the avocado and garnish with fresh parsley.
Recommended Products
This post contains affiliate links. I will make a small commission if you make a purchase through one of these links, at no extra cost to you.
Nutrition Information:
Yield:
2
Serving Size:
1
Amount Per Serving:
Calories:

539
Total Fat:

41g
Saturated Fat:

10g
Trans Fat:

0g
Unsaturated Fat:

28g
Cholesterol:

221mg
Sodium:

704mg
Carbohydrates:

23g
Fiber:

13g
Sugar:

1g
Protein:

24g
Nutrition information isn't always accurate. You may want to spot check this information.