These Blueberry Funfetti Pancakes are a perfect idea for surprising a loved one with breakfast in bed on their birthday!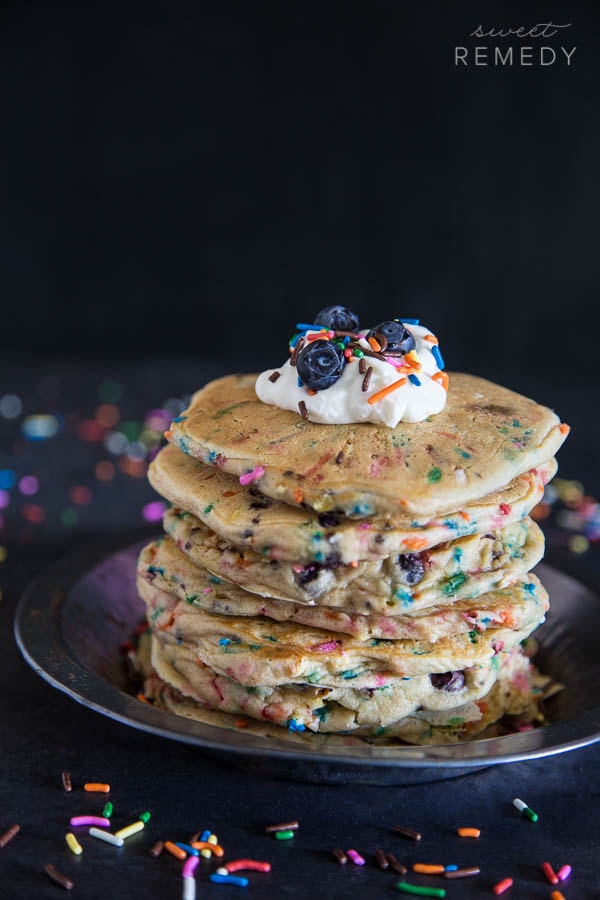 Today is my birthday! Hooray! I'm a big fan of celebrating birthdays and believe it or not, I'm grateful for getting older.
Well maybe to an extent. In the last 5 years, I have done a lot of growing. I've changed so much and have gained invaluable experiences and knowledge that I wouldn't trade to be 21 again.
I would go back in time if I could keep the knowledge that I've acquired over the last decade. Do you know that old saying? "Youth is wasted on the young?" It's really true.
While it would be nice to have an extra 10 years, I'm not sure what exactly I'd do differently.
I quite like where I've ended up in life and I'm pretty happy. I think maybe I would just be kinder to people and show a little more gratitude.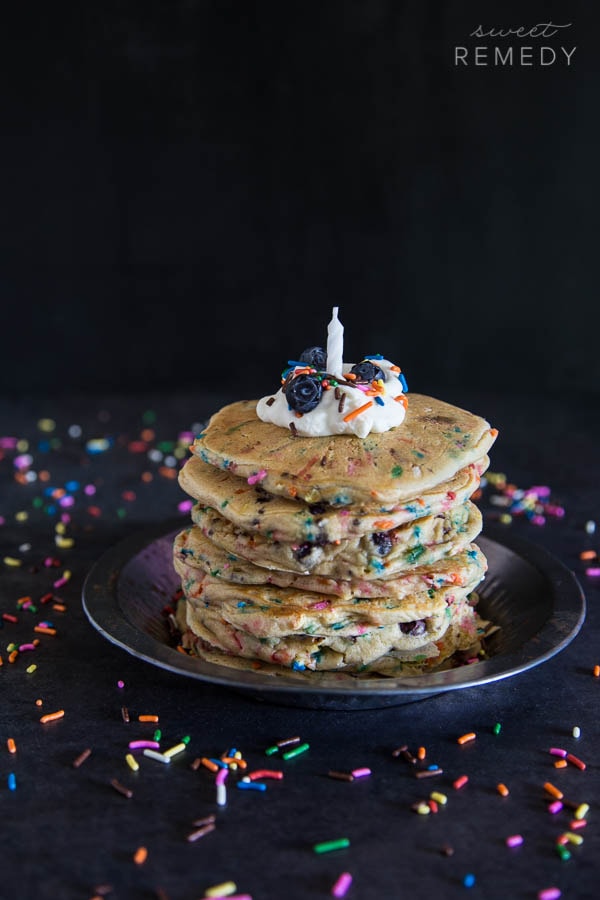 I'm the cook in the house so I made myself pancakes in lieu of a cake. I find such happiness in sprinkles so I loaded the batter with them and created these funfetti pancakes.
I threw in some blueberries for good measure since I only had half a pint left.
The result?
These colorful birthday pancakes! I was so happy eating these; they made me feel like a kid again.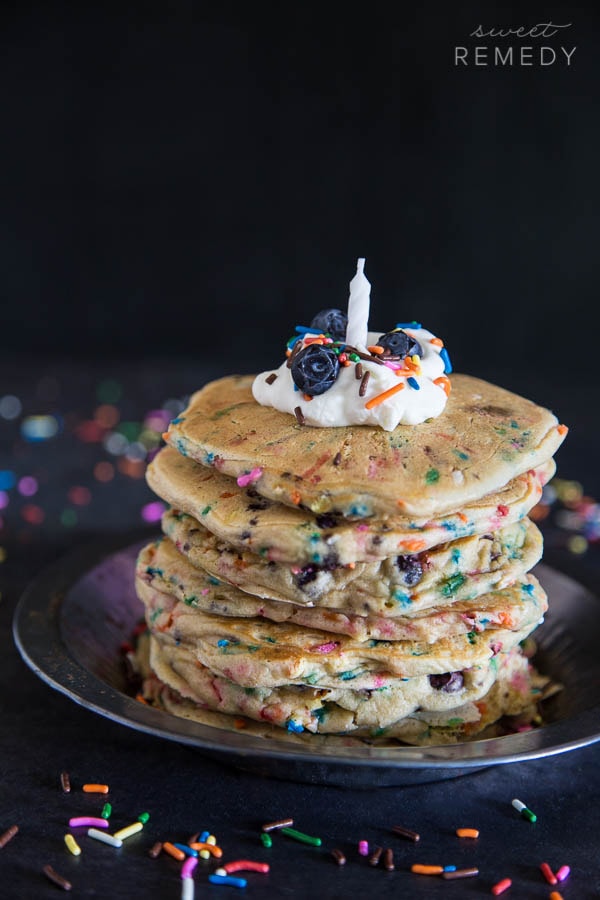 While I used to have an irrational fear of growing old, I'm not afraid of that anymore.
I also had irrational fears of pumping my own gas, driving long distances and ordering food.
Thank goodness I got over all of those things. I'm still deathly afraid of clowns though. Get away.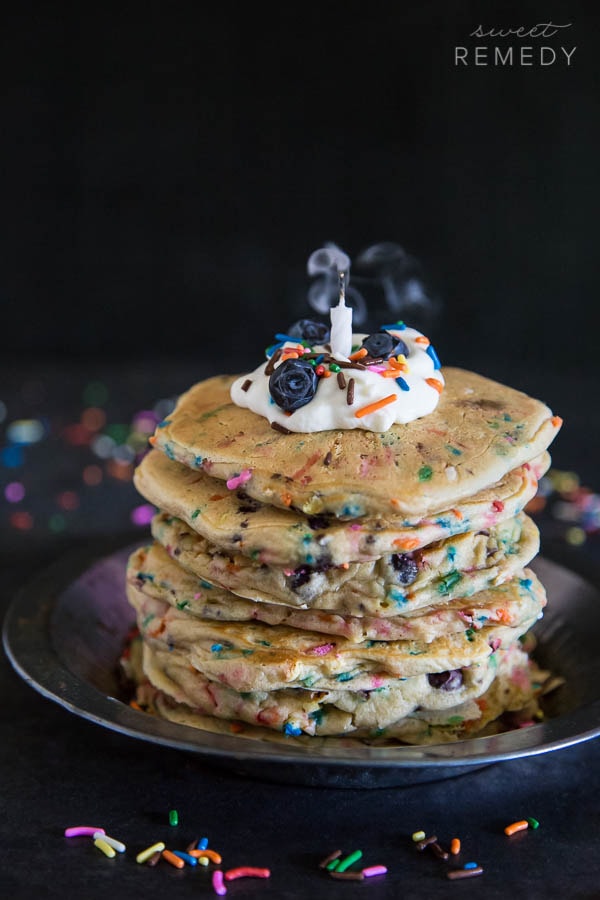 I hope to embrace getting older and age gracefully. I blew out the candle and made my wish.
I can't tell you what I wished for but I do hope that you make these for someone you really love one day when a birthday rolls around.
Everyone needs a little kindness, especially on the day that they are reminded of their age!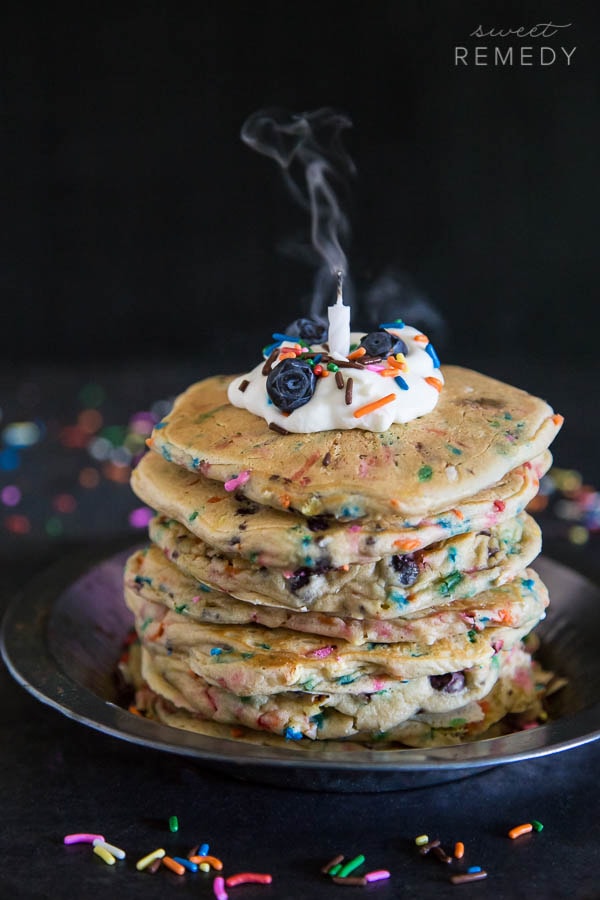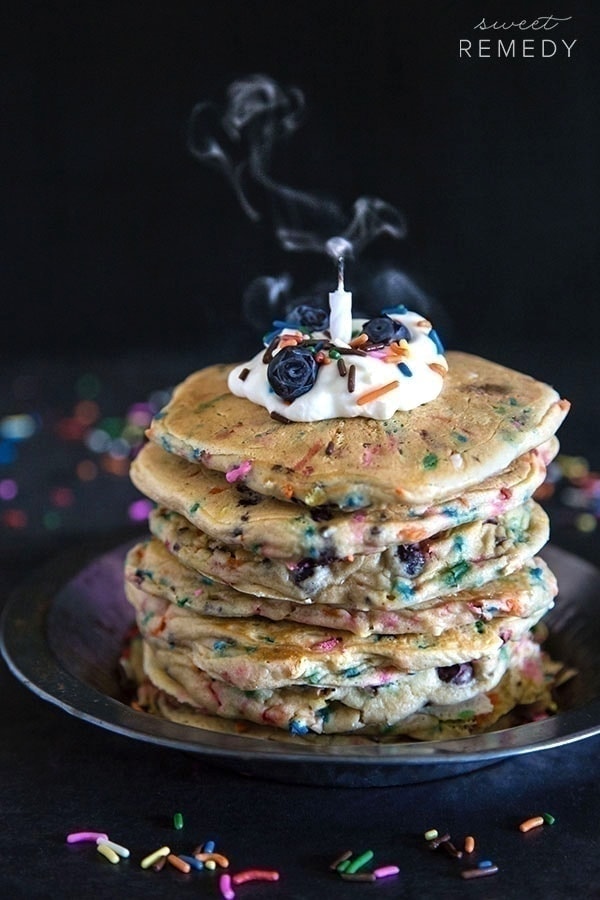 Yield: 6-8 pancakes
Blueberry Funfetti Pancakes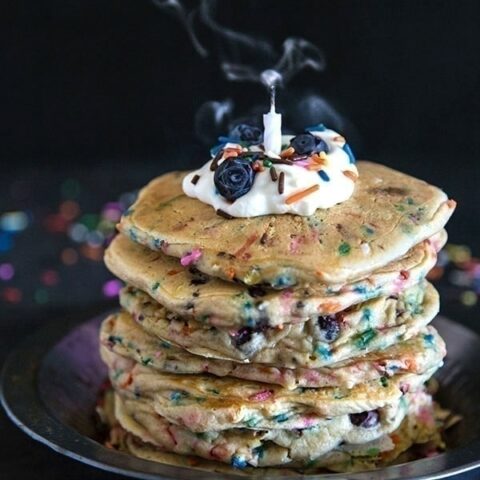 These Birthday Funfetti Pancakes are made with blueberries and lots of love. Make these for your favorite person on their birthday! Don't forget to make the homemade whipped cream a day ahead! Remember to insert birthday candles and make a wish!
Ingredients
1 cup flour (I used white whole wheat flour)
1 tablespoon sugar
2 teaspoons baking powder
1/4 teaspoon salt
1 cup milk
1 large egg
2 tablespoons butter, melted
1 cup blueberries
1/2 cup sprinkles
Instructions
Make the homemade whipped cream and set in the refrigerator until ready to assemble pancake stacks. You can keep the whipped cream in the refrigerator for up to 2 days but it is best when used right away.
Preheat a griddle to 350 degrees F.
In a medium bowl, whisk together the flour, sugar, baking powder and salt.
Whisk in the milk and egg.
While whisking drizzle the melted butter into the batter and mix until butter is completely incorporated.
Add the sprinkles and blueberries and gently mix in. Be careful not to over mix, some lumps are okay.
Place 1/4 cup pancake batter on top of the griddle to form each pancake.
Once bubbles form, flip with a pancake turner or spatula. Continue until all of the batter is gone.
Stack the pancakes and top stack with fresh whipped cream, fresh blueberries and sprinkles.
Notes
It is best to make the homemade whipped cream for this recipe the same day it will be used but it can also be made ahead of time (2 days is okay but overnight is better!) The whipped cream recipe makes much more than needed for the pancake stack so feel free to use it for dipping fruit or as a dessert topping!
Recommended Products
This post contains affiliate links. I will make a small commission if you make a purchase through one of these links, at no extra cost to you.
Nutrition Information:
Yield:
8
Serving Size:
1
Amount Per Serving:
Calories:

261
Total Fat:

8g
Saturated Fat:

3g
Trans Fat:

0g
Unsaturated Fat:

4g
Cholesterol:

33mg
Sodium:

237mg
Carbohydrates:

42g
Fiber:

4g
Sugar:

9g
Protein:

7g
Nutrition information isn't always accurate. You may want to spot check this information.