This Creamy Chocolate Fondue Dip is perfect for Valentine's Day!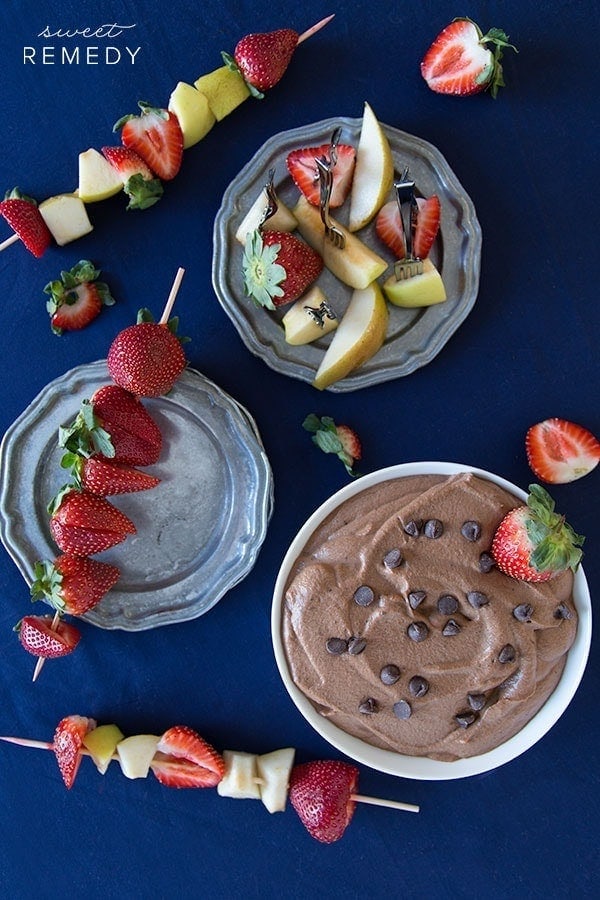 This is a really delicious dessert dip! It's made up of melted chocolate and homemade whipped cream. You can take any fruit and cut it up into chunks to enjoy with this recipe. This time around I went with strawberries, apples, and pears. Pineapple is also a favorite but sometimes it doesn't sit well with my stomach. This is a sad truth for me since pineapple is one of my favorite fruits!
Pound cake is a great addition to the fruit kabobs but beware; the pound cake will crumble when dipped into this creamy chocolate fondue.
This fondue is on the creamy side compared to other fondues due to the addition of whipped cream. This makes the dip light and fluffy! It isn't too rich which basically just means you can eat more of it without feeling like bloated! This is the perfect Valentine's Day dessert for two, even though the recipe makes enough to feed a large group.
The original recipe uses cool whip but I went ahead and made my own homemade whipped cream with heavy cream, powdered sugar and a little bit of vanilla extract. I think doing this makes the recipe less processed which makes me smile. It also makes me feel a lot better about eating a chocolate dip. Using quality chocolate chips is also a big plus. I sprinkled a few chocolate chips on top of the dip to make it more appealing.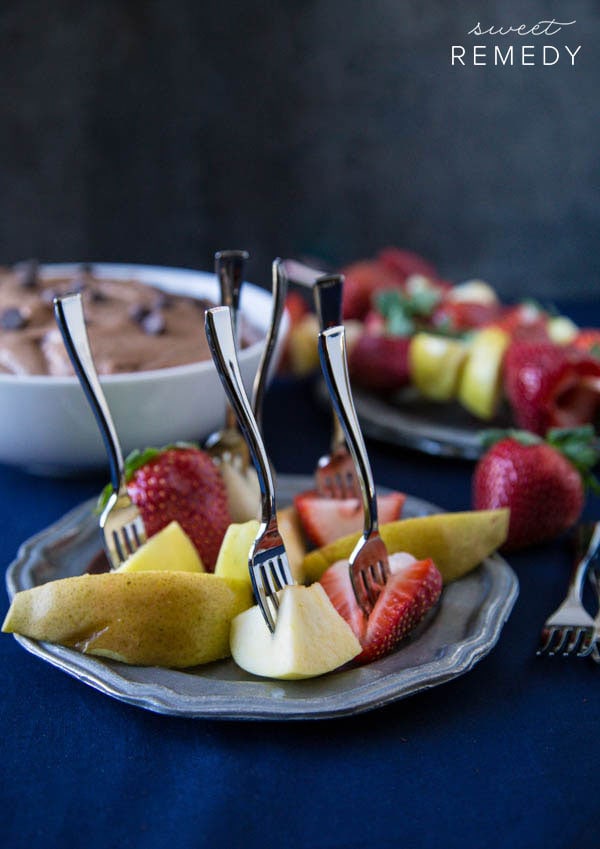 Yield: 16
Creamy Chocolate Fondue Dip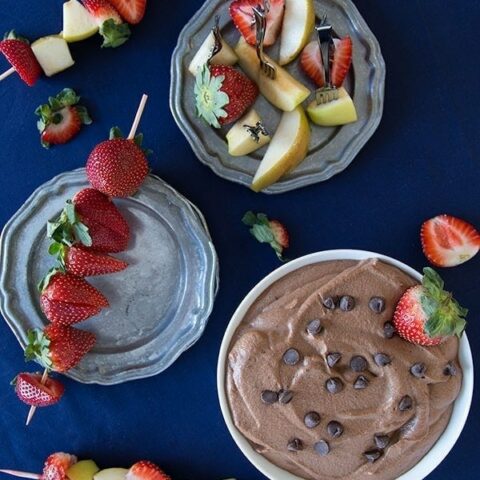 Serve fruit on kabobs or with tiny forks for easy dipping! Tip: Dip the apple and pear wedges into a lemon juice and water mixture to prevent them from turning brown.
Ingredients
whipped cream
2 cups heavy cream
2 Tbsp unrefined cane sugar
fondue
3/4 cup semi-sweet chocolate chips
homemade whipped cream (from above recipe)
1/2 tsp cinnamon
1/2 tsp vanilla extract
Assorted fresh fruit for dipping
Pound cake pieces for dipping
Instructions
whipped cream
Pour the heavy cream into a medium sized bowl.
Add the sugar and with a hand mixer, whip the cream and sugar until light and fluffy.
Set half aside in the fridge.
fondue
Place chocolate morsels and the other half of the whipped cream in a small microwave safe bowl.
Microwave, uncovered on high for 1 minute or until chocolate is melted and smooth, stirring after each 20 second interval. Fold in remaining whipped topping, cinnamon and vanilla extract.
Mix until smooth.
Garnish top with more chocolate chips and serve with your choice of fruit or pound cake.
Recommended Products
This post contains affiliate links. I will make a small commission if you make a purchase through one of these links, at no extra cost to you.