This no-bake oatmeal bar recipe is quick to pull together, requires zero baking, and is full of creamy peanut butter and rich chocolate.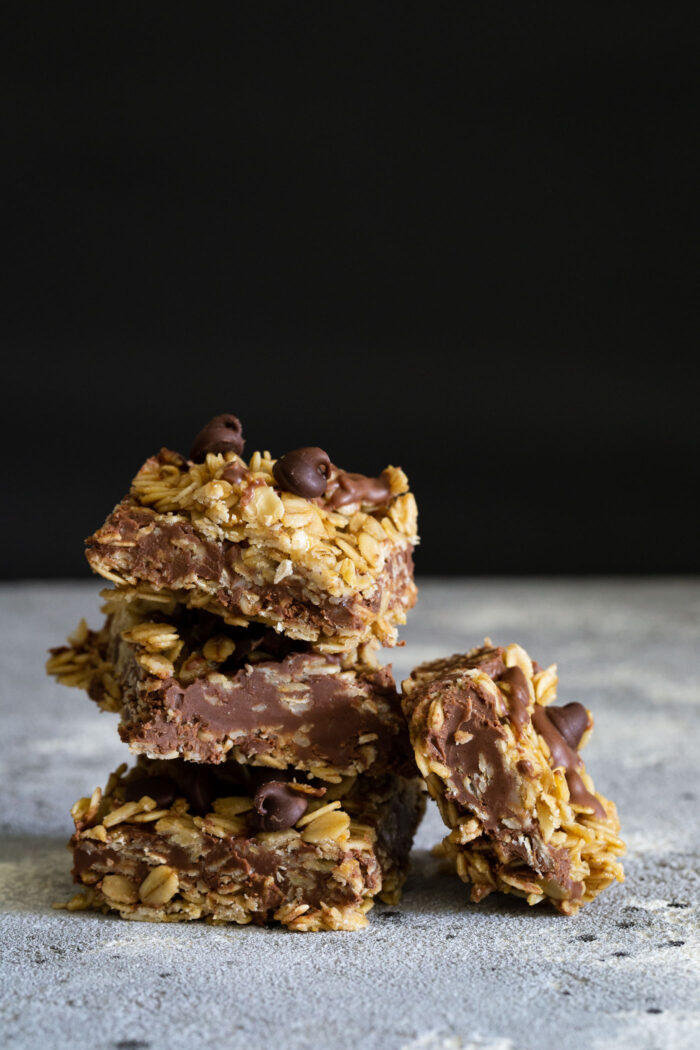 The love I have for these peanut butter and chocolate filled oat bars is limitless. Not only is there absolutely no baking required – major plus! – but they're also loaded with nostalgia.
There is nothing better than the warm and fuzzies brought on by reminiscing over childhood memories while you are indulging, don't you think?
I grew up in a semi-quiet (except for us kids running around) oval shaped neighborhood. Once upon a time, a new girl showed up and everyone wanted to be her friend.
In a small town like ours, the allure of a new person is so great. Lucky for me, we became fast friends. We'd spend evenings after school racing our bikes from her house to mine and playing in the backyard.
While we played, her mom would be tinkering in the kitchen.
As our friendship grew, her mom introduced me to new desserts and some fantastic foods. And of all her creations, these chocolate and peanut butter oatmeal bars have got to me my absolute favorite.
Sometimes my cravings tell me that I am ten years old and I want (read need) these bars.
Now, if you're willing, I invite you to really jump down the nostalgia rabbit hole with me and whip up some baked macaroni and cheese along with these no-bake bars. Prepare to be transported way way back!
Now, without further ado, I present to you a fantastic childhood memory: No-Bake Chocolate and Peanut Butter Oat Bars.
I'm curious, do you have a specific food that is deeply rooted in your childhood?
WHY WON'T MY NO-BAKE OATMEAL BARS HARDEN?
When I say "refrigerate the bars for at least 3 hours," I mean it. It may seem too long to wait to cram one of these tasty treats into your face, but it's worth the wait. Allowing the bars to set up completely will make them easier to cut.
HOW DO I STORE NO-BAKE OATMEAL BARS?
Once the bars have been frozen and cut, they can be stored in an airtight container, either in the fridge or at room temperature. In the warmer months, you may want to keep them in the fridge, because they melt quickly.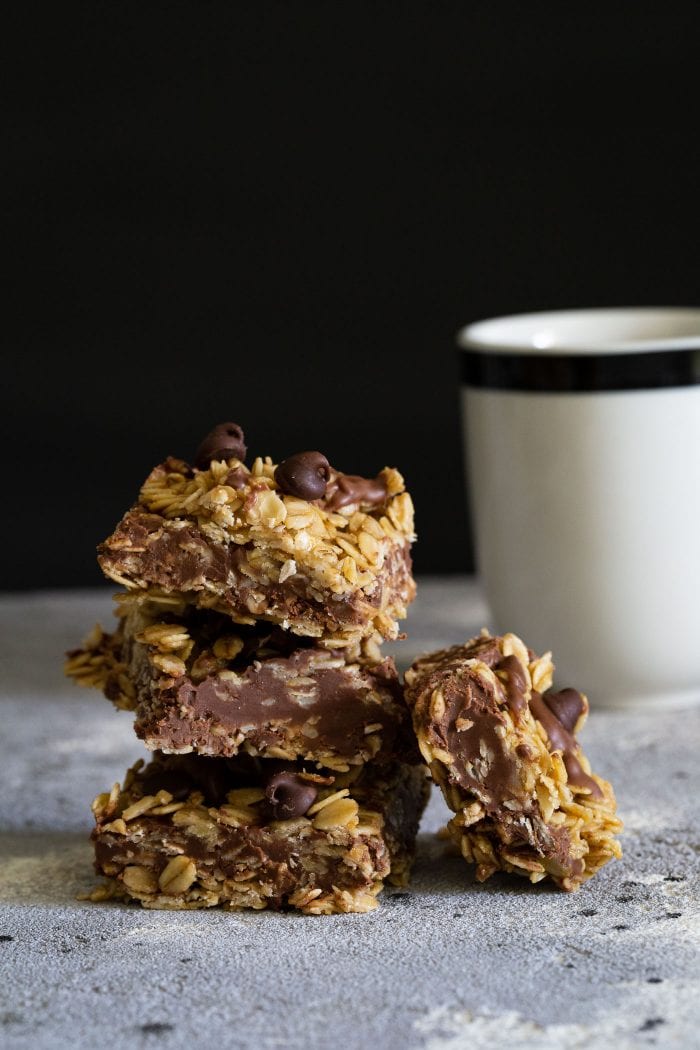 CAN I USE WAX PAPER INSTEAD OF PARCHMENT?
Wax paper will work for this recipe. Be sure the waxy side goes up though to avoid sticking.
CAN THESE BE MADE WITH GLUTEN-FREE OATS?
Gluten-free oats can be used, but the finished product will be a little different. The lack of gluten will change the chewiness and moisture content.
CAN I USE CRUNCHY PEANUT BUTTER?
Sure you can! I think you might be on to something great here actually. If you try this, let me know how it turns out.
INGREDIENTS YOU'LL NEED FOR THIS OATMEAL BARS RECIPE:
Unsalted Butter
Light Brown Sugar
Vanilla Extract
Quick Cooking Oats
Semi-Sweet Chocolate Chips
Creamy Peanut Butter
Baking Pantry Staples: Salt
MORE COMFORT FOOD RECIPES!
Yield: 9 bars
No-Bake Chocolate & Peanut Butter Oatmeal Bars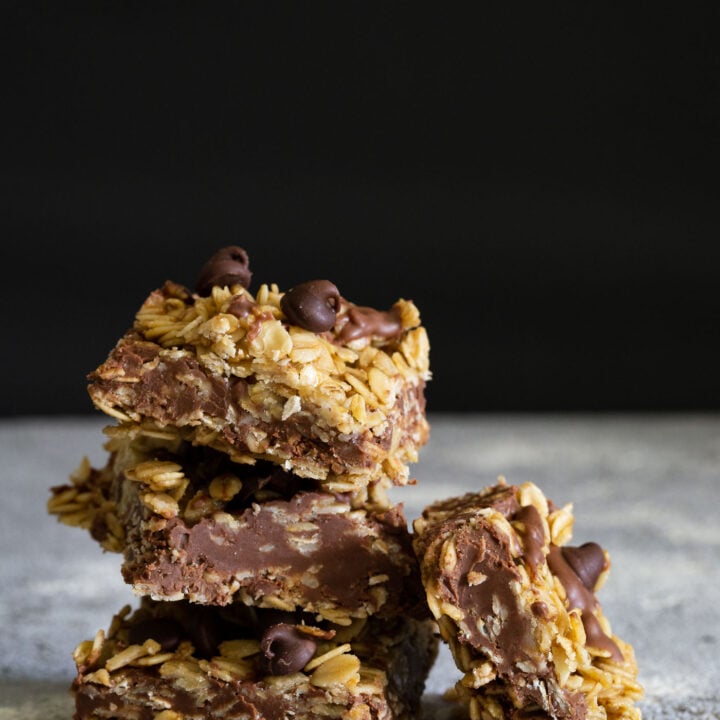 These are the perfect no bake treat to help deal with Summer heat. Beware, they melt fast!
Total Time
3 hours
10 minutes
Ingredients
3/4 cup unsalted butter
1/2 cup packed light brown sugar
1 teaspoon vanilla extract
1/4 tsp salt
3 1/2 cups quick cooking oats
1 cup semi-sweet chocolate chips
2/3 cup creamy peanut butter
Instructions
In a large saucepan, melt the butter over medium low heat.
Stir in the brown sugar, vanilla extract, and salt to the saucepan.
Add in the quick cooking oats and stir. Cook the oat mixture over medium low heat for 4 minutes.
While the oat mixture is cooking, melt the chocolate chips and peanut butter in the microwave for approximately 30-60 seconds in a microwavable safe bowl. Stir together and set aside.
Line a 8 by 8 inch baking pan with parchment paper. Grease the parchment paper if desired.
Press 3/4 of the oat mixture in the bottom of the pan. Pour the melted chocolate and peanut butter over the oats.
Spread the remaining oat mixture over the chocolate and peanut butter layer.
Refrigerate the bars for at least 3 hours. Then cut into squares and enjoy!
Recommended Products
This post contains affiliate links. I will make a small commission if you make a purchase through one of these links, at no extra cost to you.
Nutrition Information:
Yield:
9
Serving Size:
1
Amount Per Serving:
Calories:

484
Total Fat:

32g
Saturated Fat:

15g
Trans Fat:

0g
Unsaturated Fat:

14g
Cholesterol:

41mg
Sodium:

100mg
Carbohydrates:

45g
Fiber:

5g
Sugar:

22g
Protein:

9g
Nutrition information isn't always accurate. You may want to spot check this information.