These Pumpkin Chocolate Chip Pancakes were made with whole wheat pastry flour and while it is in the title, I feel that it bears repeating: Chocolate chips.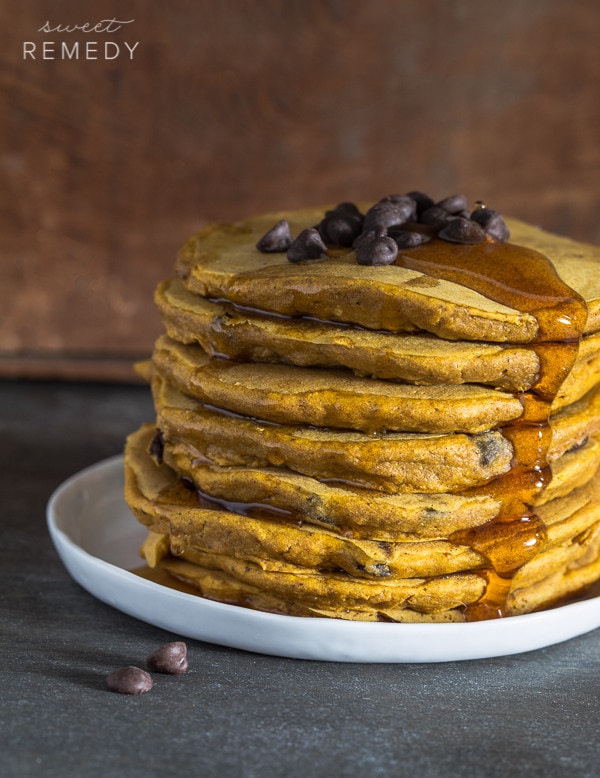 I do find it sort of sad when it is mid to late August and the leaves are already beginning to change to red, orange and yellow up here in the northeast.
Then, of course, you start to see it everywhere: Pumpkin.
Pumpkin everything! Pumpkin spice lattes, pumpkin spice candles, pumpkin deodorant.
Okay, I made that last one up.
My all-time favorite pumpkin "thing" is pumpkin beer. In fact, I just picked up a six pack of Pumpkin Ale.
It's August still and there are a ton of pumpkin beers on the shelves already!
So it turns out, someone has made pumpkin spice deodorant.
Check out this Buzzfeed list of 15 Items That Show Pumpkin Has Gone Too Far!
While you're at it, if you're looking for a good laugh check out: 16 Pumpkin Spice Products That Don't Exist And Should Never Exist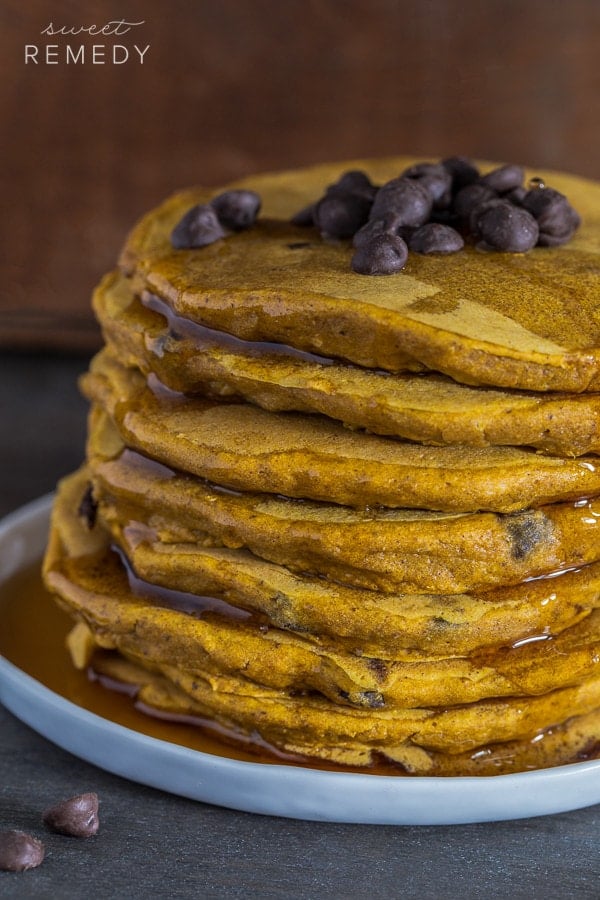 So that was fun, right?
No matter what your feelings are about pumpkin spice and its many faces, you can't deny that these pancakes will be the highlight of your fall-themed brunch or your Thanksgiving breakfast.
Yield: 10
Pumpkin Chocolate Chip Pancakes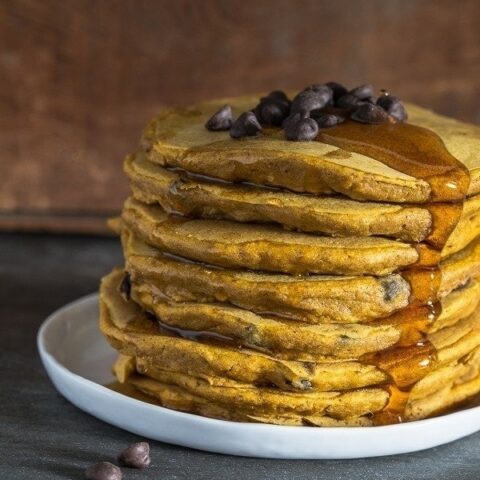 The addition of the pumpkin and chocolate chips take these whole grain pancakes to the next level. If you are dairy-free or vegan please use your favorite dairy-free chocolate chips.
Ingredients
1 tablespoon ground flax seeds
3 tablespoons water
1 cup whole wheat pastry flour
2 tablespoons unrefined sugar
2 teaspoon baking powder
1/4 teaspoon salt
1 tablespoon cinnamon
1/2 tablespoon nutmeg
1 teaspoon ginger
1 teaspoon cloves
1 cup almond milk
2 tablespoons coconut oil, melted
8 tablespoons pumpkin puree
1/2 cup dairy-free chocolate chips
Instructions
Preheat a griddle and lightly grease with your favorite fat. (Butter, ghee, vegan and dairy-free butter substitutes, etc)
In a small bowl, mix together the ground flax seeds and water.
Stir and let stand for about 2 minutes.
In a medium bowl, mix the flour, sugar, baking powder, salt, cinnamon, nutmeg, ginger and cloves together.
Add the almond milk, melted coconut oil, pumpkin puree and the ground flax seed mixture.
Mix until fully combined. Stir in the chocolate chips
Using a large cookie scoop out the batter onto the griddle.
The batter might need a little help spreading into a circle shape, do this by using the back of the cookie scoop and gently spread the batter outward.
Cook until bubbles form on the top, about 2-4 minutes.
Flip the pancake using a large spatula and cook for another 2-4 minutes.
Recommended Products
This post contains affiliate links. I will make a small commission if you make a purchase through one of these links, at no extra cost to you.
Nutrition Information:
Yield:
10
Serving Size:
1
Amount Per Serving:
Calories:

232
Total Fat:

8g
Saturated Fat:

5g
Trans Fat:

0g
Unsaturated Fat:

2g
Cholesterol:

4mg
Sodium:

184mg
Carbohydrates:

37g
Fiber:

5g
Sugar:

10g
Protein:

6g
Nutrition information isn't always accurate. You may want to spot check this information.