After making Red Velvet Cupcakes with Cream Cheese Frosting I had so many leftover cupcakes I decided to crumble up a few in a plastic bag and put the leftovers in the freezer for this Red Velvet Cake Ice Cream! For this recipe, I mingled the frozen cake pieces and cream cheese frosting with a luscious and creamy ice cream batter.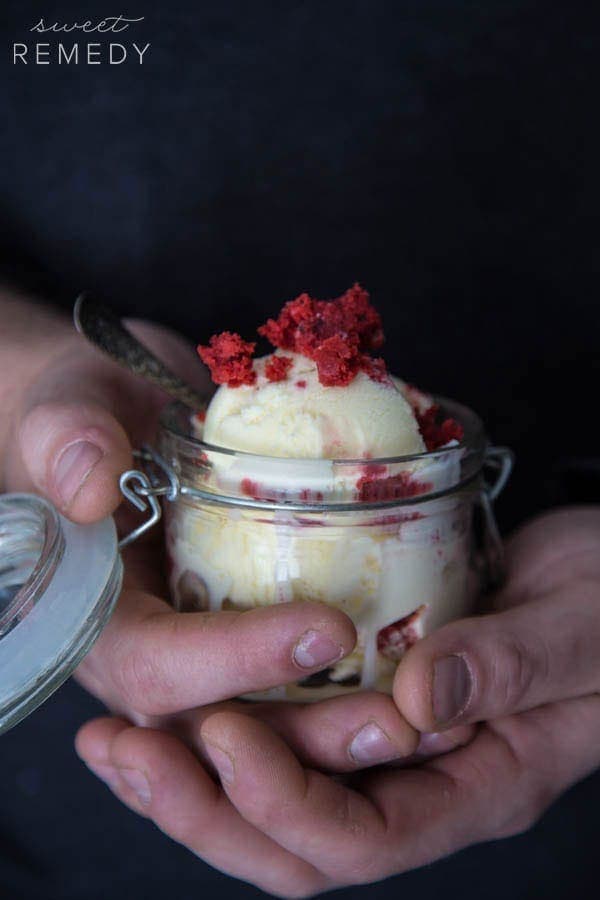 After the ice cream batter was done churning in my ice cream maker, I layered half the batter into a freezable container and a sprinkled half of the cake crumbs on top. Next, I added the remaining batter on top and evened it out. I added the rest of the crumbles and froze the ice cream. Once done freezing I added even more cake pieces to the top, so make sure to save at least 3 cupcakes!
I've always struggled to find the perfect container to store homemade ice cream in. This time around, I used an 8×8 pan with a lid usually used for brownies and bars. It worked really great. It fit perfectly into the freezer and I was able to stack other things on top of it since the pan is only 2 inches thin.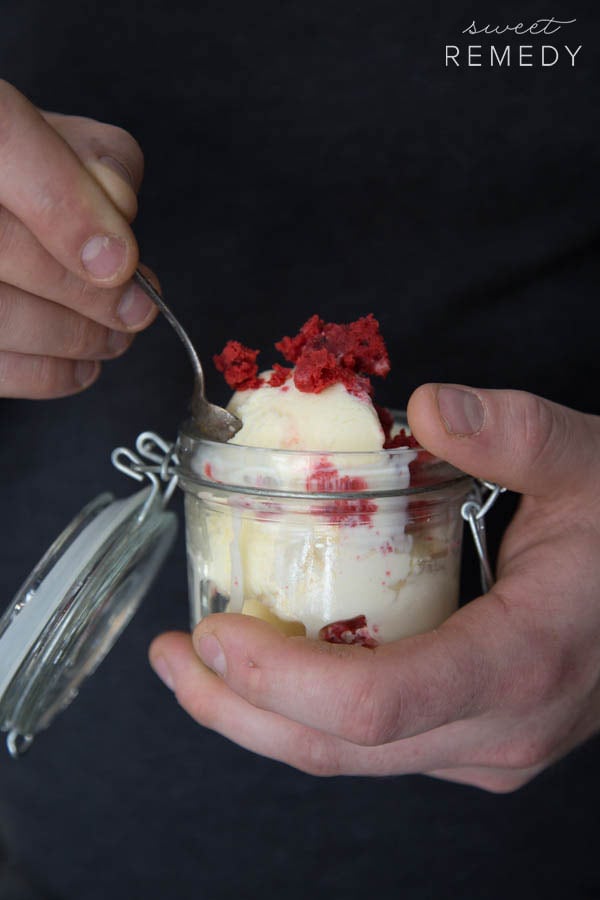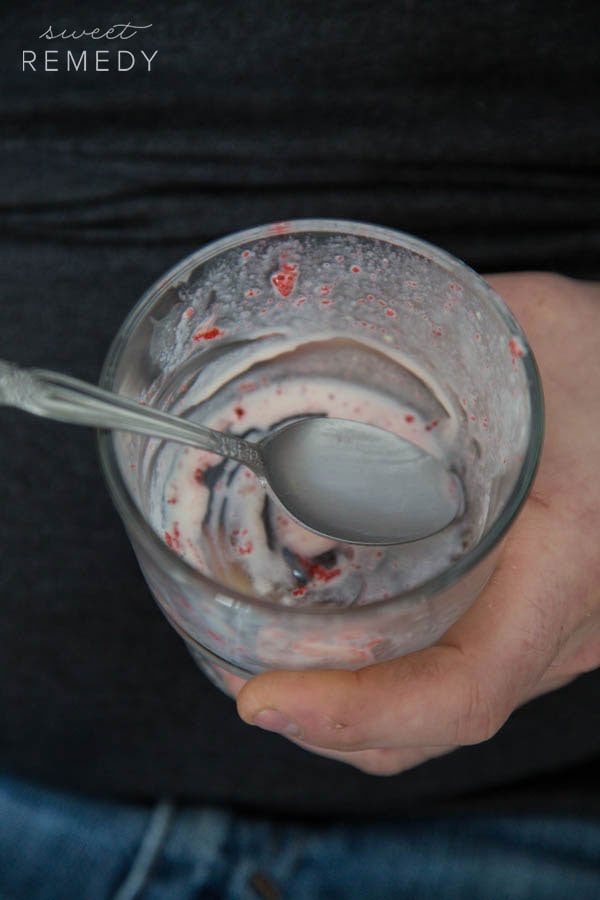 Yield: 1 quart
Red Velvet Cake Ice Cream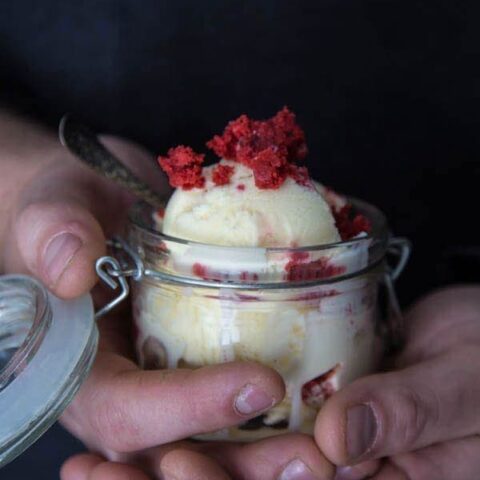 Make sure your cake is prepared and the crumbles are frozen before beginning this recipe. I would also suggest measuring out your ingredients before you begin because this is one of those recipes where you will want to pay very close attention to the heat and you'll need to stand close to continuously stir the mixture. Don't walk away mid way to grab something you forgot!
Ingredients
2 eggs
2 egg yolks
1/2 cup sugar
2 cups heavy cream
1 1/2 cups milk
Instructions
Prepare your cupcakes using a Red Velvet Cake recipe. Crumble and freeze about 3 cupcakes.
Combine eggs, yolks and sugar in a medium sized mixing bowl.
Heat milk and cream in a medium saucepan on low; do not let boil, just "scorch" it while stirring until it is near-boiling.
Turn off heat. Incorporate 1 cup of the hot milk mixture into the egg mixture while whisking continuously.
Pour the egg and milk mixture into the remaining milk and cream, continue to beat.
Heat mixture under medium low, while constantly whisking, until the consistency is thick enough to coat the back of a wooden spoon.
Be very cautious -- you don't want to cook the eggs!
Pour mixture into a bowl and cover.
Chill until completely cool.
Once cooled, pour mixture into frozen ice cream maker and follow your machine's directions for churning.
Once churning is complete; layer the semi frozen ice cream batter, 1 cup cake pieces and leftover frosting from 3 cupcakes in an airtight container.
Store in the freezer until frozen.
Reserve leftover cupcake crumbles in the freezer for scooped ice cream topping.
Recommended Products
This post contains affiliate links. I will make a small commission if you make a purchase through one of these links, at no extra cost to you.
Nutrition Information:
Yield:
8
Serving Size:
1/2 cup
Amount Per Serving:
Calories:

401
Total Fat:

31g
Saturated Fat:

19g
Trans Fat:

1g
Unsaturated Fat:

10g
Cholesterol:

188mg
Sodium:

142mg
Carbohydrates:

26g
Fiber:

0g
Sugar:

21g
Protein:

7g
Nutrition information isn't always accurate. You may want to spot check this information.