Disclosure: This post is a part of OXO's Cookies for Kids' Cancer and Dorie Greenspan campaign. OXO will donate $100 to Cookies for Kids' Cancer for each blog post submitted by bloggers. OXO provided the baking products used in this post, but the opinions are my own. There are also affiliate links within this post.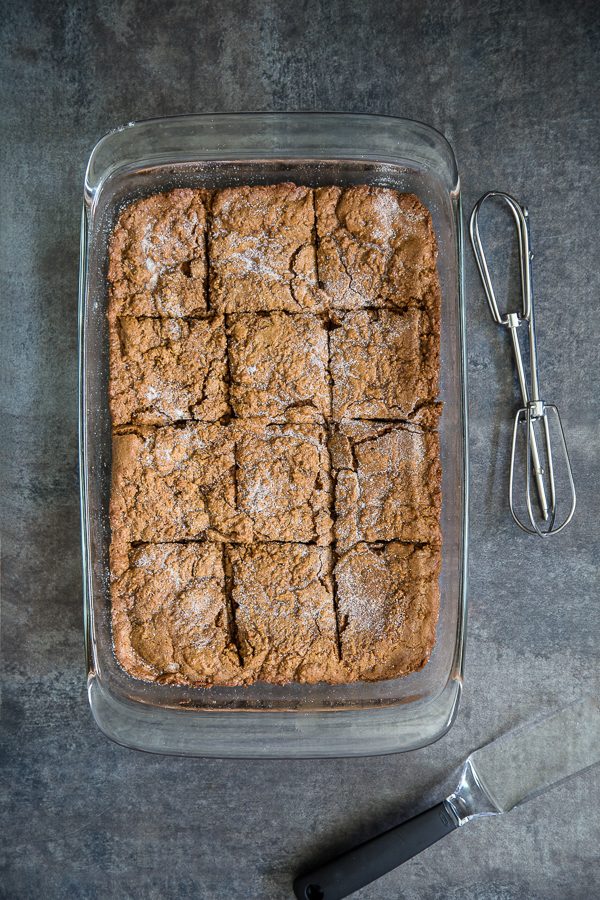 The OXO and Cookies for Kids' Cancer campaign is something that I'm always proud to participate in every year. Cancer has impacted my life in more ways than I wish were true and supporting this group is something that I love to do. If you've missed what they are all about, make sure you go check out the Cookies for Kids' Cancer website.
This year, OXO has also partnered with Dorie Greenspan, a legend in the baking world! I have two of Dorie's other books, Baking: From My Home to Yours and Around My French Table. I'm thrilled to have made a recipe from her newest book, Dorie's Cookies called Mary's Maine Bars. These bars are incredibly thick and chewy! Perfect for the flavor combinations your taste buds are about to embark!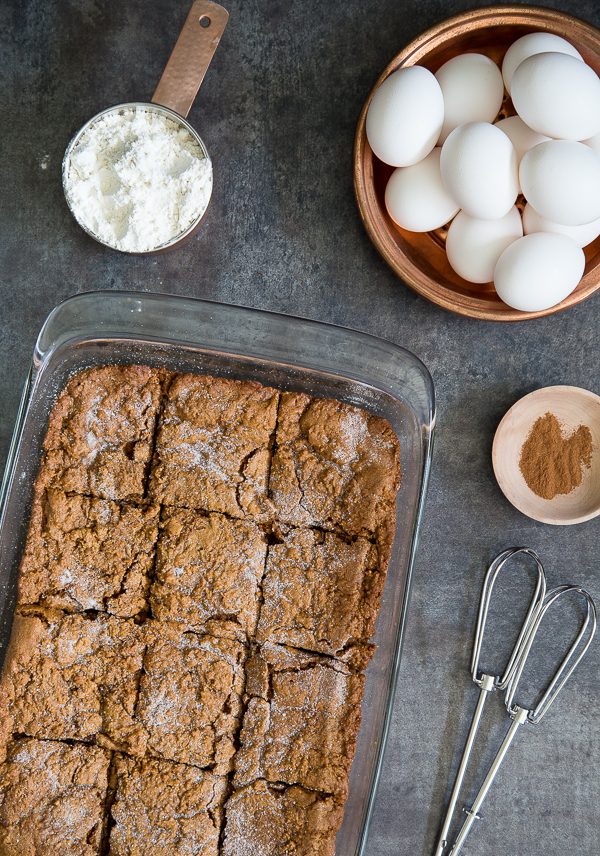 The mingling of cinnamon, cloves, nutmeg, and molasses screams gingerbread, but the texture of these bars give you a different feeling than the gingerbread cookie. It's hard to describe, but there is something wonderful about it. You'll have to see for yourself. I enjoyed these most mornings with a cup of coffee.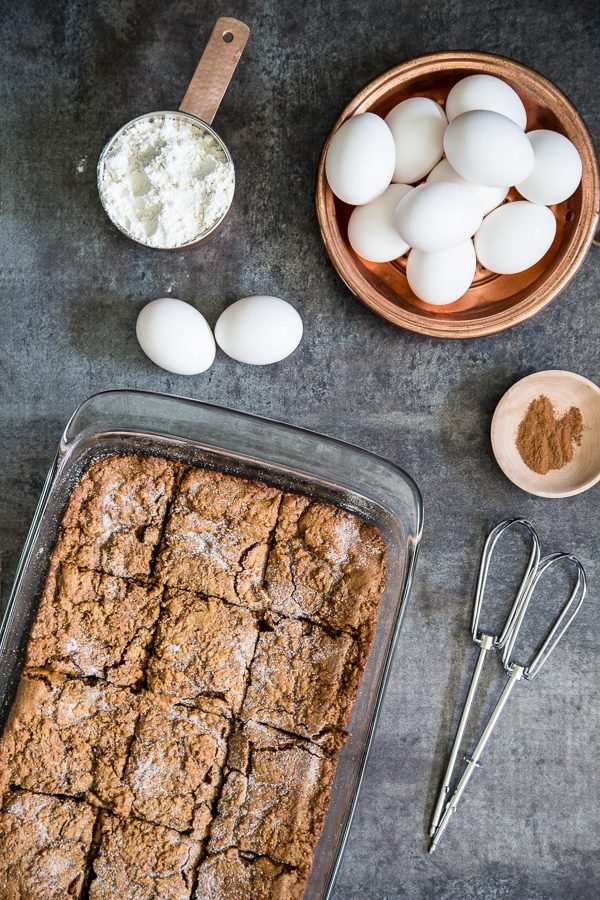 To make Mary's Main Bars I used OXO's Glass 3 Qt Baking Dish with Lid and a Brownie Spatula to help release the bars from the baking dish. The glass baking dishes come with a lid, and if you do a lot of baking and sharing of said baked goods, you know how crucial a lid can be. It beats wrapping foil around the dish and then the foil tearing.
The dishes, made from BPA – free borosilicate glass and can withstand extreme temperature changes, so it's not going to shatter while you're just trying to make some brownies or bars. I even cut the bars with the brownie spatula. It worked just as well as a knife and saved me from doing even more dishes!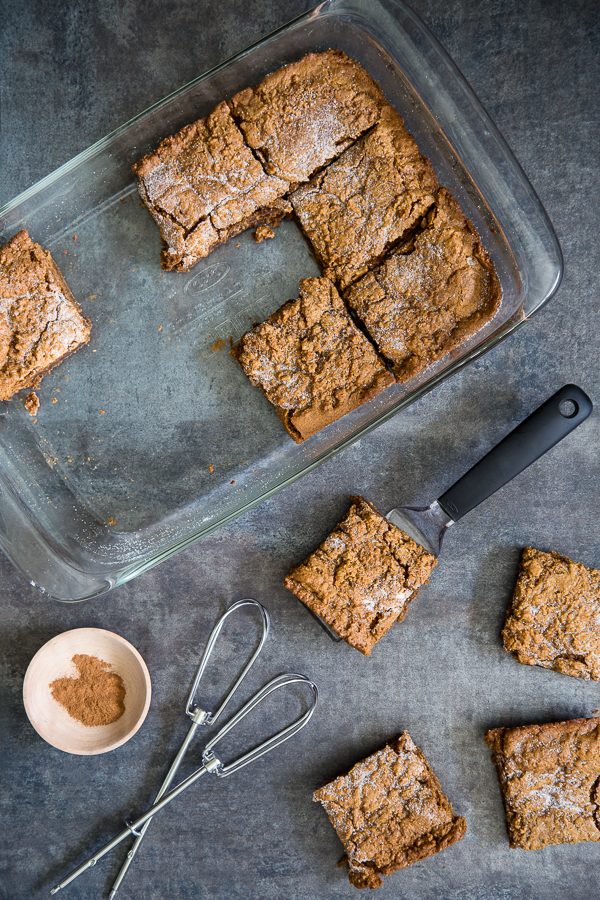 While mixing the bars, I used the Illuminating Digital Hand Mixer. Let me tell you, having a light so you can see what is going on as you mix your recipe is a life saver. The hand mixer also has digital controls to speed up or slow down the speed as needed. These controls are extremely fluid and transition from one speed to the next with ease.
Another impressive feature of the digital hand mixer is that you can clip in the beaters, so everything stays together when you are storing it.
With my old hand mixer (I'm talking…old…this thing might be older than I am!) I always lost the beaters and would have to spend 15 minutes digging around in drawers searching!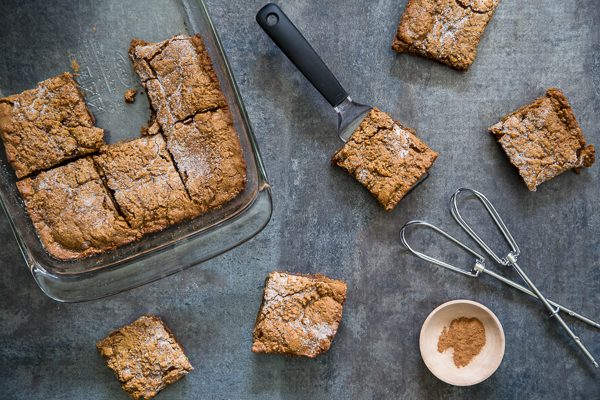 OXO will be donating $100 to Cookies for Kids' Cancer for each blog post submitted via participating bloggers (up to their $100,000 commitment*.) Their generosity every single year to this worthy cause fills my heart and soul up. Thank you to OXO, Dorie Greenspan and Cookies for Kids' Cancer! Keep up the remarkable work.
Yield: 20 bars
Mary's Maine Bars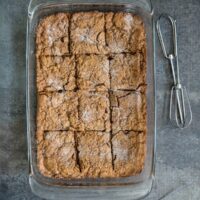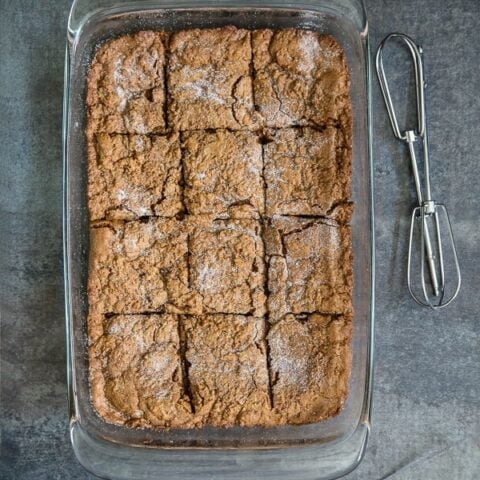 Recipe from Dorie's Cookies by Dorie Greenspan
Ingredients
1½ cups (204 grams) all-purpose flour
1½ cups (204 grams) whole wheat flour
1 teaspoon baking soda
1 teaspoon fine sea salt
1 teaspoon ground cinnamon
1 teaspoon freshly grated nutmeg
¾ teaspoon ground cloves
1 cup (200 grams) sugar
¾ cup (180 ml) unsulfured molasses
½ cup (120 ml) flavorless oil, such as canola
1 large egg, at room temperature
¼ cup (60 ml) buttermilk, at room temperature
Sanding or granulated sugar, for sprinkling
Instructions
Center a rack in the oven and preheat it to 350 degrees F. Generously butter a 9-x-13-inch baking pan or coat it with baking spray. Line it with a piece of parchment paper.
Whisk both flours, the baking soda, salt and spices together.
Working with a stand mixer fitted with the paddle attachment, or in a large bowl with a hand mixer, beat the sugar, molasses, oil and egg together until smooth.
Add half of the dry ingredients and pulse the mixer to start blending them in, then beat on low speed only until the flour disappears into the dough.
Pour in the buttermilk and mix to combine.
Add the remainder of the dry ingredients and, still working on low, beat until incorporated. You'll have a smooth, heavy, sticky dough.
Scrape the dough into the pan, using a knife or offset spatula to get it into the corners and to even the top as best you can. Sprinkle with sugar.
Bake for 26 to 30 minutes, rotating the pan after 15 minutes, or until the top is dry and a tester inserted into the center comes out clean. Transfer the pan to a rack.
After 10 minutes, run a blunt table knife around the edges of the pan, invert the Maine bars onto a rack, peel away the paper, turn it over onto another rack and let cool. When you're ready, cut it into 20 bars (about 1¾ x 3¼ inches).
Notes
Storing: Wrap the bars well, and they will be fine at room temperature for at least 4 days; wrapped airtight, they can be frozen for up to 2 months. Recipe Variations: Maine Blueberry Bars - Once the dough is mixed, gently stir in 1 cup fresh blueberries. Or, if you're making this in any season but summer, use 1 cup dried blueberries that you've soaked in very hot tap water for about 10 minutes, drained and patted dry.
Maine Apple Butter Bars - Once the dough is spread evenly in the pan, dot the top with spoonfuls of apple butter (spiced or plain) — you'll need about ¼ cup — and use a blunt table knife to swirl it into the dough to create a nicely marbled surface.
Recipe from Dorie's Cookies by Dorie Greenspan
Recommended Products
This post contains affiliate links. I will make a small commission if you make a purchase through one of these links, at no extra cost to you.
Nutrition Information:
Yield:
20
Serving Size:
1
Amount Per Serving:
Calories:

258
Total Fat:

12g
Saturated Fat:

1g
Trans Fat:

0g
Unsaturated Fat:

10g
Cholesterol:

9mg
Sodium:

185mg
Carbohydrates:

37g
Fiber:

1g
Sugar:

23g
Protein:

3g