An inventive take on basil pesto: This Garlic Scape Pesto uses garlic scapes, arugula, walnuts, and pistachios to give it a tangy yet garlic filled flavor.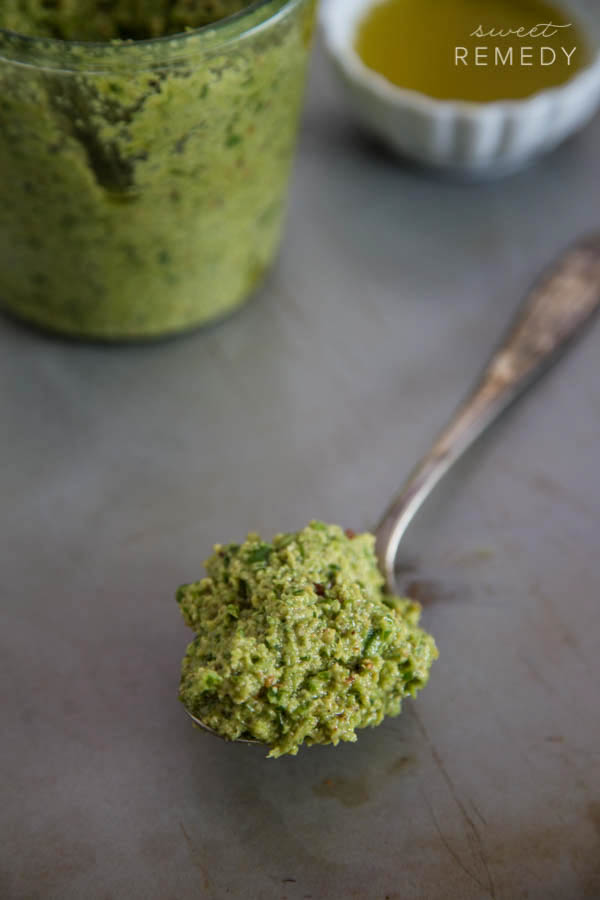 I finally did it. I finally signed up for a CSA which stands for Community Supported Agriculture.
With a CSA you pay a fee at the beginning of the season, usually in May to receive produce in the form of a "share" which you pick up directly from a local farm. We're on our third week of the CSA pick up and I've gotten to know a lot of produce that I never knew existed.
Today I'm sharing this Garlic Scape Pesto that I made with these crazy looking tubes called Garlic Scapes.
I knew all about garlic scapes already but I was excited to finally get my hands on some to experiment with. I decided to make a pesto but dress it up a little bit with pistachios and walnuts in place of pine nuts and garlic scapes (and arugula!) in place of basil.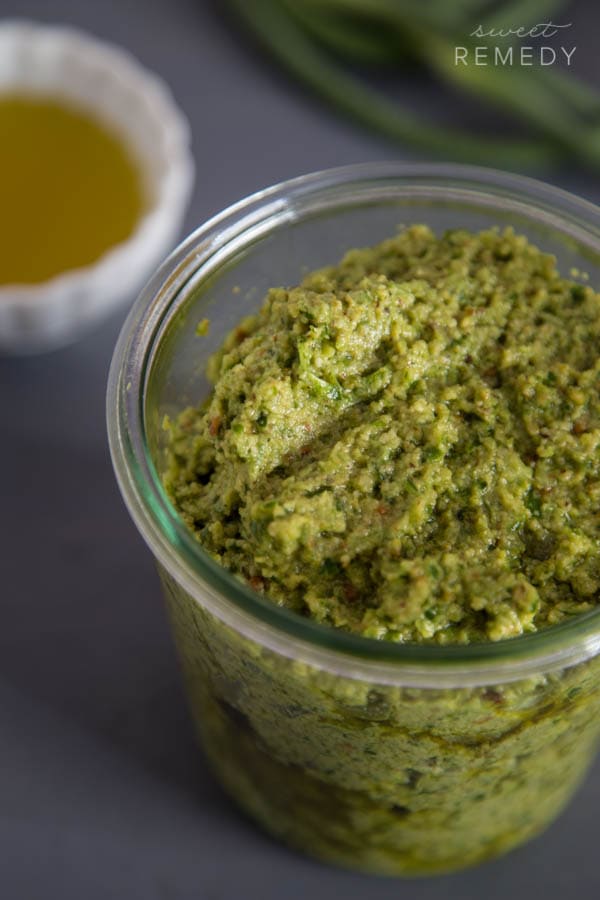 The result was a delicious concoction which was a bit bitter yet also filled with a robust garlic flavor. I was very happy with the way this came out and I used it in a pasta dish with angel hair pasta, mushrooms, fresh arugula, and goat cheese.
I've been eating that pasta dish every night for dinner as it made so many servings. Hey, I'm not complaining!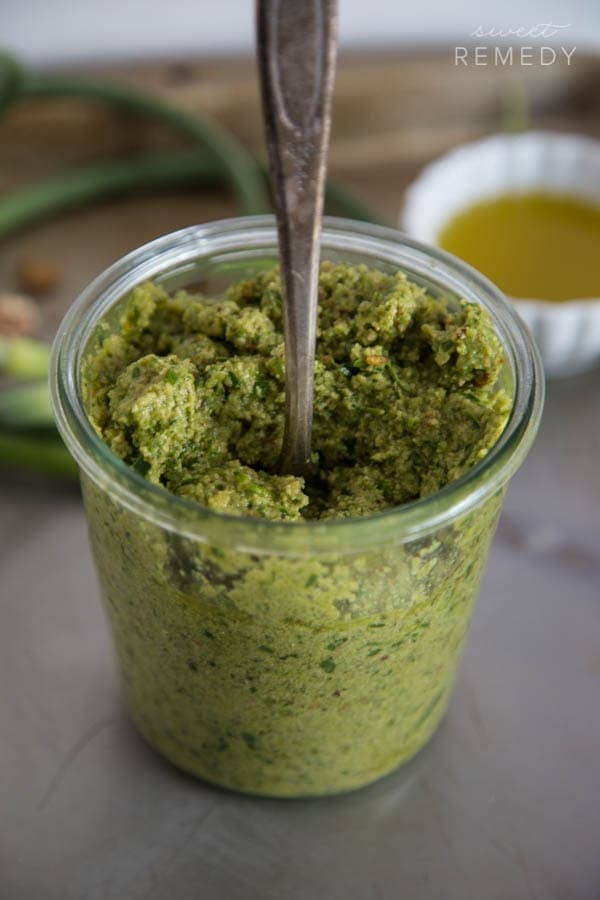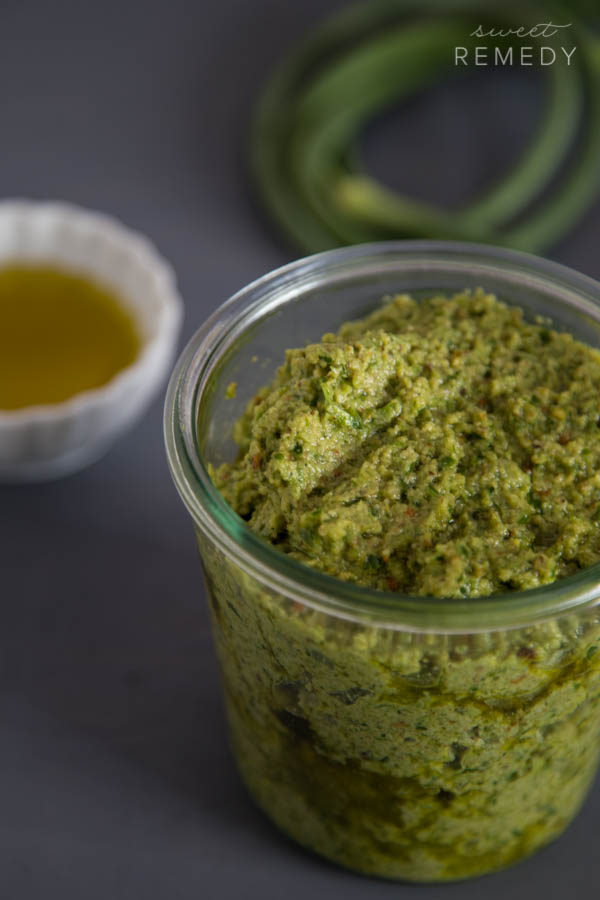 So what can you do with this pesto? The more obvious option is to put it on top of some pasta as I did. But if you are feeling adventurous you can maybe slice up some zucchini lengthwise and spread the pesto along side of the slice then roll it up into a…roll.
That actually sounds pretty good and I think I will do that for a light dinner today! Let's be honest, you can only eat so much pasta…
Yield: 16 oz jar
Garlic Scape Pesto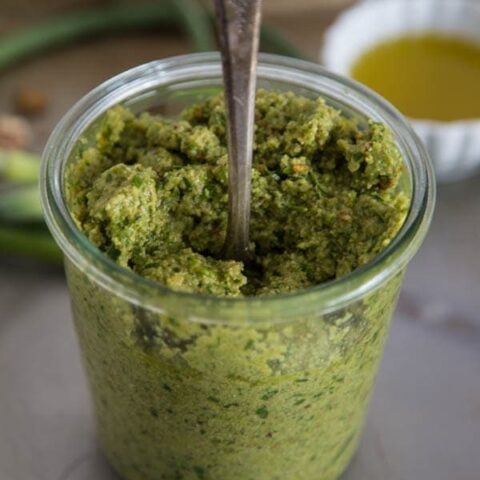 A classic pesto recipe with garlic scapes and arugula in place of basil. Pistachios and walnuts are used in place of pine nuts. Be sure to use a good quality olive oil to really enhance all of the other flavors.
Total Time
1 hour
30 minutes
Ingredients
2 1/2 cups garlic scapes
1/3 cup arugula
1/3 cup pistachios
1/2 cup walnuts
1 cup olive oil + 1 Tbsp, divided
1/4 cup parmesan cheese
1/4 tsp salt
1/8 tsp pepper
Instructions
Cut the garlic scapes into one inch pieces and add to a food processor with the arugula.
Process until they are both processed into very tiny pieces.
Add pistachios and walnuts and half of the olive oil.
Turn the food processor back on and process until incorporated and scrape the sides with a spatula.
Add the remaining oil, parmesan cheese, salt and pepper.
Process again until combined. Using a spatula, scoop out the pesto and put in a glass jar with a lid.
Add a tablespoon of olive oil to the top and cover.
Store in the refrigerator for 1-2 weeks.
Recommended Products
This post contains affiliate links. I will make a small commission if you make a purchase through one of these links, at no extra cost to you.
Nutrition Information:
Yield:
16
Serving Size:
1
Amount Per Serving:
Calories:

82
Total Fat:

5g
Saturated Fat:

1g
Trans Fat:

0g
Unsaturated Fat:

4g
Cholesterol:

1mg
Sodium:

79mg
Carbohydrates:

8g
Fiber:

1g
Sugar:

1g
Protein:

3g
Nutrition information isn't always accurate. You may want to spot check this information.